Buchanan dismisses press claims
WELLINGTON, Feb 17 (Reuters) - Australia coach John Buchanan has dismissed claims his team's World Cup preparations are in disarray after a third straight defeat in a week.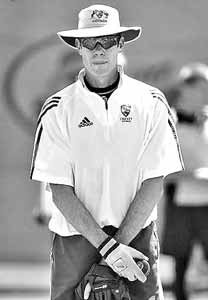 John Buchanan
Australia have been heavily criticised in the media and by former players after crashing to a 10-wicket loss to New Zealand following back-to-back defeats to England in the tri-series finals.
Critics have attacked Buchanan's decision to put his players through a vigorous physical training programme at the same time they were playing matches.
Buchanan said the training programme was necessary to get the players at peak fitness for the World Cup and says the criticism is unwarranted.
"For a one week period in a team that currently wins 75 percent of its games, I think that's a pretty hasty assessment," Buchanan told reporters in New Zealand on Saturday.
"I'm extremely happy with where we're at at the moment -- the planning, the preparation, the squad and the way we're thinking about it."
Australia's buildup to the World Cup seemed to be going perfectly up until a fortnight ago when all-rounder Andrew Symonds tore a bicep tendon in his shoulder.
Ricky Ponting pulled out of the New Zealand series with a back problem then Brett Lee and Michael Clarke were both sent home after injuring themselves before the first match, with Lee now in danger of missing the World Cup.
New Zealand coach John Bracewell also dismissed suggestions the Australians were a spent force, saying his team were already bracing themselves for a backlash.
"You'd need a sledge hammer and a nuclear bomb to knock the Australian's confidence," Bracewell told the New Zealand Press Association.
"They have two (consecutive) World Cups and a Champions Trophy in the bag .... it won't take much for them to get back on track." Bracewell expected Australia to emerge from their recent slump and said New Zealand faced a tough task of winning the series despite leading 1-0. "We're pretty pleased to get a win on the board but ... we've only done a third of what we're trying to achieve in this series," he said. "Every time you play Australia you're under enormous pressure. They are the best in the world, they've earned that right over a long, long time. Every time you play it's like a World Cup final."
( Writing by Julian Linden in Sydney)