Rupavahini : Twenty five years of television
The number one television channel in the country, Sri Lanka Rupavahini Corporation (SLRC) celebrates its silver jubilee this week.
Rupavahini has passed the different vicissitudes in the history of telecasting over the last twenty-five years. Commencing in 1982 as a gift from the Japanese government to Sri Lanka, Rupavahini had no competitors. (Except ITN which had a limited coverage then) Now it faces many challenges yet it maintains a cultural tradition fulfilling the role of the national TV adequately despite political interference and the additional burden of a load of excess staff.
Dr. Ariyaratne Athugala, senior lecturer in Mass Communication and the present Chairman in an exclusive interview with TV Times spoke of the difficulties he faced while updating the channel.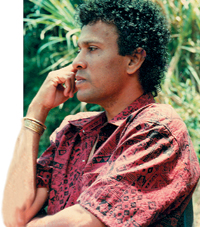 Chairman SLRC : Dr. Ariyaratne Athugala
TVT: As an academic in mass communication what do you think about Rupavahini's journey over last two and half decades?
Mr.Athugala: Rupavahini started and developed with a gigantic cultural tradition. It was spread within a certain political structure and therefore it was institutionalised from its inception. And I see there are very progressive qualities which has provided guidelines to the some of the private media too. Unfortunately, technologically it was not developed in par with the developments in other parts of the world. Yet in the midst of social struggle and political change which took place the history of Rupavahini shows it has made quite a lot of improvements.
TVT: Being one of the state media, what kind of influence does it have on its development?
Mr. Athugala: By donating the SLRC the Japanese government gave us the then world's top technology. But they never gave us a proper system to administer it. Consequently Rupavahini was started without a proper system or structure. And like any other government institution politics became a major part of Rupavahini too. But I have realised that at different periods more than politicians this institution has been run on the ideologies of the people who were appointed by politicians.
TVT: There is an ongoing debate that the standard of teledramas telecast on Rupavahini has gone down?
Mr. Athugala: The influence of western soap operas was always there with the Sri Lankan teledrama. Dhamma Jagoda who made teledramas at the initial stages was directly influenced by the Western soap opera. And even later many teledramas were modelled on western soaps like 'Dynasty'. But there was a set of directors led by Dharmasiri Pathirajah who took Sri Lankan teledrama to a different level. And later Jayantha Chandrasiri and Asoka Handagama joined him and gave much vigour to this ongoing standard in teledrama. By today the western soap has come in a different form through Indian soap operas. However I have some plans for innovative steps to develop the standard of teledrama. I have already invited some directors like Jayantha Chandrasiri to do a direction for Rupavahini. It would be nice if we can give some opportunities to the younger generation also. But that has to be given second thought as making a teledrama costs a lot of money.
TVT: There is an allegation that as a whole the programme quality in Rupavahini has deteriorated?
Mr. Athugala: It is true that Rupavahini started with a rich culture. But this rich culture was later changed due to various reasons. Some of the people who were in the administration of this institution also were responsible for this. And the reality is that we cannot go back to that past. And there is no necessity for that also because culture is subjected to change. We should be able to think in a new way. The biggest problem in this medium is that no attention is paid to the studies and researches and lack of media literacy by those who handle it. Media is a different language and to learn the innovative ways to handle it you have to study it deeply. So these draw backs in the media has affected Rupavahini also extensively.
TVT: What about the popularity that the Rupavahini won a decade ago?
Mr. Athugala: Unlike in the beginning there are a large number of TV channels operating now. And could we say that what is attractive is always good? When you play on the emotion of the people they become popular but the role of the media is to educate and enlighten the masses. What is popular always is not good. Television should speak to the intellect of the people.
TVT: What are your future plans to develop Rupavahini?
Mr. Athugala: We have to develop the technology and that is must. In addition we are working on a five year plan to develop the quality of the channel. And there we don't want to imitate anything blindly. I believe that we have to train those who are involved in the media and they themselves have to study the media. As the main TV channel in the country, we want to set guidelines for even other stations also.