'Vinividimi Andura' : To enlighten Lankan teledrama
Famous Sri Lankan short stories made into teledramas, 'Vinividimi Adura' (Through the Darkness) will be telecast every Sunday at 8. 30 pm on ITN channel.
A commendable effort by director Christy Shelton Fernando and producer Ranjith K. Perera, the teledrama series recreates writings of twenty well-known writers from 1920s to 2000. This educational and entertaining set of teledramas will include short stories that are in the syllabuses for Ordinary Level and Advanced Level examinations and is recommended to be watched by all children.
'From the beginning Sri Lankan short story was developed as a rich and refined art and with 'Vinividimi Adura' the quality of Sri Lankan teledramas would definitely be nourished' said Dr. Rantasiri Arangala, Senior lecturer on Mass Communication. Dr. Arangala suggested that this creditable effort should be continued with more visual directions not only with Sinhala but also Tamil short stories which is part of the Sri Lankan literature.
A political analyst and an intellectual J. R. P. Suriapperuma one of the invitees at the event said that at a time when Indian rubbish and vomit in the form of teledramas are dumped in Sri Lanka television. 'Vinividimi Adura' would definitely awaken the TV audience on how rich our literature is. "It is sad that both adult and younger generation is glued to these Indian trash and waste their time' Mr. Suriapperuma said. He said that it is a praiseworthy effort that short stories of writers like Gunadasa Amerasekara, one of the leading figures who contributed for the change of the society were selected for 'Vinivindimi Adura' teledrama series.
Starting from the short story of prolific writer Martin Wickremasinghe, the stories of recent writers Eric Illayapparachchi and Liyanage Amarakeerthi 'Vinivindimi Andura' is made into one episodic teledrama to recreate Sri Lankan literature through visual images. And these stories recreate different stages in Sri Lankan short story and its development.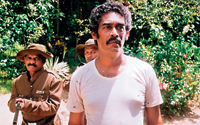 The short story collection will be divided into three main periods, from 1924-1944 as the first period, 1245-1956 as the second period and the rest as the third period of the development of the short story in Sri Lanka. The twenty short stories are Martin Wickremasinghe's 'Narakwu Piti Banduna', W. A. Silva's 'Wairodiya', J. B. Senanayake's 'Kalahaya', Hemapala Munidasa's 'Ganudenuwa', Gunadasa Amerasekara's 'Apasu Gamana', K. Jayatilakke's 'Athiranaya', T. G. W. de Silva's 'Nambu Pissuwa', Madwala S. Ratnayake's 'Kuhumbuwo', Ajith Thilakasena's 'Atharamaga', Simon Navagaththegama's 'Papochcharanaya', Somaratne Balasuriya's 'Karaththaya', A. V. Suraweera's 'Bawathimira', Miniwan P. Premathilake's 'Vikalpayak', Ranjith Dharmakeerthi's 'Ohu Enathuru', Piyasilee Wijemanne's 'Welegedara Gunawathi', Jayathilake Kammalweera's 'Thaththage Malagama', Dayasena Gunasinghe's 'Mawathe Daruwo', Arawwala Nandimithra's 'Raththaran Nelum Mala', Eric Ilayapparachchi's 'Giri Kula' and Liyanage Amarakeethi's 'Mora Adawiya'.
The stellar casts employed for the main roles in different teledrama's are Suminda Sirisena, Janak Premalal, Buddadasa Vithanarachchi, Gamin Samarakone, Gihan Fernando, W. Jayasiri, Bimal Ratnayake, Gamini Hettiarachchi, Sarath Kothalawela, Vasanthi Ranwala, Udeni Alwis, Hemantha Prasad, Luxman Mendis, Chandani Seneviratne, Jagath Benaragama, Dananjaya Siriwardena, Moureen Charuni, Sadun Wijesiri, Geetha Kanti Jayakody, Sujani Menaka, Gayani Gyshanthika, Ananda Athukorala, Madani Malwattage, Chamila Peiris, Lal Kularatne, Nihal Fernando, Gamini Ambalangoda, Anula Wanigasuriya, Buddhika Rambukwella, Malkanthi Ranasinghe, Ramya Wanigasekara, Richard Weerakkody, Vini Weththasinghe, Pramudi Karunaratne, Asela Jayakody, Nimal Yatiwella, Jayani Senanayanek, Gihani Amarasingeh and Shiranthi Premawardena.
'Vininindimi Andura' technical crew comprises P. K. Leonard handling the camera, Jagath Weeratune as editor, Nuwan Sanuranka de Silva as art director and Henry Premaratne as the make up artiste. Kapila Pugalarachchi was the music director and Kapila Kumara Kalinga penned the theme songs. Amarathunga Athapaththu was the production manager and assisted by Anuja Madusanka.
'Vinividimi Adura' is directed by Christy Shelton Fernando.