Finals of 'Sathsara 2007'
The finals of 'Sathsara 2007', an Oriental Musical talent quest with a difference, will be held on Saturday the 24 February from 6.00 p.m at the Buddhist Hall (Bauddha Mandiraya) in Moratuwa..
A project organized by The Moratuwa Arts Forum for future players of Instruments namely the Harmonium, Violin, Flute and the Tabla got underway with a flying start.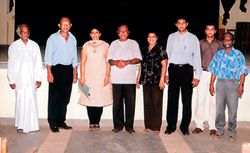 Sathasara 2007 Committee
'Sathsara 2007' is organized by the 'Moratuwa Arts Forum' ( MAF) for up coming musicians at the school level in Moratuwa. This is a contest for young musicians, who can play any of the following instruments. Five musical instruments are violin, sitar, Harmonium (serpina), Thabla and flute. The contest will be judged on the ability to play one or two of the above instruments.
The preliminary rounds were held on 30 January and 11 February at the Holy Emmanuel Church Hall and at the 'Sripalee Hall' in Moratuwa.
The finals of 'Sathsara 2007' will be held on a grand scale under the patronage of Victor Ratnayake.
'There are two categories of the Competition on age basis. The first section is for the youngsters of age 12 to 15 and the other segment is for over 15 years of age' said Thilak Perera of the MAF.
The Panel of Judges will comprise of Mahanama Wickremasinghe, Neela Wickremasinghe and Kolitha Bhanuka Dissanayake. Certificates will be awarded to all semi-finalists and, in addition, the winners will also be awarded cash prizes.
'Sathsara 2007' committee comprises of Asoka Peiris and Lankika Perera (Co Chairmen), Surani Fernando-Secretary, Berty Dickson Fernando, Herbert Silva, Erinton Perera, Sankalpa de Mel and Tharanga de Alwis.
The Co-Chairmen of the project, Asoka Peiris and Lankika Perera, was full of praise for the dedication shown by the principals and the music teachers of most of the schools in Moratuwa.
The 'Sathsara 2007' project is sponsored by the Bank of Ceylon