Peace will bring tremendous benefits - Blake
US Ambassador Robert O Blake, Jr strongly believes that Sri Lanka is "poised on the cusp of development" and now has a unique opportunity to achieve peace. He encouraged the All Party Representatives Committee (APRC) to come up with a strong and credible proposal that would end the conflict that has plagued the country for so long. He made these comments in an address to the Sri Lanka America Society this week.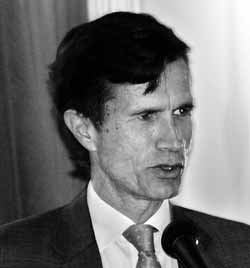 Robert O Blake
"Peace will bring tremendous economic benefits to Sri Lanka... Every citizen has a stake in peace," Blake said.
Pointing out that the opportunity cost of the war is 2 to 3% of GDP, he said, "The peace dividend is at least that much, even more in the North and East."
Blake enumerated some of the advantages saying Sri Lanka is in a wonderful position to capitalize on: economic growth of 6-7% and has a well-educated population. He spoke in glowing terms of the strong private sector that is the engine of growth for the economy. Another advantage is that Colombo boasts of being South Asia's number one port in terms of cargo handled. The biggest advantage of all, according to Blake, is the opportunity in India, with its middle class of 300 million people.
However, for Sri Lanka to attract more US business, it would need to get its house in order. "Ensure that existing investors are able to make a good profit, and have a good story to tell," he said.
This is important because good profits encourage existing companies to make additional investments. Besides, potential new investors often consult ones already established here, on the prospects of profitability.
Prefacing his comments on existing irritants, Blake said, "As ambassador, my role is to reflect the views of the US business community and address the problems they face."
The public sector plays a very large, dominant and often inefficient role in many economic spheres.
A greater role for the private sector would help improve efficiency, reduce prices and enhance service, he opined.
Narrating an anecdote, Blake said, "I saw that first hand when we went to Nuwara Eliya. We came back by train last night. It was a truly beautiful train ride, but you could tell it was a public sector train: It was two hours late… There was no service on the train."
Blake looked askance at the government's tendency to prioritise tax revenues over economic development. Giving an example, he said that for every Rs 100 of apples exported from the US, the different taxes in Sri Lanka come to Rs 75 – and the cost of apples almost doubles!
Bemoaning the lack of transparency, Blake said, "I've heard complaints from some businesses about the government's procurement process… There should be a level playing field for everybody." Inadequate enforcement of intellectual property rights (IPR) is another problem for US businesses operating in Sri Lanka, he said. The garment industry is dependent on protections granted to high-end labels. He also pointed out that IT-intensive sectors tend to grow best in countries with a strong IPR regime.
While indicating that Sri Lanka would do well to maintain its market share in apparel, Blake cautioned against relying primarily on apparel and garment exports.
"Think about diversifying and building up other industries", he said. Presenting a case in favour of business process outsourcing, he pointed out that India did not have adequate trained labour to sustain its growth rates.
"Think strategically," Blake urged. "People are very focused on current political issues… But do some strategic planning on how Sri Lanka should position itself…"