Winners all at CIMA Janashakthi Pinnacle awards
Gamage's road to success with Rs 70 in the pocket
It was a truly starry night when brainpower triumphed and achievements were honoured.
CIMA Janashakthi Pinnacle Awards held for the fourth time jointly with Chartered Institute of Management Accountants (CIMA) together with premier insurer, Janashakthi Insurance saw a new team of inspirational leaders securing coveted awards in their respective categories on Wednesday.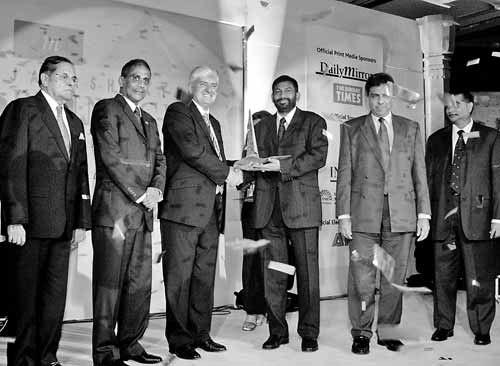 Daya Gamage(fourth from left) and Amitha Gooneratne(second from right) joint winners of the main award
The evening's proceedings kicked off with Malik Zahir, Vice President of Amba Research Lanka Private Ltd, securing the Young CIMA Star of the Year – Silver Award.
For the first time this year Young CIMA Star of the Year – Gold Award was jointly won by Jehan Jayasuriya, Personal Assistant to Managing Director of MAS Intimates (Pvt) Ltd, and Mahesha Amarasuriya, Relationship Manager Corporate Banking of National Development Bank Ltd.
It was indeed a touching speech by young and confident Jehan who reminisced his decision to either choose a cricketing career or CIMA, and ended up with the latter. "My parents who were supportive of everything I did let me decide, but my mother was the most disappointed that I gave up cricket. I hope that today I have given her a reason to smile," he said, accepting his award.
Things shaped up when the Business Leader of the year Gold Award in a large scale organisation was jointly secured by Chairman of Daya Group of Companies, Daya D. K. Gamage and Managing Director of the Commercial Bank of Ceylon Limited, Amitha Gooneratne. In a truly inspirational speech Gamage explained to the top gathering of corporate leaders his successful journey all complete with how he started business with Rs.70 to how he met his wife, then a veterinary surgeon who inspired him with technical advice to taking calculating risks.
Business Leader of the year Gold Award in a Medium scale organisation was won by Chairman / CEO of Raigam Marketing Services (Pvt) Ltd, Dr. Ravi Liyanage and Business Leader of the year Gold Award in a Small scale organisation was secured by Chairman / MD of Pubudu Engineering (Pvt) Ltd, T. A. S. Premalal.
Joseph Priyanjan Shantha Kurumbalapitiya, Chief Executive Officer of T & S Buttons Lanka (Pvt) Ltd, took away CIMA Business Manager of the Year - Silver Award and the Bronze Award was won jointly by General Manager of Sumithra Garments (Pte) Ltd, Samindra Abeyasekara and Asst. General Manager, Investment Banking, Hatton National Bank Ltd. and CEO of HNB Securities Ltd, Govindasamy Ramanan.
The MAS Group employees who had come in drones to cheer their fellow colleagues as is their practice each year went into overdrove when the Gold Award for Chief Financial officer of the year in a Large scale organisation was won by Suren Fernando, Director Finance and Management Control of MAS Intimates Division.
The perfect wrap up of the show was when Fernando in his acceptance speech thanked his mentor and boss Dian Gomes explaining how his superior constantly challenged everyone to unlock their potential. "If they say that working for Donald Trump is difficult, try working for Dian Gomes," he said, drawing laughter from the gathering. Themed to the different eras of Sri Lankan culture depicted in dance sequences the event was as memorable to the participants as to the winners.