Sex cues ruin men's decisiveness
Catching sight of a pretty woman really is enough to throw a man's decision-making skills into disarray, a study suggests. The more testosterone he has, the stronger the effect, according to work by Belgian researchers. Men about to play a financial game were shown images of sexy women or lingerie.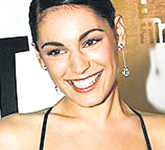 Images of women such as Kelly Brook can be distracting to men
The Proceedings of the Royal Society study found they were more likely to accept unfair offers than men not been exposed to the alluring images.
The suggestion is that the sexual cues distract the men's thoughts, preventing them from focusing on their task - particularly among those with high natural testosterone levels.
The University of Leuven researchers gave 176 heterosexual male student volunteers aged 18 to 28 financial games to test their fair play. But first, half of the men were shown sexual cues of some kind.
One group of 44 men were given pictures to rate; some were shown landscapes while the rest were shown attractive women.
Another group, of 37 men, were either asked to assess the quality, texture and colour of a bra or a t-shirt.
And a third group of 95 were shown either pictures of elderly women or young models.
-BBC