When Oz comes alive…
You just gotta admire Dorothy. I mean, think about it. Here's this little kid, picked up by a tornado, transported to a foreign (possibly hostile) land with only a dog named Toto for company. You'd expect her to be a little annoyed, or atleast to express her fear and frustration by kicking the dog around a little. But no, not Dorothy. Within moments of landing up in Oz, she's liberated the munchkins, taken possession of any handy magical footwear, and started down the Yellow Brick Road, determined as can be to find the Wizard of Oz and get back home to Kansas asap. And if that weren't enough, within hours she manages to become leader of a little band that comprises, her dog, a cowardly lion, a heartless tin man AND a brainless scarecrow. Like I said, you just gotta admire Dorothy.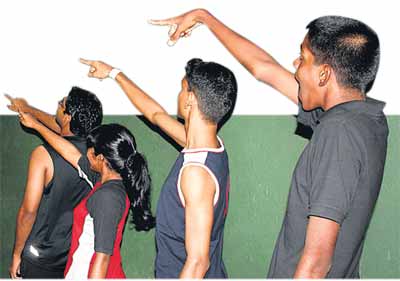 Pix by J.Weerasekara
And the thing is…when it comes to The Wizard of Oz there's just so much to love. It's always and forever been one of those great stories. The kind that you read again and again, that just gets into your head and your heart and stays there. The cowardly lion (who's not a coward at all), the tin man (who's really just a big softie) and the scarecrow (who's really rather clever), are all such fun. The plot is from the keep-you-riveted genre and the setting has enough fairy tale in it to make the whole experience remarkably feel good. And in the end, even though there's a moral in there, several morals in fact, they're sneaky and clever and make their point without making a big production of it.
And now for the good news and the point of this article – Dorothy and the gang are going to be making an appearance in Colombo! And what's more they're bringing the band along. The Wendy Whatmore Academy is proud to present "The Wiz," a musical directed by Tracy Holsinger and starring a clutch of young, talented actors and actresses. The 60 strong cast promises a memorable show, filled with much laughter and pure entertainment. This is the kind of play in which "there really is something for everyone," says Tracy, explaining that this adaptation of the book boasts a particularly delightful soundtrack with a very Motown like sound – soulful and energetic at once.
The Wiz which had a successful run on Broadway, spawned several hits, including "Ease On Down The Road," (which actually made it into the Top 20) "I'm A Mean Ole Lion" and "Home." Nineteen-year-old Aavol Fernando, (who claims that his name means "Russian" in "Chinese"), is the guy for whom the whole production is named – The Wiz himself. Aavol has the distinctive pleasure of being the production's misunderstood Mr. Nasty. Famously, he's the guy who calls the scarecrow a "dumb sack of straw," but beneath all the bragging and grandstanding is really a rather pathetic little man, says Aavol.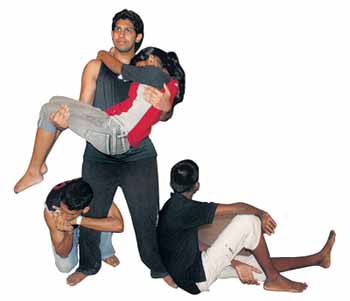 In the coveted role of Dorothy is the appropriately named Melody Perera (17). Melody who is an active member of the reputed Soul Sounds choir says thats she's revelling in her first major production and that it's been remarkably enjoyable so far. A background in ballet and voice training is helping her cope with all the dancing and singing her role demands. All of this is good preparation for the career in musical theatre she hopes to pursue, says the inexhaustible Melody (pun intended).
It's obvious that this is acting in the old fashioned, traditional sense of the word. Actors and actresses must sing, dance, act and accompany all three with a dazzling smile. Mario Wijayawardhana (14), who plays the scarecrow, may have it a little easier than Dorothy, but then again, he may not. Tall and thin, Mario fits the role to a T, and says that he's working on mastering the loose-limbed, gawky movements that his role demands. He enjoys his character though, and is anticipating the actual performance. Anush De Costa (21), however, has his reservations.
As the Tin Man, Anush is the designated softie of the group. But make no mistake, the Tin Man is not a pansy – far from it. He's also the macho guy, who's strong enough to take whatever life throws at him. The only downside, according to Anush, is having to learn how to tap dance – no easy thing for someone who considers himself plagued by "two left feet." Completing this adventurous little group is the Cowardly Lion. Not entirely surprisingly, he is incommunicado!
Together, this motley crew must brave the splendours of the Emerald City and the unpredictable temper of the great Wizard of Oz. Their journey is fraught with danger, and even the poppies are not as harmless as they seem. In the end, for the audience flamboyant sets, lively dancing and a rollicking musical score promise to combine to deliver a memorable production of one of the most beloved stories of all time.