The men that matter
In the 2007 World Cup
Cricket could be defined as a team game involving eleven players. However the role and contribution made by an individual player can change the destiny of the match instantly. Each country will have a couple of players who can make that difference. Here we take a look at some of these players on whom their country's fate will lie at the forthcoming World Cup.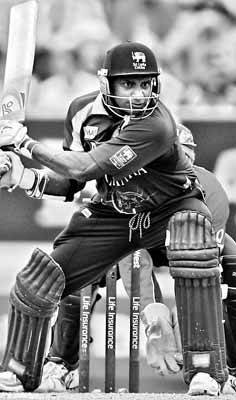 Sanath Jayasuriya
Australia - Ricky Ponting
Despite having a strong batting line-up the Australians rely heavily on their skipper Ricky Ponting.The stylish right hander who is closing in on 10,000 runs has also got the ability to accumulate his runs quickly. After 269 games he enjoys a strike rate of over 80 plus and that itself is an indication of how confident the Australian captain is with is batting. The mere fact that the Australians posses a strong batting line-up helps Ponting to bat confidently and play all his shots. With 22 centuries and 58 half centuries to his credit Ponting is a player who relishes to bat through the innings and take the Australians to victory.
Andrew Symonds: The all-rounder has been one of the recent finds for the Aussies.After playing in 161 games the hard hitting Symonds has announced his arrival. Naturally he has a strike rate of over 90 and is a batsman that can tear any attack apart. His ability to be able to bowl slow off breaks mixed with gentle medium pace will be a huge bonus for the Australians on the Caribbean wickets that are expected to be slow and low. With 121 wickets and over 4000 runs at a strike rate of over 90 Andrew Symonds is the type of all rounder any team will like to have in their line-up.
England - Paul Collingwood
He may have played only 112 games but Paul Collingwood will carry the burden of the England team. A genuine all rounder Collingwood is one batsman who keeps his cool and has the ability to build a long innings. England will count on Collingwood not only for the batting but also to add strength and variety to their bowling attack.
Andrew Flintoff: With 122 wickets and 2984 runs at a strike rate close to 90, Andrew Flintoff is another player the Englishman will depend on for success. With his aggressive approach Flintoff is one player who can change a game either with his batting or bowling. Although he has played only 112 games the all-rounder is experienced enough to give his opponents something to think of whenever he is in the center.
India - Sachin Tendulkar
Despite not in the best of form Sachin Tendulkar is still one of the most feared batsmen in the game. One day cricket's highest run getter Tendulkar has nearly 15,000 runs under his belt and is certain to be the target of opposing bowlers. If the Little maestro gets going the Indians will be through without much trouble. His off spinners will also be of great use for the Indians who are strong contenders at this year's world cup.
Saurav Ganguly: After being dropped from the team Saurav Ganguly will be eager to prove his critics wrong on the big stage. He has made a great come back and is certain to be a big threat to the opposition. One of the few cricketers who have over 10,000 runs Ganguly is certain to be among the runs and get the Indians off to a flying start.
Chaminda Vaas
New Zealand - Stephen Fleming
New Zealans long standing captain Stephen Fleming will have to play a lead role with the bat if his team is to make an impact at this year's world cup. With relatively inexperienced batting line-up Fleming who has played 270 games and scored over 7,500 runs will hold the key to the Kiwis batting.
Daniel Vettori: A cricketer who has improved in the recent years Daniel Vettori will be another important component in the Kiwi line-up. A genuine left arm leg break bowler Vettori will love the Caribbean wickets and is expected to be a threat to the opposing batsmen. The left armer has the ability to deceive the batsman with his flight and spin and will be looking to make an impression at the tournament.
Pakistan - Inzamam Ul Haq
One of the most experienced cricketers in the game Inzamam Ul Haq will be playing in his last world cup and will be eager to guide his team to victory. A batsman who has the ability to accumulate his runs briskly Inzi has over 11,500 runs in 375 games. A player who is very calm and collected but has the ability to play long innings Inzamam is trusted with holding the batting line-up together.
Mohamed Yousuf:
He has been the Pakistan batsman in form. Mohamed Yousuf has more often than not been Pakistan's key batsman and ends up getting big scores. His stats proves just that.Yousuf has accumulated 23 hundreds and 27 fifties in his 233 games. Undoubtedly he is the player who bats through the innings and invariably takes the Pakistanis home
Sri Lanka - Sanath Jayasuriya
His ability to shred the opening attack has made him one of the most fearful batsmen today. Scoring at an alarming strike rate of over 90, Jayasuriya has over 11,500 runs and looks to improve on it further. Lanka never fails if Jayasuriya delivers. He sets the pace of the match and takes the game away from the opposition in the initial stages of the game.
Chaminda Vaas:
One of the most effective and accurate medium pacers Chaminda Vaas plays a pivotal role in the Lankan team. He regularly has the ability to pick up early wickets, check the run rate and put his opponents in a defensive position which eventually adds more pressure. With his experience of over 300 wickets Vaas has also been very effective, bowling at the end of the innings.
South Africa - Jacques Kallis
With over 8,000 runs and 225 wickets to his credit Jacques Kallis is one of the most successful all-rounders today. Batting at a crucial number four position Kallis has been the mainstay for the South African team. His ability to bowl effective medium pacers and capture crucial wickets has made him a match winner for his team.
Makhaya Ntini: Although he has played only 144 games Makhaya Ntini has been South Africas most successful bowler in recent years. His ability to extract pace and bounce from the wicket has troubled many opponents. With the new ball the medium pacer becomes more dangerous as he swings the ball profusely. So batsmen beware Ntini is on fire and rearing to go.
West Indies - Brian Lara
He may go through some indifferent form. But when it comes to the occasion, Brian Lara is always there. Playing in his last world cup and in front of his home crowd Lara will be eager to sign off in style. An incredibly talented player gifted with quick reflections Lara has scored 11,953 runs and will look to improve on that and also play the role of the match winner.
Chris Gayle: An opener who stands and delivers Chris Gayle has come to stay. The West Indies are aware that if Gayle plays his natural game and bats for at least half of the innings the West Indies are home and dry. His ability to bowl slow off breaks and being able capture 134 wickets has also transformed Gayle into a genuine match winning all-rounder.