We'll take one match at a time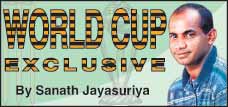 The warm-up game against New Zealand was a satisfactory start to Sri Lanka's World Cup campaign even if the result was not in our favour. We had just concluded a series in New Zealand where we levelled the series and gained an enormous amount of confidence and here we were, playing the same team in the West Indies, with the World Cup just a few days away.
New Zealand had since then handed cup holders Australia a convincing 3-0 defeat in the Chappell-Hadlee series but had been defeated a few days ago by Bangladesh; so they were obviously keen to prove that all was not lost. We recorded a win against Scotland on Monday but were keen to test our strength against tougher opponents.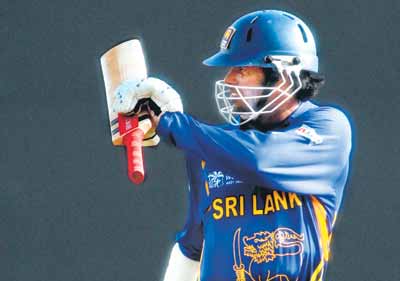 Sri Lankan batsman Upul Tharanga acknowledges applause from spectators upon his 100 runs during a warm-up match of the 2007 Cricket World Cup against New Zealand at the 3Ws Oval stadium Bridgetown in Barbados, 09 March 2007.
It is always good to get some match practice before a tournament as important as this which is why we were keen that as many players as possible get a chance in the middle within the space of two warm up matches.
I was rested for the game, together with Vaasey (Chaminda Vaas) who had contracted flu. Vaasey's illness is nothing serious and he should be fit when the tournament proper commences for us on Thursday, with the game against Bermuda in Trinidad. Fortunately for us, and unlike many other teams in the competition, there are no injury concerns at present and we will have the luxury of being able to choose from our entire squad for the final playing eleven..
All our bowlers got a good workout in the middle but there is room for improvement. Of particular concern to us was that we conceded 33 extras, 26 of them wides and no-balls, more than the margin by which we eventually lost the match. It is an aspect of our game that we would be definitely looking to improve before our next game, which would be against Bermuda in the tournament proper.
Even if there were some anxious moments in the bowling department, we were very pleased with how the boys batted. I am particularly happy about the progress of Upul Tharanga who stroked an outstanding century and appears to grow in confidence by the day. Chamara Silva also batted extremely well, demonstrating his fondness for Kiwi bowling. Overall, we were quite encouraged by our batting performance, even if we did fall short of our target by 18 runs.
From among the top order, only skipper Mahela Jayewardene was dismissed cheaply. Mahela however is a brilliant player who is experiencing a lean patch. It has happened to all of us at some time or the other and we all know Mahela's form will return as the tournament gathers momentum. He is too classy a player for good form to desert him for that long.
Much has been said about the unknown factor in this tournament -- how the wickets in the West Indies will play.
The wickets that we have experienced so far were good batting wickets but with a scheduled start at 9.30 a.m. there is some early moisture which can be exploited by bowlers. The wicket then becomes slower as the game progresses but it is difficult to say whether these conditions which we were confronted with in Barbados will prevail at our next three games which will be in Trinidad.
Sri Lanka has undertaken fewer tours to the West Indies when compared to visits to other countries and for most of the boys it is also their first World Cup. But team spirit in the Sri Lankan camp is high and we are looking forward to the cricket ahead of us, even if it involves a tournament that spans eight countries.
Overall, the boys are extremely confident that they will perform well at this tournament and (Coach) Tom (Moody) is putting them through their paces.
They are doing their homework quite diligently.
This is supposed to be quite an 'open' tournament with no one tagged as hot favourites. We are aware that Sri Lanka's chances are as good as any country's.
Our next match will be against Bermuda on Thursday in Trinidad. We will be playing some hectic cricket thereafter, with matches against Bangladesh and India slotted with only a day to spare between them. But, as the tournament progresses from the group stage to the Super Eight stage games will be more frequent with our opponents offering tougher competition.
We are also aware that there will always be comparison with the 1996 World Cup, when we emerged champions. We know that we have a very good team with a very good chance but our strategy is simple: we will approach the tournament match by match.
In a tournament such as this, every game counts and our focus will only be on the game that we are due to play next.
It is a strategy that has served us well in the past and I'm confident we will perform well because we are very enthusiastic about doing our country proud at this World Cup.