Sumithra's 'Pipi Pium' on mini screen
Well-known writer and novelist Sumithra Rahubadda returns to the minscreen with her latest script for the teledrama 'Pipi Pium' directed by Premakumara Jayawardena.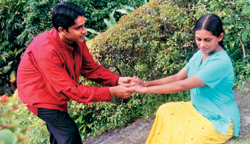 Tharaka and Saranga
Pipi Pium is the pathetic story of a courageous girl painted through the words of Ms. Rahubadda. 'Pipi Pium' revolves around Nikini Malwenna an innocent girl coming from a poor background. She is pretty but there is a deformity in her legs. Though she has completed her higher education she is employed as an office assistant. Saroj Virithamulla a young executive in her office gets attracted to her. Though he proposes to her she refuses reflecting on the two different social backgrounds that they represent.
Saroj who is somehow determined to get married to Nikini makes a visit to her house with his mother. In an unexpected turn of events Saroj's mother starts looking down on Nikini and laughs at her. Hurt by the remarks made by Saroj's mother Nikini decides to agree to Saroj's proposal and despite the objections by the parents they get married.
Having married on their own will the two get close to each other. But 'Pipi Pium' takes a dramatic turn when Nikini hears the most unfortunate news in her life; Saroj has committed suicide. Devastated Nikini wants to cling on to the brief life she spent with Saroj. How Nikini is going to take up life without Saroj? What would be her fate hereafter? Who would come to her rescue? Telecast every Sunday at 9 pm on Swarnavahini channel 'Pipi Pium' will provide the answers for these.
"Pipi Pium'is a script written as a thesis for my PhD on film and television in New Zealand a few years ago. Among the twenty scripts this was selected to complete as short film," said prolific writer Sumithra Rahubada. "Though we completed the short film I always wanted make this as a teledrama and present to our audience."
Elaborating on the content of 'Pipi Pium' Ms. Rahubadda said, despite some reservations we all still believe that Karunasena Jayalath's 'Golu Hadawatha' (The Silent Heart) is the genuine love story that was ever written in Sri Lankan literature. "It was a story about true love and my attempt was to write story closer to this," said the unassuming writer.
"However the story also deals with the unexpected challenges taken up by a woman," she added. Mrs. Rahubadda made special mention about Kolitha Banu Dissanayake who wrote the musical score for the play. "His music enlightened the story I wanted to convey,"
The thirty one episode teledrama was shot in Beruwala and most of its scenes are done in at Barbarian resort hotel. Pipi Pium stars Tharaka Wasalamudali Arachchi, Saranga Disasekara, Duleeka Marapana, Suminda Sirisena, Giriraj Kaushalya, Kusum Renu, Chamila Peiris, Samanthi Ganegoda, Gamini Jayalath, Gayan Lakmal, Samadhi Laksiri, Rukmal Nirosh, Nalini Piyasiri Jayalath, Namel Weeramuni and Malani Weeramuni.
'Pipi Pium' is on Swarnavahini at 9.00pm on Sunday. Camera handled by Nilantha Chularatne, edited by Manjula Alwatte, make up by Susantha Siriwardena, to the production of Hasitha Thalagampola 'Pipi Pium' was directed by Premakumara Jayawardena.