Cliff : When will I see you agin
It is nothing but right to comment about one of our favourite singers Sir Cliff Richard, who was in Sri Lanka few days ago. I saw his pictures at the concert and read stories about his Sri Lankan visit. Cliff was my heartthrob from the very beginning. I can recollect, when we were teenagers me and my two sisters used to send a lot of post cards to the SLBC request programmes, requesting his top songs.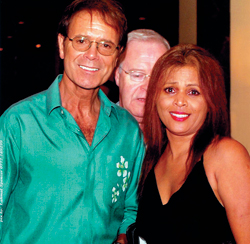 Cliff with one of his fans
But unfortunately we were unable to come to the Concert. I think he could have had at least a couple of Concerts, so that the others could be given a chance to see him performing.
Elvis Presley, Jim Reeves, Pat Boone, Cliff Richard are some of our my favourites at that time and for me it is the same. As a matter of fact, we couldn't see them on television.
Since Sri Lanka didn't have that facility at that time. Still we enjoyed just listening to the radio.
I wish, I could have a glimpse of my favourite. Though I could not see this live concert, a 5000 strong audience viewed it. I know he will be back for more and I am sure to be there And I heard at 66 yrs he really looks so young. I wish him long life.