Maid who fled employer reunited with family
JAKARTA, Saturday (AFP) - An Indonesian maid who knotted pieces of fabric together to flee the 15th storey apartment where she worked in Malaysia was reunited with her family today, reports said. Ceriyati Dapin, 33, whose dramatic escape from her allegedly abusive Malaysian employers has highlighted the issue of migrant workers' rights, received an emotional welcome from her family at her home in Brebes, Central Java, the reports said.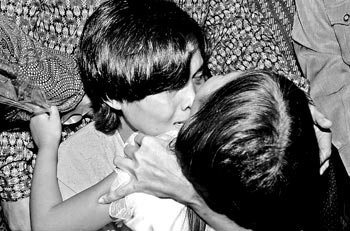 Indonesian woman Ceriyati (L) hugs her daugther as she arrives at Sukarno Hatta airport in Tangerang on Friday .AFP
Indonesian Foreign Ministry spokesman Kristiarto Legowo said Friday that after helping her return home to see her family, the Jakarta government would "facilitate her return back to Malaysia for her legal case". Malaysian police reportedly have arrested the women's employer, a 35-year-old woman who faces charges of wrongful confinement and causing injury with a dangerous weapon.
The head of a labour agency association said he was not hopeful that Ceriyati's case would be resolved soon, and cited the lengthy trial of employers of another Indonesian maid who had allegedly faced years of abuse.
Nirmala Bonat had been "isolated" in the Indonesian embassy in Kuala Lumpur for three years after her employers went on trial in 2004 on abuse charges that could see them jailed for 80 years, said Paul Liyanto, head of the regional association of Indonesian migrant labour agencies.
"Her employers were jailed only for three months then released on bail," he told AFP of Nirmala's case. "The legal process has been going on for three years and there is still no verdict given to the abusers, while Nirmala is isolated in the Indonesian embassy and not allowed to return home," he said.
Malaysian authorities this week suspended 19 maid agencies and blacklisted 85 employers for failing to pay their domestic workers. Malaysia depends heavily on foreign maids but they enjoy little protection under labour laws, often working long hours under tough conditions to earn about 100 dollars a month.
Migrant Care has said that Ceriyati's case is just the "tip of the iceberg"of maid abuse. According to its figures, from January to June this year, 19 Indonesian migrant workers died in Malaysia, 17 of them women.