Holistic approach to make them whole again
A US funded five year initiative has assisted nearly 10,000 disabled patients from Jaffna to Tangalle.
GALLE – Sixteen-year-old Sandun Ranga knows all too well that disability is often a consequence of tragedy. A student about to sit for his O-level examinations last year, Sandun commuted to and from school by rail. One day, horseplay with friends resulted in his falling under the wheels of the train, crushing both his legs.
Concerned about the boy's psychological as well as physical needs, the local Southern Centre for the Disabled (SCD) dispatched staff to visit the hospital as Sandun recovered from amputation surgery, and found him understandably traumatized about how his life would be. Counsellors explained that modern prosthetic limbs would allow him to walk again; SCD directors even convinced his Principal to approve modifications to the school to accommodate his wheelchair during his convalescence. Success in cases such as Sandun's illustrates the effectiveness of the holistic approach to disability services: seeing a patient through recovery, fitting of prosthetics using the latest technology, and rehabilitation therapy that permits patients to resume productive lives. All elements are key to successful services for the disabled.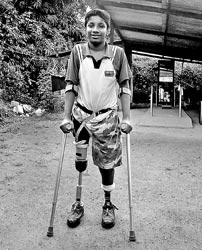 Sandun Ranga stands tall with prosthetic limbs at the Southern Centre for the Disabled
The SCD didn't always operate at this level, however. Back in 2002, it consisted of one manager and two technicians sitting on the floor of a two-room shack, pounding sheets of aluminum on anvils into crude prosthetic limbs. It was a far cry from the fully equipped facility of today that is staffed with a complement of specialists trained in fabricating state-of-the art, customized mobility devices. Today, SCD provides clients with a full range of services including counselling, rehabilitative therapy, and even career guidance capable of providing life-restoring services to thousands of patients like Sandun.
Such a transformation was possible after the SCD became a partner organization of the Disability Support Programme, a five-year, $4.4 million initiative to improve services for the disabled in Sri Lanka funded by the U.S. Agency for International Development (USAID). SCD is one of six grassroots organization facilities across the country that received technical assistance and training from the Motivation Charitable Trust, a U.K.-based organization and USAID prime implementing partner.
"The change in some of our partner organizations has been like day and night," said Programme Director Thomas Keolker. Over the past five years, USAID's programme has assisted nearly 10,000 people, and imbued its six partner organizations with not only an understanding of the latest in technology, but also an approach that helps disabled people with the emotional, as well as practical, complexities of living with their conditions. Additional partners include the Jaipur Centre for Disability Rehabilitation in Jaffna, the Centre for the Handicapped in Kandy, Navajeevana in Tangalle, Rehab Lanka in Colombo, and the Spinal Injuries Association in Ragama.
"The programme has helped organizations who deal with the disabled in Sri Lanka to understand how important it is to address the broader issues," Keolker said.
To that end, USAID sent a group of Sri Lankan prosthetists to a three year programme in Cambodia, a country with a similarly high rate of conflict-related amputees, to receive training on technology hitherto unavailable in Sri Lanka. The programme continues to mentor the young professionals for a year after their return to the island.
On the outskirts of Colombo, Rehab Lanka provided disabled Sri Lankans with skills needed for employment and reintegration into society. The programme also teaches resume writing and interview techniques, and provides other peer support activities to help trainees find steady employment and help them break out of the cycle of poverty to which the disabled are so susceptible.
"We are rightly proud of USAID's contribution to assisting the disabled over the last five years," said Mission Director Rebecca Cohn.
A breakdown of beneficiaries testifies to its reach into the disabled community. About 4,000 patients received prosthetic limbs, and 1,500 spinal and upper limb orthotic devices. More than 7,000 received rehabilitative physiotherapy. The programme supplied nearly 300 wheelchairs, 61 motorized tricycles, and 700 walking aids. USAID support has facilitated Rehab Lanka's export of their wheelchairs to foreign countries, boosting its sustainability. A series of annual job fairs placed more than 200 disabled persons into employment, and perhaps more importantly opened the eyes of employers to the fact that this community can play an effective role in the workforce despite ability limitations.
"Access for the disabled not only helps our community but society at large," said DSP beneficiary Ousten Silva, aged 80. Blind from the age of six, Mr. Silva receives services from the Sarana Blind Elders' Home in Tangalle. "With proper access to education and services," he said, "we can reach our potential and contribute to science, the arts, and the economic growth of the country."