Dancing his way through speech
This year's winner of the All Island Best Speaker's Contest, Dananjaya Hettiarachchi speaks to Ayesha Inoon on his ability to reach out to people and his passions in life
Dreams are sometimes as elusive as butterflies. Still, life is all about empowering people to follow their dreams, says 23-year-old Dananjaya Hettiarachchi who, with his speech 'Chasing butterflies', won the All Island Best Speaker Contest 2007 conducted by the Colombo Toastmasters Club on June 17.
A Human Resource Consultant at Virtusa Pvt Ltd., Dananjaya says that he himself has been fortunate to follow through and achieve many of his dreams. Apart from public speaking, a variety of interests such as dancing, sports and martial arts have added colour to his life and substance to his character, he says, believing that rich life experiences and a good character are what make a good speaker – "if you want to give a good speech, you need to practise – if you want to give a brilliant speech, you have to work on your character, because that's what shows on stage."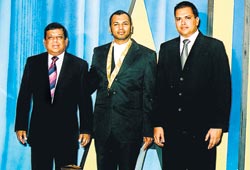 Dananjaya (centre) with the Chief Guest Susantha Fernando, Managing Director Bartleet Finance (left) and Eshanth Wijesinghe, Director of Bartleet Group, son of Eraj Wijesinghe, Chairman.
He has been a Toastmaster for almost four years, and is soon to be inducted as the President of Smedley, a local Toastmasters club, making him the youngest President of a Toastmasters club in Sri Lanka. The Toastmasters is not just about public speaking as many tend to think, he says, but rather about personality and character development. As such, it has given him the passion to become a great individual and to add value to the lives of others. Great speakers such as Winston Churchill or Lakshman Kadirgamar were also just as a byproduct of their great personalities and leadership qualities, he points out. "It doesn't matter what job I do," he says, "as long as I am contributing to humanity."
One way in which he feels he is contributing, is the 'life coaching' sessions he is involved in. 'Life coaching' he explains, entails analysing which part of the clients' lives need improving, defining strengths and weaknesses and helping them come up with and stick to a certain life plan. This means keeping in touch with clients over a long period of time and constantly giving them the drive and energy to achieve what they want to. "By helping others achieve their dreams," says Dananjaya, "I come closer to realising my own."
As a professional dancer who won the beginner's category at Dancesport 2007, Dananjaya feels that there are many similarities between his two main passions – dancing and speaking. "Speech is like dance – you need to have a beautiful opening, a fantastic body and a stunning ending." Fortunate to have many inspiring mentors from his parents to other senior Toastmasters, he says that it is their faith in him which already makes him a winner every time he gets on stage.
It's not all about accolades, but about meeting the right audience and reaching out to them with your message, says Dananjaya who was also the first Sri Lankan to win the World Taped-Speech Contest conducted by Toastmasters International for Clubs in the Undistricted Category, earlier this year.
"Winning the Best Speaker Contest has shown me that I have this amazing ability to reach out and touch people through speech – and with this ability comes great responsibility" he reflects, adding that in terms of awards in public speaking, he plans to win the World's Best Speaker Award at the contest to be conducted by Toastmasters International next year.
The All Island Best Speaker Contest was conducted in a glittering ceremony at the Cinnamon Grand, Colombo, for the 18th year, sponsored by the Bartleet Group. The First Runner-up was Poornima Weerasekera, a journalist whilst Jithendra Seneviratne, a script-writer finished Second Runner-up.
The Contest Chair was Advanced Toastmaster, Ranee Wickramasekera, and the Chief Judge was Advanced Toastmaster (Gold) Kanishka Jayasinghe. They were assisted by the panel of judges comprising Past Presidents Asgi Noordeen, R.G.L. De Silva, Niranjan de Silva, Ajitha Goonewardene and the Divisional Governor for 2007-2008 Darshana Welikala, all Toastmasters.