Gone is the glory!
I was one of the many who saw the foundations being laid to the BMICH and remember quite fondly having worked one day mixing cement along with my colleagues at the government department where I worked then. It was a great pride to see Sri Lanka getting a conference hall of international class.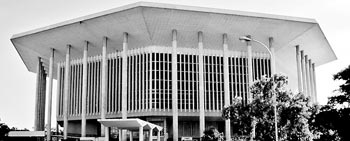 BMICH
I have attended several events at the BMICH and was aghast at the rundown condition of this once beautiful hall. The BMICH is in a distressing condition.
There is nothing international about it: the carpets are worn out and torn, the main 'red' carpet is wretched and disfigured, the staircase carpets are so dirty that they are black, the committee rooms are not maintained and the public address systems no longer function properly.
Outside loudspeaker monstrosities have to be plunked on the stage because of this. Of the two main gates, only one functions: all traffic in and out has to pass through one narrow lane and one entrance making it a safety nightmare.
Above all, what passes for air-conditioning is a shame. The faint cooling at the beginning of an event gives way as the hall gets filled. Within a short while the hall and the committee rooms become a furnace with temperatures rising to 270C-320C. The biggest indictment of the system was there for the whole country to see when the last Sarasaviya film awards were broadcast: the then Chairman of People's Bank who spoke on that occasion could be seen in close up dripping with sweat. What was not shown was that almost everyone in the auditorium was in a similar predicament. The outside was cooler than the inside!
When the air-conditioning is in such a parlous state, there is a massive investment made on a 'hotch potch' of additional buildings and on a 1000 KW standby generator.
It is our obligation to cherish and maintain that gift without tarnishing the good name of the great country which gave us that gift, China. The current state of the BMICH not only dishonours that gift given by the generous people but also the name of the man after whom it is named. Are we in such a pathetic state that we cannot sustain what is even given to us?