Missing a trick or two in the Rajapaksa strategy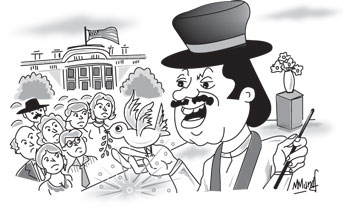 President Rajapaksa's journey across the United States has, quite naturally, been applauded by the state media as a success. However, he has taken stick from other sections of the media for engaging in what they have seen an extravaganza that was unlikely to produce any tangible results that would benefit the country.
His New York performance was partly ill advised and partly lower key than he would have hoped for, particularly in terms of the other leaders he was able to meet with. His few days in Los Angeles was more to show the flag, as it were, both to LA officialdom and, more importantly, to the multi- racial Sri Lankan community there.
Whichever way the media and the public might assess the visit, I get this strange feeling that somehow we have missed the significance of this and some other visits because we have not looked beneath the surface. Incidentally, TS Eliot's comment on the plays of John Webster comes to mind — "the skull beneath the skin".
It seems to me that Rajapaksa is playing out a game — a strategy if you must — that some have failed to grasp because much of that information has been down played, deliberately or otherwise, and so we are not conscious of the direction in which he is pushing his strategy.
That is because there are conflicting signals emerging from his camp, especially from those close to him or those he has mandated should hoist these signals. The other reason is that he is doing so quietly and inconspicuously in the midst of his populist efforts that make him engage with people at all levels.
One thing that could be said for him is that he has a surer grasp of politics at the grassroots than any of the recent leaders we have had. For all her charisma and public appeal, partly because of her family background, Chandrika Kumaratunga and more so Ranil Wickremesinghe represent elitist politics that is largely Colombo-district based.
Mahinda Rajapaksa, on the other hand, is the scion of a Sinhala-Buddhist political family from the deep south. That tradition is important in his pursuit of a policy that is aimed at militarily weakening the LTTE. If he perceives an overall military victory is possible I don't think he will hesitate to pursue that. But in the event that this might not be plausible, except perhaps at a tremendous cost in terms of men and materiel his other option is to debilitate the LTTE militarily in order to be able to present the minorities, particularly the Tamils, with a political package that provides them a greater say over their own affairs.
That much is clear enough to anyone who reads what Rajapaksa and his close aides have to say. However I think there is another important adjunct to this strategy which is not generally realised because all the information about some of the people he meets and talks to does not always filter through.
Nuggets of information, bits and pieces of news about meetings and discussions come through sometimes. But it takes time to piece together this information to form a fairly composite picture. Some of the information I received of his recent American visit, if true, provides some of the missing pieces that allows one to get some idea of what might be going on.
I grant that I could be mistaken in the conclusion that I am trying to reach. But to me it makes real sense if this is what President Rajapaksa is trying to do because he, more than anybody else, is able to establish that bridge though I would readily concede that there are hard line Tamils (they will call themselves nationalists and some hardline Sinhala people too) not to mention the LTTE which would hate his guts.
I am sure he realises that to weaken the LTTE militarily it is not enough to pour more troops and more arms into the battle. The cost in men and materiel could be considerably reduced and the time in which the LTTE is weakened shortened if the arms supply lines are shattered or at least disrupted by concerted action.
Substantial sums of money to purchase arms for the Tigers come from the overseas Tamils. So the Rajapaksa administration seeks to achieve this diplomatically by appealing to foreign governments to stop funds from leaking out of their countries to conduits that eventually lead to the LTTE and by urging countries from or through which arms reach the Wanni to clamp down on illicit arms deals and transhipment.
This is still not enough to round his strategic thinking. He needs to gradually separate the overseas Tamils, that enormous diaspora in the West that is the LTTE's life support system, from the Tigers. There are at least two main reasons for this. One is that the overseas Tamils provide the cash flow to replenish LTTE coffers. If that flow slows down it will seriously affect the LTTE's military and administrative effort and reduce the influx of sophisticated arms to the Wanni.
The other is that there are significant numbers of Tamils out there who are not with the LTTE and others who are becoming disillusioned with the Tigers. Many of them are educated and are doing well in their professions or vocations and still have a yearning to visit their country of birth, particularly Jaffna.
If my reading of the situation is correct Mahinda Rajapaksa is increasingly reaching out to them, talking to them and saying how they would be able to contribute to Sri Lanka's development in the broader sense of the word. One advantage he has over some of our other leaders is that he is easy to talk to and is genuinely friendly.
I am sure that there were many Tamils in America, especially West coast Tamils, who attended the lunches/dinners held for Rajapaksa in LA and possibly New York and listened to him. I believe there has been a response, though it might be tentative to start with, from some of the affluent or better to do Tamils to Rajapaksa's approaches though naturally they would like to see that the Tamil minority is made to feel that they are an essential part of the larger Sri Lankan community and are made to feel at home.
There is also another difference. I think he is reaching out to the Tamil diaspora in the English-speaking countries more than those in western Europe. There is an important difference here. Some of the Tamils in the English speaking world settled down in the respective countries before the great exodus started post-1983. They are well established and their children have become more accustomed to the western way of life and know little or nothing about the travails of the Tamils in more recent times.
A large number of the Tamils in continental Europe are of much more recent origin and have come to their new homes as refugees and asylum seekers. They have more recent memories therefore of the conditions back home that made them leave. They are mainly of a different generation and it is they more than any others who stiffen the backbone of the LTTE.
They do the fund raising using various means not excluding coercion as has been well established, organise the rallies, demonstrations and other events. Not that support is lacking in the English speaking world from the UK and US to Australia. But by and large, they have not integrated in their new homes as more affluent Tamils and their families of older vintage have done.
It is what might be rather loosely called the moderate Tamils, those that want no part of this war but still have memories of their land of birth that Mahinda Rajapaksa seems to be trying to reach. If he could influence them, as I think he is trying to do, it could have an impact on the strategy to hem in the LTTE from all sides.
But there is still the question of human rights and a political settlement and the reaction of western nations and some of our trading partners to what they and international organisations perceive as violations. A look at that part of the Rajapaksa strategy must await a later column.