Burden on Suu Kyi's soldiers
Singapore (dpa) - Junta chief Than Shwe, 74, hates Aung San Suu Kyi so much that he has banned all mention of her name in his presence. Now he says he has suddenly decided to seek a reconciliation with her. Her hour may have come. Her name has been on everyone's lips in Rangoon for weeks.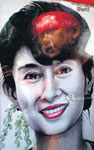 A Myanmar protester is reflected on the glass framed portrait of Myanmar opposition leader Aung San Suu Kyi during a demonstration outside Myanmar's embassy in Kuala Lumpur, Malaysia, Thursday. (AP Photo/Lai Seng Sin)
Suu Kyi's eyes are benevolent but her look steely: the petite leader of Burma's pro-democracy Aung San Suu Kyi has struck fear into the hearts of the old generals in the country's leading military junta for years. Her weapons are charm and unfaltering determination.
Even 12 years of isolation under house arrest in the former capital Rangoon have not broken Suu Kyi's will to lead Burma to a better future. Rangoon's residents call her "the democracy lady" with respect in their voices. They are also filled with pride that Suu Kyi has become world famous through winning the Nobel Peace Prize in 1991.
But the lady herself has disappeared off the radar screen for four years. A political prisoner of the regime, she has lived under house arrest in the former capital since 2003, as she had done with breaks for the previous eight years. United Nations special envoy Ibrahim Gambari was one of the few people allowed to see her at the beginning of the week as he tried to get a dialogue going in Burma.
The 62-year-old looks somewhat older but no less resolute in the photos with the UN diplomat. She stands upright next to the tall Nigerian and her look says what she has preached for years: "We will prevail because our cause is just. History is on our side."
The junta has taken on a powerful opponent: Suu Kyi's father was a hero during the fight for independence from Britain. Her heritage spares her to some degree: the generals, who are feting Suu Kyi's father this year with military honours, shy away from letting the daughter disappear in a torture facility like other dissidents.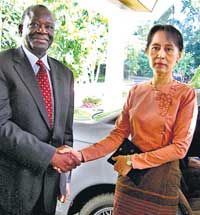 U.N. special envoy Ibrahim Gambari, left, shakes hands with pro-democracy leader Aung San Suu Kyi at a state guest house, Tuesday in Yangon
"I am sure that the majority of people trust and follow her because she is Aung San's daughter and because she symbolizes the only hope in this demoralized country," one diplomat in Rangoon said. Suu Kyi's National League for Democracy (NLD) won more than 80 per cent of the seats in parliament in 1990, but the regime never acknowledged her victory.
Undeterred, she has always adhered to her mandate: each time the junta released her from house arrest in the past, she could have gone overseas to see her British husband, but she remained in Burma, even when her husband was suffering from cancer in 1997. Her husband, Michael Aris, was also not permitted to enter Burma to see her, so the two never saw each other again. Aris died in 1999.
Suu Kyi has also not seen her sons Alexander and Kim for years. Suu Kyi has never given up the hope of a democratic future for her country. When she was released from house arrest in 2002 she declared "a new dawn in the country," but the joy was short-lived.
On the way to a demonstration, thugs hired by the regime attacked her convoy and killed 70 of her supporters. She, not the thugs, was arrested for causing a public disturbance and placed back under house arrest. Suu Kyi originally returned to Burma in 1988 after finishing her education at Oxford and New York to visit her sick mother.
As she cared for the dying woman, the military brutally suppressed a popular uprising. At her mother's grave, Suu Kyi swore in front of thousands of supporters that she would place herself at the service of the people, like her father before her. The future hopes of 50 million people now rest on her slight shoulders.