Myanmar tries to cool international pressure
YANGON, Saurday (AFP) - Myanmar's junta today tried to cool growing UN pressure over its deadly crackdown on peaceful protests, seeking talks with democracy leader Aung San Suu Kyi, and relaxing its blockade of the Internet. But analysts warned that the rare gestures offered by the regime appeared to be token efforts to stave off tougher UN action demanded by the United States and other western countries.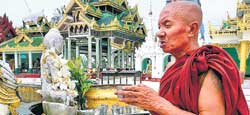 A monk prays at the Shadagon Pagoda in down town Yangon yesterday. AFP
Faced with the biggest protests against military rule seen in nearly two decades, Myanmar's government launched a bloody crackdown in late September that left at least 13 dead and more than 2,000 locked up. Across Asia, activists today took to the streets in cities from Sydney to Bangkok, kicking off a global day of protest against Myanmar's bloody crackdown on dissent.
Hundreds rallied outside Sydney's iconic Opera House in Australia, while in Melbourne 1,000 people marched, some carrying red banners that read "no more bloodshed." Meanwhile, UN envoy Ibrahim Gambari, who made a four-day mission in Yangon to express global outrage at the junta's actions, warned the UN Security Council Friday that the nation's turmoil could have "serious international repercussions."
As Gambari was briefing the Council in New York, state television in Myanmar broadcast images of the detained democracy leader Aung San Suu Kyi for the first time in at least four years. The television report referred to her as 'Daw Aung San Suu Kyi,' using a respectful form of address, rather than just her name, as happened previously.
The regime also restored some Internet access -- but only during a military-imposed curfew -- and announced that it had freed hundreds of detained Buddhist monks who led the protests in Yangon. The military, which has ruled this country also known as Burma for 45 years, rarely makes any concessions, but analysts warned the gestures were a bid to ward off tougher international action.
"The regime is trying to cool down international pressure. The junta hopes to defuse pressure as the UN Security Council is likely to take some action against Burma following Gambari's briefing," Thailand-based Myanmar analyst Win Min said. Junta leader Than Shwe has made a heavily conditioned offer to hold talks with Aung San Suu Kyi, insisting that the Nobel peace prize winner drop her support for sanctions and tells supporters to stop confronting the government.
"It's a mixed signal. It showed Than Shwe at least recognized internal and international calls for dialogue with Aung San Suu Kyi," Win Min said. "But at the same time, the conditions set by the regime were not realistic at all. It looks like the regime really doesn't want to talk to her." Aung San Suu Kyi, 62, has spent most of the last 18 years under house arrest, but she remains an international symbol of non-violent struggle against tyranny.
The United States has led global calls for her release and warned Friday that it may push for UN sanctions if the ruling junta kept up a crackdown on pro-democracy protesters. After Gambari's briefing, the United States, Britain and France circulated a draft of a non-binding statement condemning Myanmar's government.
"The Security Council condemns the violent repression by the government of Myanmar of peaceful demonstrations, including the use of force against religious figures and institutions," the text said.