Jury see last footage of Princess Diana
LONDON, Saturday (Reuters) - The final pictures of Princess Diana climbing into the car in which she and her lover Dodi al-Fayed died were shown for the first time to a jury deciding if their Paris crash was an accident.
The footage, a compilation of grainy film taken from 31 closed circuit television cameras at the Ritz Hotel belonging to Fayed's father Mohamed, showed the couple looking relaxed and happy, holding hands and with their arms draped around each other.The countdown to tragedy also showed chauffeur Henri Paul talking to paparazzi during five visits to the front of the luxury hotel where a mass of photographers were gathered. He also made two trips to one of the hotel's bars.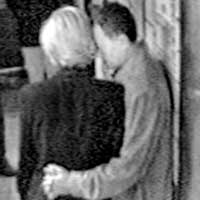 Princess Diana (C) and Dodi al-Fayed (R) wait at the rear service exit of the Ritz Hotel in Paris in a August 31, 1997 video grab. REUTERS
Diana, 36, Dodi, 42, and Paul were killed when their Mercedes car crashed in a tunnel as they sped away from the Ritz, pursued by paparazzi on Aug. 31, 1997. The jury have heard how Mohamed al-Fayed, owner of luxury store Harrods, says the couple were killed by Britain's security services on the orders of Queen Elizabeth's husband, Diana's former father-in-law.
Fayed says the royal family ordered the killings because Diana was pregnant and was planning to marry her Muslim lover. Investigations by French and British police have concluded the deaths were a tragic accident caused by Paul, who was found to be drunk and had been speeding. They both rejected Fayed's conspiracy allegations.
The jury at inquests into their deaths at London's High Court were shown footage by Paul Carpenter, an inspector from a London police team which investigated the deaths. It detailed the chauffeur arriving at the hotel at about 10 p.m. just over two hours before the couple set off on their fateful journey. Paul was shown going straight to the bar.
Carpenter also showed Paul, the couple's bodyguards and hotel staff planning to trick the paparazzi massed at the front of the hotel by arranging for a decoy limousine. The plan was to sneak Diana and Dodi out of the back of the hotel out of the public glare.
Paul goes out of the back of the building to see if their car, being brought up from the garage, was ready. But, Carpenter said, he also appears to tip-off a couple of photographers who had broken away from the main pack.