Strong typhoon slams Taiwan, China over weekend
TAIPEI, Saturday (Reuters) - Typhoon Krosa slamed into Taiwan with strong winds and heavy rains today forcing hundreds to evacuate and cutting power to thousands as it headed toward mainland China. In China, authorities in the eastern province of Zhejiang ordered officials back to work from their National Day vacation to prepare for the storm, the China Daily reported.
Disaster authorities said the storm drenched all of northern Taiwan, including the capital Taipei, keeping people indoors as work, classes and scheduled events were cancelled for safety reasons. Two people in Taipei and one in Taitung were injured, the National Fire Agency said."The wind is tremendous here, and we've lost power," said Chuang Min-hsiang, of Taitung. "We're all at home doing work to protect ourselves from the typhoon."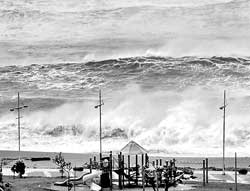 Giant waves hit the shores of Nanfangaou fish harbor in Ilan county, eastern Taiwan. Typhoon Krosa pounded northern Taiwan with powerful winds and torrential rain, forcing offices and schools to close and disrupting air and road traffic. AFP
EVA Airways, Taiwan's No. 2 international carrier, has cancelled most of its afternoon flights, according to TV reports. A service staff member at Taipei's Kaohsiung airport said more than 10 international flights had been cancelled on Saturday.
Northern Taiwan's main port in Keelung was closed at 6 a.m. British typhoon tracking system Tropical Storm Risk (http://tsr.mssl.ucl.ac.uk/) called Krosa a category 4 typhoon.
Krosa was 160 km off the coast of Taiwan as of 0200 GMT on Saturday after picking up strength throughout the week, and was packing sustained winds of 184 kph (114 mph) and gusts of up to 227 kph, Taiwan's Central Weather Bureau reported.
Tropical Storm Risk said Krosa was expected to weaken to a category 3 storm by early Sunday morning and a category 2 storm by the middle of Sunday, when it was expected to brush Zhejiang province of China, before heading northeast toward Fukuoka.
Xinhua news agency reported on Saturday that tours during its weeklong holidays have been called off in Zhejiang's coastal area and all vacationers have been evacuated from the islands." Likewise, neighbouring Fujian province has cancelled coastal tours and dispersed tourists to safer areas. Fishing boats there have also been called back to harbour.
Krosa is the 15th storm of the season. Typhoons regularly hit China, Taiwan, the Philippines and Japan from August through the end of the year, gathering strength from the warm waters of the Pacific or the South China Sea before weakening over land.