Wannabee star uses eBay to launch pop career
PARIS, Saturday (AFP) - After selling shares in his future earnings on auction website eBay, Indian-born singer Shayan Italia believes he is about to hit the big time and shake up the music industry in the process. The 28-year-old unknown is set to release his first album, produced and marketed with his investors' money and without the help of a major record label, in his adopted country Britain next month.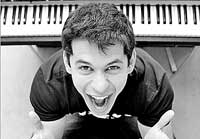 Indian-born singer Shayan Italia
If his sugary blend of power ballads and soft rock proves popular, the young crooner, who cites Elton John as an influence, will blaze a trail as a new type of artist-entrepreneur. "If I manage to do it, I'll make millions and I could write a book because I'll be the first to do it in the industry," he told AFP in a telephone interview.
Other artists already run and own their own record labels, which enables them to keep control and increase their financial gains, but usually only once they are established. Italia began by auctioning off shares in his future earnings on eBay, bringing in 9,000 pounds (24,000 dollars) from three investors in London, New York and Toronto. They paid 3,000 pounds each for 0.25 percent of his future music income. Since then, he says he has raised a million dollars by selling off 40 percent of his future earnings to about 11 different investors through private deals.