The night of Igs
Hamsters on Viagra take center stage at spoof Nobel awards
CAMBRIDGE, United States (AFP) - Scientists who discovered that Viagra helps hamsters overcome jet lag and a Japanese researcher who extracted vanilla flavoring from cow dung have won top honors at the 17th annual spoof Nobel Awards. The so-called Ig Nobel awards, a tongue-in-cheek homage to their Scandinavian counterparts, were announced during a raucous ceremony late Thursday at Harvard University in Massachusetts that shone a bright light on obscure and often bizarre research and inventions.
The Igs, as they are known, are chosen by the Annals of Improbable Research magazine to highlight scientific achievements that, in the words of editor Marc Abrahams, "first make people laugh and then make them think." Among the winners were a British-US duo for a penetrating report on the effects of sword swallowing and a Spain-based team who answered the question of whether rats can discriminate between Japanese and Dutch spoken backwards.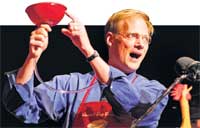 Brian Wansink of Cornell University demonstrates his "bottomless bowl of soup" after he was awarded a 2007 Ig Nobel Prize, 04 October 2007, at Harvard University in Cambridge, Massachusetts. Wansink explored the seemingly boundless appetites of human beings, by feeding them with a self-refilling, bottomless bowl of soup.
"It was a surprise, it was the last thing we expected," said Nuria Sebastian-Galles, one of the Barcelona team of scientists, of the findings. The awards, she said, "bring out the freak inside most scientists." Seven of the 10 winners this year paid their own way to accept the awards, which were handed out by six real Nobel Prize laureates.
Although pelted by paper airplanes, as per tradition, each winner expressed delight at receiving the small trophies affixed with a chicken and an egg. Asked why chickens were chosen as this year's theme, master of ceremonies Abrahams looked astonished and said only: "How could you not?" Some scientists have complained that the satirical awards unfairly tarnish legitimate research. Others say a sense of fun humanizes scientists.
"I don't take it as an insult at all," said Brian Witcome, a British radiologist who won the medicine prize for his sword-swallowing research. "Humor adds to research," he said. His co-author, US scientist Dan Meyer even gulped down a short sword before thanking the whooping crowd with the hilt between his teeth.
Past winners who showed up included the creator of the pink plastic flamingo, the inventor of a hiding alarm clock and a researcher who reported the first known case of homosexual necrophilia in the mallard duck."To the best of my knowledge, this behavior has not been observed in chickens," Dutchman Kees Moeliker deadpanned.
Research highlighted by this year's awards ranged from a study of how sheets wrinkle and how the word "the" causes headaches for indexes, to why humans can't stop eating when presented with an apparently endless bowl of soup. Some winners tried to explain their research but if they talked for more than 60 seconds they were interrupted by an eight-year-old girl who repeatedly intoned, "Please stop, I'm bored."
Nonetheless, Dutch scientist Johanna van Bronswijk managed to describe why she is doing a census of the mites, insects, spiders and other creatures with which humans share their bed. "I found that you never sleep alone," she said. Diego Golombek, the Argentine who found the cure for hamster jet lag, thanked his assistants "for going to the store to get the Viagra for us."
Also honored was a Taiwanese man who patented a device to net bank robbers, but who could not attend the ceremony because he has apparently vanished.
"Someone in Taiwan suggested the man is trapped inside his machine and is there to this day," Abrahams said. The highly-coveted peace prize was given to a US Air Force laboratory for researching what the committee dubbed the "gay bomb" -- a chemical weapon that would make enemy soldiers become sexually irresistible to each other. No one showed up to collect the award but a disco ball dropped over the stage and Abrahams said the bomb would be demonstrated before an official censor of the evening's activities intervened.
Japanese researcher Mayu Yamamoto, who received the chemistry Ig for her work extracting vanilla flavor from cow dung, got an additional honor: a local ice cream shop created a new flavor, the "Yum-a-Moto Vanilla Twist," in her honor. Yamamoto said she first learned of her award by email and thought it was a joke but decided to go to the ceremony because "I want everyone to know about my research."
As if further levity were needed, the ceremony was punctuated with goofy "Moments of Science" and a contest to win a date with a Nobel laureate billed with the slogan: "He's shapely, he's sassy and he's smarter than you."