Nepal king's head spared on new banknotes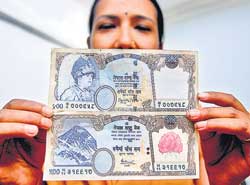 A Nepali woman compares a new 500 Rupee note (BOTTOM) with the old one (TOP) in Kathmandu.
KATHMANDU, (AFP) - Efforts in Nepal to phase out images of unpopular King Gyanendra from coins and banknotes have hit a snag with the release of new bills which still feature the monarch in the watermark. Banking officials in the impoverished Himalayan country, which is on the road to becoming a republic, admitted that keeping down costs meant their increasingly republican sentiment could only go so far.
"Watermarks are engraved at the very first stage of printing the notes,"senior currency management official Manmohan Kumar Shrestha told AFP, explaining the paper was ordered before the monarchy fell out of favour.
"We could not cancel the order as it would have resulted in a huge cost for the bank and the nation."Nepal's new 500 rupee (7.8 dollar) note, released on Sunday, have an image of two tigers on one side, and Mount Everest on the other. The image of a rhododendron has also been used in an attempt to obscure the watermark.
"You can't see his picture unless you look for it, and we have printed the national flower on the note to cover up the watermark of the king," Shrestha insisted. The notes were ordered from an Indonesian manufacturer before April 2006, when King Gyanendra was forced to end a much criticised period of direct rule. Late last year, Nepal's mainstream parties signed a peace deal with Maoist rebels that is expected to result in the 239-year-old monarchy being abolished.