Restored 'Gamperaliya' honoured in Cannes
Dr. Lester James Peiries' masterpiece 'Gamperaliya' has been restored and will be screened at the Cannes Film Festival under section 'Restored Classics' today, Sunday May 18. In a rare opportunity, the film is the first to be restored to its full 'original magnificence' with the latest digital technology at University of Southern California.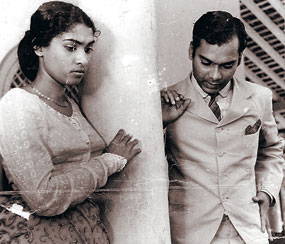 A scene from 'Gamperaliya'
In an unbreakable record 'Gamperaliya' is the fifth of Lester's films that is screened at the world's most prestigious Cannes Film Festival. Lester's groundbreaking 'Rekhawa' was shown in 1957 and his 'Beddegama' and 'Kaliyugaya' were showcased at 'Director's Fortnight' while 'Wekanda Walawwa' was screened under a special section. 'Gamperaliya' is based on Martin Wickremasinghe's reputed novel by the same name and the film won the Golden Peacock award at the New Delhi film festival.
"This is a fine opportunity and it gives an impression that miracles still do happen" said Mrs. Sumithra Peries who played the important role of editor in the film.
This difficult and expensive work was initiated by Pierre Rissient, French, an enthusiastic fan of Lester's film and specially 'Gamperaliya'. 'He had always liked the film which he considers as a jubilation of Sri Lankan culture and tradition," Mrs. Peries revealed.
The restoration with latest digital sound and visual quality will enable the film to be shown all over the world after forty-five years. Pierre Rissient was first interested in restoring 'Nidhanaya', but it was too late as the film was affected by 'vinegar syndrome' was already destroyed and the negative had been burnt to avoid other films being affected.
"Gamperaliya" too was affected but we were able to rescue it with the support of Pierre Rissient who laboured a lot for the task. Rissient also has subtitled the film in French which according to him enabled one to understand the subtleties of the film better.
"The restoration of this simple film went across two contingents as France intervened and got the technical support from California. The brilliant performance of Henry, Trilicia, Punya and Gamini along with Willie Bake's cinematography had contributed a lot to the success of the film.
| | |
| --- | --- |
| | |
| Henry Jayasena | Dr. Lester James Peiries |
We made Gamperaliya with great sacrifices including selling our hard earned and inherited properties and after four and half decades we feel that what we have done has become fruitful.
International recognition received by 'Gamperaliya' for its restoration and screening at Cannes which is considered as the 'Mecca of Cinema' after 45 years is indeed a great honour not only to the eighty-nine-year-old filmmaker who is considered as the father of Sri Lankan cinema but also to the country.
Piyal talks on 'Gamperaliya'. Playing the role of 'Piyal' in 'Gamperaliya', one of the main roles forty five years ago Henry Jayasena proved his ability to become what he is today. It is with Lester's accurate casting and performance of actors of this calibre that brought world recognition to this film.
Sharing his view on the latest international recognition received by Gamperaliya' Mr. Jayasena said "I feel fortunate to be a part of this epoch-making film,". "Even though the film was not a box office and was not very popular until in received international recognition, over the years the film has grown in stature winning acclaims," he said.
And it has now been considered as one of the good films that world cinema has ever produced. "In addition to the role I played in Titus Thotwatta's 'Handaya', I personally feel the role of 'Piyal' is the best role I played in cinema," said Mr. Jayasena.