China begins evacuation plans ahead of dam disaster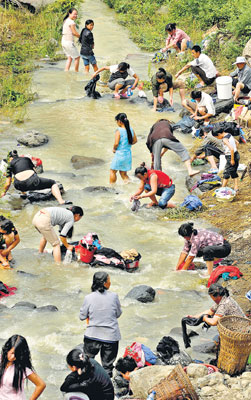 Earthquake survivors wash clothes at a river in Leigu town of the Beichuan county, in China's southwestern province of Sichuan on May 31, 2008. China was poised May 31 to drain water out of a dangerous "quake lake" as more than 197,000 people have been evacuated in case of flooding, an official from nearby Mianyang city said. AFP
BEIJING, Saturday, (AP) - Chinese authorities began evacuating earthquake relief workers today from a flood-risk zone in a drill that put 1.3 million people on alert to quickly leave if an earthquake-spawned lake breaches a dam. Hundreds of Chinese troops have been working around the clock to drain Tangjiashan lake in Sichuan province, which formed above Beichuan town in the Mianyang region when a hillside plunged into a river valley during the May 12 quake that killed more than 68,000 people.
The official Xinhua News Agency said the first group of relief workers had left and others would follow. Xinhua said it was part of a plan that will see some 175,000 people evacuated by Friday joined by another 25,000 ''living downstream from Tangjiashan'' by Sunday morning.
It said Tan Li, the Communist Party chief of Mianyang, had issued another order that calls for all 1.3 million people to be evacuated if ''the barrier of the quake lake fully opens'' and floods the area.
An official with the press office of Mianyang City Quake Control and Relief Headquarters, who would give only her surname of Chen, said Saturday's drill would involve testing the command system of various levels of government officials to ensure that any order to evacuate _ if it comes _ would be passed on quickly to everyone in the valley.
No public broadcast of the evacuation order would take place. There was no sign that the dam was about to burst, though officials say it could do so in coming days. Troops have sealed off Beichuan to the public. Tangjiashan is the largest of more than 30 lakes that have formed behind landslides caused by the quake, which also weakened man-made dams in the mountainous parts of the disaster zone.
Millions of people in Sichuan are already living in tent camps and prefabricated housing, which have taken on the tone of new villages. In Mianzhu, about 40 miles (65 kilometres) south of Beichuan, hospitals, schools and even a makeshift shopping mall have emerged in a tent camp, with stores selling shampoo, shoes, beer and clothes.
A mobile medical center on the back of a tractor-trailer rig was providing free eye exams. About 50 people _ mostly senior citizens and children _ lined up for the checkups. ''I've never had my eyes checked before. Even before the quake. This is the first time,'' said Yu Xiaoling, a 54-year-old farmer who lost her home in the quake.
But some residents were longing for the comforts of home. ''Life is really good here, but we don't have a TV. The things I miss most, though, are my stuffed animals. I lost them when our home collapsed,'' said Fang Ming, a 10-year-old girl standing outside her tent peeling an orange with the sharp edge of a chopstick.