Ousted Nepal king consults astrologers in house hunt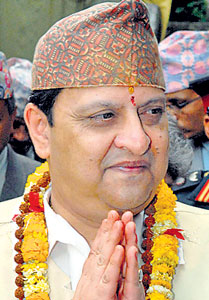 King Gyanendra
KATHMANDU, Saturday (Reuters) - Nepal's ousted King Gyanendra is looking for a house and consulting astrologers to find out when to quit the palace after a special assembly abolished the monarchy, newspaper reports said today. A historic assembly vote on Wednesday turned Nepal into a republic and gave deposed King Gyanendra two weeks to leave the sprawling Narayanhity palace in the heart of the capital.
Gyanendra has not commented so far about the end of the 239-year-old monarchy, but state-run daily Gorkhapatra quoted a senior palace official as telling a government minister that the deposed monarch would "honour" the assembly vote. It said Gyanendra was looking for a house as his son Paras and his family were living in the private home in an upmarket area in Kathmandu where the dethroned king lived before ascending the throne in 2001.
The independent daily Naya Patrika said the 60-year-old Gyanendra did not want to leave the palace until early July when an astrological "dark" phase is due to end."Astrologers have told Gyanendra it would be good if he could stick on to the Narayanhity palace till then," it said.
Nepal's deposed Hindu monarchy was known for consulting astrologers and making major decisions only on certain "auspicious" days or hours. The abolition of the monarchy was part of a government deal with Maoist former rebels ending their decade-long civil war which killed more than 13,000 people.
Nepal's national flag has replaced the royal standard at the pink palace, which is to be converted into a museum, and a government-appointed panel is preparing details of artefacts and other precious collections accumulated by Gyanendra for display in the museum.