Cyclone aid: Myanmar Junta comes under fire
YANGON, Saturday (AFP) - Myanmar's junta today came under renewed international pressure from rights groups and the US defence chief who said its slow response to the cyclone disaster had cost "tens of thousands of lives." US Defense Secretary Robert Gates criticised the military regime's delay in allowing in foreign aid, saying US ships and aircraft could have swiftly brought much-needed relief to the cyclone-hit nation.
"Our ships and aircraft awaited country approval so they could act promptly to save thousands of lives -- approval of the kind granted by Indonesia immediately after the 2004 tsunami and by Bangladesh after a fierce cyclone just last November," Gates told a top-level security forum in Singapore.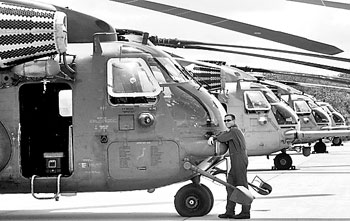 US helicopters standing by at Utaphao Naval Base in Thailand yesterday for relief operations in Myanmar. They were awaiting the Myanmar government's permission to begin operations. AP
"With Burma, the situation has been very different -- at a cost of tens of thousands of lives." Rights groups also accused the junta of forcing victims out of emergency shelters and back to their devastated villages -- even if they have no home left in the wake of the May 2-3 storm.
With tens of thousands of people now living in schools, Buddhist monasteries and tented camps, advocacy groups said they had received reports the regime was forcing people to leave the shelters. The United Nations says it so far has not been able to verify whether people are being forced out, but the charges added to the international frustrations at the slow progress in delivering aid to 2.4 million victims.
Cyclone Nargis left 133,000 people dead or missing when it pounded into Myanmar four weeks ago, destroying entire villages and laying waste to the country's most important rice-growing region. Nearly one month after the storm, only 40 percent of people in need have actually received any help, according to the United Nations.
UN Secretary General Ban Ki-moon visited here one week ago, announcing that the junta had agreed to allow foreign aid workers into the hardest-hit regions. Since then, relief workers have made small successes in delivering assistance.
The United Nations says all the visas for foreign workers it has requested have been granted, and the head of the World Food Programme, Josette Sheeran, visited Myanmar on Saturday to assess the relief operation.
The regime announced in state media Saturday that a new coordinating body -- comprising officials from the regime, the United Nations, and neighbouring countries in Southeast Asia -- had officially begun working.
But Human Rights Watch and Refugees International said they had received alarming reports of people being forced out of government-run emergency camps and left to fend for themselves amid the storm's rubble.
"It's unconscionable for Burma's generals to force cyclone victims back to their devastated homes," said Brad Adams, Asia director at Human Rights Watch. "Without shelter, food, and clean water, the government's suggestion amounts to sending people to their deaths and is courting a greater disaster,"he said.
The regional head of the UN's disaster response arm, Terje Skavdal, said that he could not confirm those reports but that the UN opposed any forced resettlements.