Entering the next plane in cricket
There is no doubt that at present Sri Lanka cricket is at the crossroads. Generally when at a juncture of this nature the dips are odd to occur and at the same time the very circumstances themselves that lead to these situations may reshape the entire structure of the given subject.
Unlike with the larger proportion of their Test playing brethren who have more of a state structured nucleus, Sri Lanka based its cricket on a club structure and that nurtured the game for well over a century before the chinks in the armour began to appear. Day by day the gap between the local club cricket structure and international level drew apart and a state of uncertainty began to spread till the administration began to speak of a provincial structure and did more than one experiment on it.
Once again at present the provincial concept has taken slot one in the priority list and many a club house evening subject has developed on it making one very curious to know exactly what is it this time? So to get an in-depth knowledge of the Provincial cricket concept and its benefits we spoke to no other than 'bearer of the burden' – Sidath Wettimuny who has put on his thinking cap on it.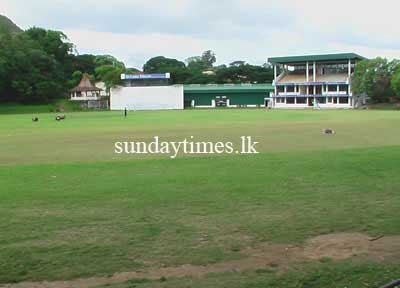 The revamped Welagedera Stadium (Pic Pushpakumara Jayaratne)
First we confronted him with the question of -- If the club cricket structure can sustain local cricket for over a century and produce a World Cup winning out fit and be a top billed Test playing nation in the present league why change and do we really need a change. Why is this coming all of a sudden? The former opening batsman was ready for the outswinger. At once he shuffled across and offered a straight bat "There are two things. First, this concept has not come all of a sudden. It was introduced many-many years ago..
This time what we want to do is to make it more meaningful and more directional. The second phase is that, yes, club cricket has been our backbone of Sri Lanka cricket for one hundred and twenty years. It always has been the main feeder point. Earlier it was feeder point to our national grid and now it will be the feeder point to our Provincial system. Now the Provincial system will be the filler between club cricket and the national and international cricket. In the good old days where there were 10-15 clubs playing cricket, today there over a hundred clubs playing cricket of various forms. Then if you take look at the Premier 'A' and 'B', about thirty teams involved there.
So there is quantity, but what we are looking for is quality that is greater than what is spread out in club cricket at present. What people forget is that if you go back twenty years, club cricket was played by people in Colombo. It was Colombo that sustained our cricket. However at present eighty per cent of our cricketers are coming from the outstation areas. So we are doing the obvious and the most meaningful thing – we are taking our cricket to the provinces rather than getting them to Colombo.
How are we doing it? A. Establishing and developing our provincial bases as good as in Colombo. B. With time (It will take time) developing job opportunities in those areas for the cricketers in their bases so that they can remain where they come from. Then the clubs that are struggling in those provinces will also become strong as the cricketers will opt to join those clubs and play there. This may be the most fitting scenario for club cricket too."
Wettimuny further explained that the bases will come up at the R. Premadasa Stadium, Moratuwa Stadium, Galle Stadium, Welagedera Stadium and the Pallekele Stadium. He said what the SLC Cricket Committee is doing at present is building up these bases with the same facilities as in Colombo so that there would be equal facilities and opportunities to cricketers in all cricket playing provinces.
He also spelled out another unique concept: "We are also hoping to conduct a loyalty programme in the provinces. Here we will start with the base school cricket with about 2,500 students from each province. We will get them affiliated to the province and give them all the facilities for training and getting coached by our national coaches and looked after by professional physios.
Wettimuny also explained that a situation where the 70-75 best players are concentrated in a meaningful programme also gives the selectors a good chance of ascertaining players when they are pitted against the rest of the best and added even the present national cricketers have indicated that they would prefer to take part in a tournament of this nature where there is good competition. He said the club cricket tournament will precede the Provincial Tournament and will be played in the October-December period while the Provincial four-day tournament will be played from December to April. He further explained "All provincial cricketers will be given the same training schedule as the national players. If they cannot follow such strict regimen they will have to drop out.
They will be tested every three months to see whether they have reached the expected levels of fitness. This means that we have focussed on getting the best players into the fray in Provincial cricket. Then they will be geared physically and mentally to step into the next plane.
"Besides this, the provincial managers will in turn visit the clubs and schools in the areas and monitor their progress. How much closer can we get to the hub of our cricket? How can we sit at Maitland Crescent and monitor the progress in the Deep South or the Deep Central Province? The answer is, you cannot.
You need people on the spot catering to the local needs at hand. The knowledge that is available at the centre is decentralized. For example our coaches will be based in those areas. Finally the administration will also be decentralized. The centre at Maitland Crescent should be running policy looking both at the national picture and the international picture."
The former Test opening batsman was very emphatic in his message that Provincial Cricket should take the front seat of our local cricket structure; he said "See Australia, South Africa, India or England. All of them have a provincial structure. For instance in England club cricket and county cricket goes on with very strong structures. Club Cricket still stands as the feeder point there and any one who does well in Club Cricket is absorbed into the county system".