LONDON (Reuters AlertNet) - Girls have long been vulnerable to violence and neglect in Haiti, a nation with high rates of rape and HIV/AIDS and a tradition of sending poor rural girls to cities to work as domestic servants.
But last week's devastating earthquake has dramatically increased their risks, human rights and child protection experts say. Sources of protection - families, police, churches, schools - have in many cases disappeared as a result of the disaster, and a general lack of security and order leaves the girls increasingly exposed.
"During a humanitarian crisis like this, vulnerability increases just because everything has been uprooted," said Gerard Ducoc, a Haiti researcher with Amnesty International.
"Communities, people who care for children, relatives and friends are no longer there. The social network is no longer there. The authorities are absent. The local public institutions are not operational. You don't have any defence mechanism except your instinct for survival," Ducoc said.
Harrowing situation
Aid workers in Haiti say that, contrary to reports of widespread violence and looting, many survivors have responded to the disaster by doing their utmost to protect and assist neighbours, including many orphaned and vulnerable children.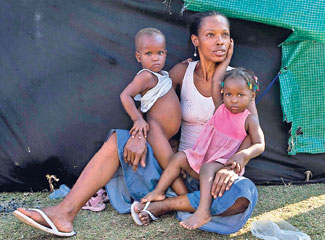 A Haitian sits with her children at a camp for displaced people in Jacmel, a town on the south coast of Haiti, January 20, 2010. REUTERS/UN/Logan Abassi/Handout
"The overall response in Port-au-Prince has been one of tremendous dignity and solidarity among people," said Yifat Susskind, a spokeswoman for MADRE, an international women's human rights group based in New York, which with partner organisations has sent teams of Creole-speaking medical workers to Haiti.
But girls face some unique problems in the aftermath of such a natural disaster, aid workers said.
Even before the earthquake, Haiti had an estimated 300,000 abandoned or orphaned children, and a serious problem with child trafficking, Ducoc said. More than 100,000 girls aged 6 to 17 were working as domestic servants, in situations that often left them vulnerable to violence or neglect, according to UNICEF.
Those girls, far from their families at the time of the earthquake, "are now completely vulnerable if they survived," said Ducoc, who recently completed a report for Amnesty International on Haitian girls in domestic service. "I cannot imagine what the situation is for them now. It's so harrowing, it's very difficult to grasp."
In the aftermath of the disaster, such children and tens of thousands of new orphans may be at risk of traffickers or unscrupulous adoption agencies "dipping into a vulnerable pool", said Susan Bissell, chief of UNICEF's child protection division.
UNICEF is working to quickly set up a registration system for unaccompanied children and a hotline to report children alone, as well as safe shelters. The aim of such efforts, which worked effectively in the aftermath of the 2004 Asian tsunami and Pakistan's earthquake, Bissell said, is to try to reunite as many children with surviving family members as possible.
Simply accessing handouts of food, water and other emergency supplies may also prove difficult for girls who survived the earthquake.
"In the chaos that follows disasters, aid too often reaches those who yell the loudest or push their way to the front of a line," Susskind noted in an online essay on the crisis.
Sex for food
That reality may lead to an increase in "transactional" sex in the wake of the earthquake, as desperate women and girls trade sex for food, water and other crucial resources for themselves and their families, Ducoc predicted.
While Haiti has not experienced widespread problems with violence or rape in the wake of the earthquake, human rights officials fear violence against women and girls could worsen later as stresses are prolonged and policing remains spotty.
Only half of the capital's former police force of 2,000 have reported for work, Ducoc said, and U.S. and U.N. military patrols have had difficulty reaching all parts of the city, much less regions beyond the capital.
"One of the things we know is everywhere there's this kind of disaster there's a stark rise in violence against women in families," Susskind said. "When men deal with very, very difficult stresses, one of their outlets is violence against women."