UNP leader Ranil Wickremesinghe said a loss of faith in the executive and parliamentary system was the reason for the low UNP turnout for Thursday's election.
At least 10 million out of 14 million voters turned up to cast their vote at previous elections, said Mr. Wickremesinghe, addressing a press conference yesterday. "This time the voter turnout was 56.9 per cent. At previous elections we saw a voter turnout of 75.9 per cent, and even in 1989, we saw a turnout of 69 percent."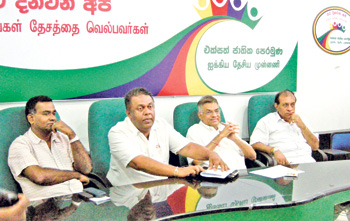 UNP Leader Ranil Wickremesinghe flanked by Messrs. Mangala Samaraweera and Karu Jayasuriya at yesterday's news conference.
The Opposition leader said that at last week's election, "2.6 million people did not cast their vote, while 3.1 voted against the government."
"It is clear that some five million voted against the government," he said. "It is clear that more than five million voters want democracy and media freedom. Implementation of the International Covenant on Civil and Political Rights (ICCPR) is mandatory." Mr. Wickremesinghe said Thursday's defeat for UNP at the General Election would not change the UNP leadership, although the party would be restructured.
Responding to a question from a reporter, the Opposition leader said he would not step down, and that the party's defeat last week indicated a loss of faith among UNP supporters in the present electoral system, and not a loss of faith in him as the leader. "I will remain as the leader, and I will step down if I want to. I am sure the people have not lost faith in me," he said.
Mr. Wickremesinghe said he regretted losing a number of experienced UNP candidates, including Galle district's Vajira Abeywardena.
"We have a lot of new faces this time, but unfortunately we have lost some of our experienced politicians," he said. "The main reason for this is a loss of faith in the elections. Our future campaign will not be restricted to Parliament, but will cover the whole island. The new MPs will be given more responsibility, especially in conducting our campaign."
Mr. Wickremesinghe said steps would be taken to stop the Government from absorbing more UNF MPs.
"We have a lot of confidence in those who'll be appointed as MPs," he said.