SIDI BOUZID, Tunisia, Jan 20 (Reuters) - It began with a slap and an insult hurled at a vegetable seller in a small town surrounded by scrub and cactus. It ended with a revolution that has shaken authoritarian leaders across the Arab world.
Residents of Sidi Bouzid, where weeds grow in the dust that covers the streets, say anger had been building for years before Mohamed Bouazizi set himself on fire, igniting weeks of demonstrations that spread across the country and unseated Zine al-Abidine Ben Ali after 23 years of repressive rule.
In the centre of Tunisia, Sidi Bouzid is a world apart from the expensive coastal resorts that are home to Tunisia's elite.
Its infrastructure is falling apart. Its hospital lacks facilities, residents say, while joblessness and corrupt local officials have fed resentment.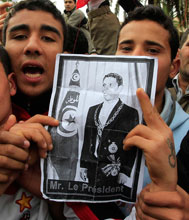 Tunisian protesters chant slogans as they hold a photograph of Mohamed Bouazizi. Reuters
Local authorities had confiscated Bouazizi's unlicensed cart several times before, but the turning point for the 26-year-old, and for his town and ultimately his country, came on Dec.17. The breadwinner in a family of eight, Bouazizi argued with a policewoman who took away his goods and scales. The policewoman gave him a slap in the face and a slur against his father, who had died when he was three.
Without telling his family, Bouazizi bought a can of petrol and set himself on fire outside the provincial headquarters. "What kind of repression do you imagine it takes for a young man to do this? A man who has to feed his family by buying goods on credit when they fine him ... and take his goods," his sister Leila told Reuters at the family's home in a rundown suburb.
"In Sidi Bouzid, those with no connections and no money for bribes are humiliated and insulted and not allowed to live." Bouazizi's mother and sisters sat on mattresses arranged around the wall, a cabinet the only other furniture in the living room, wearing Muslim headscarves rarely seen on the streets of the capital under Ben Ali's secular rule.
"I ask God that Ben Ali's people, and the Trabelsi family, who were ruling Tunisia, go completely," Bouazizi's mother Mannoubia said, referring to the family of Ben Ali's wife, whose huge and ostentatious wealth angered many Tunisians.
BIRTH OF A REVOLUTION
Tunisia's uprising began in a region residents say has been marginalised by successive rulers from the northern coast. Small white houses line dusty roads, many of them unpaved, in Bouazizi's neighbourhood. On crumbling walls, graffiti tells passersby of the town's pride in his role in the revolt.
Near the spot where Bouazizi burned himself alive, residents have placed his picture over a statue erected under the old regime. Supporters have sprayed "The Martyr Mohamed Bouazizi Square" on a wall and called for the road to be named after him.
In the absence of clear leaders in Tunisia's uprising, Bouazizi has captured the imagination of millions and inspired copycat burnings in neighbouring Algeria, Mauritania and Egypt. But it was his friends and family and the people of his hometown that turned one angry man into thousands on the street.
In a country where the media was restricted and opposition parties restricted, local branches of trade unions first plucked up the courage to organise protests over the Gaza war in 2009.
"The fear had begun to melt away and we were a volcano that was going to explode. And when Bouazizi burnt himself, we were ready," said Attia Athmouni, a union leader and official of the opposition Progressive Democratic Party in Sidi Bouzid.
"Protesters demanded payback for the blood of Bouazizi and this developed into economic, social and political demands. We started calling for an end to corruption." Bouazizi died of his burns on Jan. 4. Residents and family say thousands showed up for his funeral procession.
Athmouni was arrested for four days for his involvement in organising the protests, but when he was released he and other organisers stepped up contacts with residents in other towns. Demonstrations spread across Sidi Bouzid province, and Athmani said groups of youths began to clash with police who fired tear gas at the crowds. Protesters hit back with stones.
An internet campaign called on fellow citizens and unions to set up committees to support the uprising in Sidi Bouzid. The first to respond was the lawyers' union, which went on strike.