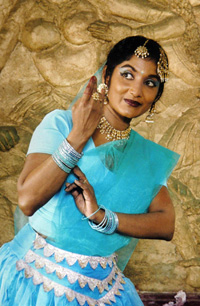 Well known dance teacher Janadari Salgadu has been chosen to take part in the 85th Feis Maitiu festival in Ireland. It is her performance at the Sri Lanka Festival of Music Dance & Speech that gave her this opportunity for international exposure. "For nearly 13 years my students took part in the event and Timothy McCarthy, administrator of the Cork Feis institution selected one of my students Isuri Dilangi Fernando- a student of Musaeus and myself to take part in the festival where prize winners from all over the world will be performing. We will be representing Sri Lanka," she added happily.
Mrs. Salgadu who also teaches dance at Alethea International School, started Bharatha Natyam at the age of four, under her aunt Padmini Dahanayaka and when she began schooling at Princess of Wales College Moratuwa, her dance teacher, Nelum Mendis soon identified and nurtured her talent. She went on to study art at the Kelaniya University and dancing for her MA.
She studied all forms of dancing--low country dance, Sabaragamuwa and Bharatha Natyam right up to Vishareda level and obtained "Nipul"- the final qualification in Kathak dancing. "I am grateful to all my teachers," she says mentioning Professor Kanthi Shilpadhipathy and Professor Piyasara Shilpadhipathy under whom she studied Kandyan and oriental drumming for nearly 15 years.
She subsequently started her own school of dance Jayamini Jayaranga Kala Niketan to promote and teach Sri Lankan forms of dancing. In Ireland, Mrs. Salgadu will present three items- "Ganapathi Varnana" which is a fusion of Ganapathi Vannama and Ganapathi Savudama", "Sakala Shilpa Shasthraya"- an item that features elements of Kandyan, low country dance, Bharatha natyam and Kathak and a dance for "Peradiga Muthuateyayi me" a song by well known local singer Latha Walpola.

---
The hills come alive with Soul Sounds
The internationally acclaimed all-female choir Soul Sounds, who performed in Kandy to a hugely appreciative audience seven months ago, will make a return visit to the hill capital on May 1. The May Day concert is being held at the joint request of two of Kandy's women's advocacy and service organizations - the Inner Wheel Club of Kandy and the Zonta Club of Kandy - and is intended as a celebration of Sri Lankan women and their many contributions to the country's social, cultural and economic fabric.
This latest concert, named "The Hills Come Alive……" will be held at the Hindu Cultural Hall, Peradeniya Road on May 1 at 6 p.m. Proceeds from the concert will be used to fund The Inner Wheel Club's support for victims of rape and their children and for the Zonta Club's Scholarship Fund for university students.

Tickets are available at Nihal's Store, Royal Mall and Keells Super, Kandy
---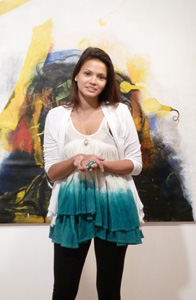 Sasika Fernando
Branding Sri Lanka in London's art world
By Gehan de Silva Wijeyeratne
Asia House in Central London is an unlikely place for a meeting of wolves. But this is what had brought me here to meet Saskia Fernando and Josephine Breese, the curators of the first international exposition of Sri Lankan contemporary art.
I enjoy art and art spaces. But I would not consider myself even remotely as an art critic or writer on art. What had motivated me to meet the two curators was the buzz that one gets from meeting people who are making a big story. As someone who enjoys the museum and art gallery circuit in Europe, I am acutely aware of how difficult it is to break into this circuit. Asia House is an established venue with a significant following and is on the golden circuit for access to the British and international media. Being on their event programme with the attendant print and electronic listings is a significant milestone for Sri Lankan art.
I had received some pre-publicity for the event and I realised that one of the curators, Saskia Fernando, was running like a wolf. I mean this as a compliment. The strength of the wolf runs in the pack and the strength of the pack runs in the wolf. In eco-tourism and bio-diversity, I had seen how running with the pack generates massive momentum. I could see that Fernando was operating to a similar principle. She was not just promoting her own gallery or just the artists she represents, but placing Sri Lanka first. A sentiment which had won the support of many sponsors.
I view the exhibition, which is hung intelligently and I am struck by the boldness and confidence exuding from them. But I am not going to dwell on the art. The reader can consult the tastefully designed and elegantly written exhibition catalogue which is available as a pdf on the web. I prefer to explore the business and country branding angle. Saskia looks the part of the cover girl, but shuns the fashionista image and prefers to be seen as an art curator with a sharp commercial brain.
Being exhibited, in London in a leading venue is not just about being a good artist. It is also about connectivity and having a champion. Sri Lanka and its artists have found two champions in Breese and Fernando who had now propelled them into the international art circuit. As quietly as sunlight, a new confidence will illuminate the Sri Lankan art scene. A psychological barrier has been passed and it will be easier for others to build upon this success.
Breese is an art professional in London, curating many exhibitions. Her parents have a house in Sri Lanka, which led to her meeting Saskia Fernando who runs her own art gallery. An idea developed to bring an exhibition to London. Fernando who had grown up in Australia and had worked in London was confident that Sri Lankan contemporary art was ready. But they both acknowledge graciously that they were following a path blazed by others. In London, this includes Jana Manuelpillai (Noble Sage Gallery) and Sharmini Pereira (Raking Leaves) and in Colombo Shanth Fernando (Paradise Road) and Nazreen Sansoni (Barefoot Gallery).
The willingness to generously acknowledge the work done by others is a sign of confidence and bodes well for Sri Lanka to have two young, confident curators. The country's brand needs champions like them to push out the positive stories from the arts rather than the country driving with its rear view mirrors by dealing with negative press from its recent past. The exhibition too, was not pre-occupied with the war, although some of the work did reflect an emotional response to politics and war.
Saskia presents the curator's motivations in terms of their efforts for art being underpinned by a commercial framework. She abandons patriot speak, in favour of a commercially savvy voice for the arts. But I am curious to learn more about the beast which lurks within and with questions as my scalpel, I peel off the outer layer of commercial cool.
Deep inside is the emotional commitment, which is the harder one to wear in public. Whether it is Bill Gates working in his parent's garage or Steve Jobs with Apple, successful champions are deep down people who love their product. Saskia says she has benefited from having Shanth Fernando her father, a successful entrepreneur as mentor, to strike a balance between passion and commercial objectivity.
Does she want to be seen as a pivotal figure in propelling Sri Lankan contemporary art to the international art scene? She deflects the question gently. But I knew the answer anyway. All wolves are wired the same.