It was a night of pride for print media journalists in the country when the best in the field were feted at the annual Journalism Awards for Excellence, organized jointly by The Editors' Guild of Sri Lanka (TEGOSL) and the Sri Lanka Press Institute (SLPI). The awards night, a much looked forward to event of the journalistic fraternity was held last Tuesday at the Mount Lavinia Hotel.
Anthony David, receiving the 'Scoop of the Year' Award for the Sunday Times news team for the second successive year from E. Saravanapavan, Managing Director, Mass Media Syndicate Pvt. Ltd.
The top award of the night, the Mervyn de Silva Journalist of the Year was won by Gayan Kumara Weerasinghe Karunaratne of the Lakbima daily, weekly and Lakbima News newspapers. President of the World Association of Newspapers and News Publishers (WAN-IFRA) Jacob Mathew who was chief guest on the occasion gave away this prestigious and coveted award.
The Sepala Gunasena Award for Defending Press Freedom in Sri Lanka went to the Editor of the Lanka newspaper Chandana Sirimalwatte. The Sunday Times bagged five awards including the Best Designed Newspaper of the Year, Scoop of the Year -The Sunday Times News Desk, Upali Wijewardene Feature Writer of the Year -Chandani Kirinde, Environmental Reporter of the Year -Malaka Rodrigo and Photojournalist of the Year- Merit award- Gemunu Wellage.
Four veteran journalists were also honoured with Life Time Achievement Awards. They were Lloyd Rajaratnam Devarajah , Sarath Cooray, S. M. Gopalaratnam and Bandula Harischandra.
This year was the 12th edition of the industry driven awards programme, which was first begun by The Editors' Guild in 1998. The programme aims at recognizing and rewarding excellence in the field of journalism.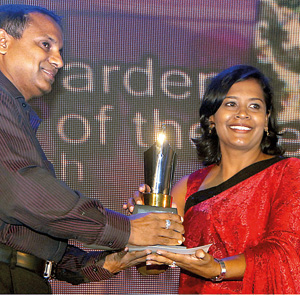 Chandani Kirinde of the Sunday Times receiving the Upali Wijewardene Feature Writer of the Year Award from Jatila Wellaboda, Editor, Daily Lakbima
Awards were given in several other categories including Investigative Journalist of the Year, Subramaniyam Chettiar Award for Reporting on Social Issues , Sports Journalist of the Year ,Denzil Peiris Young Reporter of the Year (Under 26 years), Business Journalist of the Year (Three Awards: Sinhala, Tamil and English) , Cartoonist of the Year , B. A. Siriwardena Columnist of the Year (Three Awards: Sinhala, Tamil and English) and the Prof. K. Kailasapathy Award for Reporting under Special Circumstances The D.R. Wijewardene Award for Earning the Recognition of Peers and the Public was not awarded this year.
Dr. Rajiv Weerasundera's book on the media in Sri Lanka and the battle for Press Freedom in recent years 'The Other War'- a Vijitha Yapa publication was also presented to the Chief Guest Mr. Mathew by the publisher, Vijitha Yapa himself a former founder editor of three Sri Lankan newspapers the Island, the Sunday Island and The Sunday Times.
Dancers of the Chandana Wickremesinghe troupe provided entertainment at the simple and colourful ceremony attended by publishers, editors and senior media
personnel.
Journalism Awards for Excellence 2010: Winners/Merit Awards
Mervyn de Silva Journalist of the Year
Winner: I. M. Don Gayan Kumara Weerasinghe Karunaratne - Lakbima Daily, Lakbima Weekly and Lakbimanews
Honourable Mention:
Ms. Gagani Weerakoon - The Nation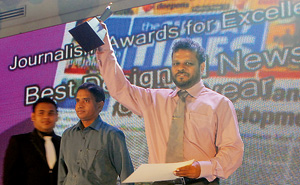 Aruna Wickremaarachchi, Design Manager, Wijeya Newspapers Ltd. holds up the Award for the Best Designed Newspaper won by the Sunday Times
Scoop of the Year Winner:
The Sunday Times Team
Investigative Journalist of the Year Winner: Lakbimanews Team
Environmental Reporter of the Year Winner: Malaka Rodrigo - The Sunday Times
Merit (Tamil): Ms. K. Ponmalar - Virakesari Daily
Merit (Sinhala): Rathna B. Ekanayake - Divaina daily and weekly
Subramaniyam Chettiar Award for
Reporting on Social Issues
Winner: Susitha R. Fernando - Daily Mirror
Merit (English): Randima Attygalle - The Nation
Merit (Tamil): P. M. M. A. Cader - Thinakkural weekly
Sports Journalist of the Year
Winner: Channaka de Silva - Daily Mirror
Merit (Sinhala): Not Awarded
Merit (Tamil): Neville Victor Anthony - Virakesari daily
Denzil Peiris Young Reporter of the Year
Winner: Lakna Tharindu Paranamanna - Daily Mirror
Merit (Sinhala): Ramesh Warallegama - Irida Lakbima
Merit (Tamil): S. N. Mohamed Suhail - Vidivelli
Photojournalist of the Year
Winner: Chathura Kodikara - Rivira
Merit (Tamil): Balentheram Pratheepan - Thinakkural Daily
Merit (English): Gemunu H. Wellage - the Sunday Times
Merit (English): Kushan Pathiraja - Daily Mirror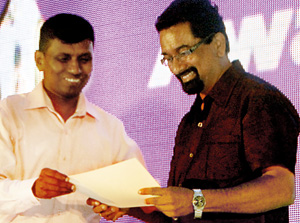 Gemunu H. Wellage of the Sunday Times receiving the Photojournalist of the Year Merit Award from Sunil Jayasekera, convenor of the Free Media Movement
Best Designed Newspaper of the Year
Winner: The Sunday Times
Merit (Sinhala): Irida Lakbima
Merit (Tamil): Virakesari Daily
Merit (English): The Nation
Cartoonist of the Year
Winner: Atigala Widanalage Awantha Rohana Karunarathne - Daily Mirror
Merit (Sinhala): Anjana Indrajith Jayaweera - Lakbima Daily
Merit (Tamil): Ratnaraja C. Pradeepkumar - Thinakkural Weekly
Prof. K. Kailasapathy Award for Reporting
Under Special Circumstances
Winner: Balentheram Pratheepan - Thinakkural Weekly
Merit (Sinhala): Rivira Team
Upali Wijewardene Feature Writer of the Year (S/T/E)
Winner (Sinhala): Prasad Nirosha Bandara Wijekoon - Ravaya
Merit (Sinhala): Sanda Laalith Ranasinghe - Dinamina and I. M. D. Gayan Kumara Weerasinghe Karunarathne - Irida Lakbima
Winner (Tamil): Balasubramaniam Kirubaharan - Thinakkural Weekly
Merit (Tamil): Arun Arokianathan - Virakesari Daily
Winner (English): Chandani Kirinde - The Sunday Times
Merit (English): Gagani Weerakoon - The Nation and Randima Attygalle - The Nation
Business and Finance Journalist of the Year (S/T/E)
Winner (Sinhala): Not Awarded
Winner (Tamil): Rajan Sujitha - Virakesari Daily
Winner (English): Uditha Jayasinghe - Daily FT
B. A. Siriwardena Columnist of the Year (S/T/E)
Winner: (Sinhala): Wimalanath Weerarathna - Ravaya
Winner (Tamil): S. Jithendra Prasath
- Virakesari Weekly
Winner (English): D. B. S. Jeyaraj - Daily Mirror
By nomination: Sepala Gunasena Award for Defending
Press Freedom of Sri Lanka
Chandana Sirimalwatta, Editor, Lanka Newspaper
By nomination: D. R. Wijewardene Award for Earning
the Appreciation of Peers and the Public
NOT AWARDED
Lifetime Achievement Awards
Lloyd Rajaratnam Devaraj
S. M. Gopalaratnam
Bandula Harischandra
Sarath Cooray