NEW DELHI (AFP) - Pakistan's new 34-year-old female foreign minister has won instant fans in India where a flurry of flattering headlines Wednesday greeted her first trip to the country.
Hina Rabbani Khar appeared to have had an instant impact on one of the world's most tense bilateral relations, with her photo adorning the front pages of most Indian newspapers amid high interest in her arrival.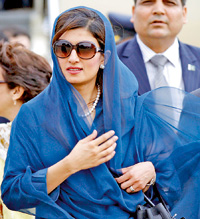 Foreign Minister Khar arriving at the New Delhi airport on July 26. Reuters
"Pak Puts On Its Best Face," noted The Times of India, the biggest-selling English-language daily, while mass circulation Hindi newspaper Navbharat Times said India was "sweating over model-like minister."
"Pak bomb lands in India," joked the Mumbai Mirror tabloid in a tongue-in-cheek reference to the history of wars between the countries and attacks by Pakistani militant groups on Indian soil.
In a rarity for the Indian media, not known for assessing the dress-sense of previous Pakistani visitors, the Mail Today tabloid devoted extensive space to her choice of outfit as she flew in to New Delhi airport on Tuesday.
"The 34-year-old minister scored full marks on the fashion front when she was spotted at the Delhi airport in a monotone outfit of blue -- the colour of the season," it said. "Tasteful accessories -- Roberto Cavalli sungl asses, oversized Hermes Birkin bag and classic pearl jewellery -- added a hint of glamour to her look," it added.
The Telegraph newspaper meanwhile compared fresh-faced Khar, a married mother of two who caused a stir at home after being photographed in tight jeans, with her elderly counterpart S.M. Krishna.
"In the unkind world of adjectives, the odds are stacked against SMK and in favour of HRK," it said, using the ministers' initials. "Khar carries with ease descriptions such as 'stunning' and 'petite'."
Krishna, a 79-year-old who takes great pride in his tailored suits, might face a tough job attracting attention later Wednesday when the two pose for photographs at the start of their talks.
"All eyes on glamorous Pak minister," said the Rediff website. "She is clearly being looked at as a perfect combination of beauty and brains."
The Indian Twittersphere was also ablaze with commentary on the Pakistani envoy, who has taken over from Shah Mehmood Qureshi who drew criticism in the Indian media over his strong language last time he met Krishna.
Journalist and author Seema Goswami saw a link between the monsoonal downpour that struck the Indian capital Wednesday morning and the generally fawning coverage of Khar.
"Even the Delhi skies are drooling," she wrote.
In Pakistan, headscarf-wearing Khar has drawn inevitable comparisons toBenazir Bhutto, the charismatic female prime minister of Pakistan who was assassinated when trying to regain power in 2007.
Like Bhutto, she comes from one of Pakistan's leading political and land-owning families and her clan has extensive farms in Punjab, the richest and most populous province. The foreign ministers of the nuclear-armed niehgbours are holding their first talks in a year, looking to breathe fresh life into a peace process still stifled by the trauma of the 2008 Mumbai attacks.
What the papers are saying
Hina Rabbani Khar has been grabbing headlines for her good looks and charm as well as being the first female foreign minister in Pakistan. The Times of India adorned their front page with a photograph of the minister in her royal blue traditional blouse (kurta) next to the headline 'Pak puts on its best face'.
While the Hindi newspaper Navbharat Times described India as 'sweating over the model-like minister'.
The Mail Today claimed she had brought a 'Glam touch to Indo-Pak talks' and commended her Roberto Cavalli sunglasses and black Hermes Birkin handbag, saying 'Who says politicians can't be chic?'
Meanwhile on Twitter the Sunday supplement of the Lahore-based Daily Times posted: 'Khar is all about tasteful accessories - Roberto Cavalli sunglasses, oversized Hermes Birkin bag and classic pearl jewellery. Gorgeous.'
A columnist for the Hinustan Times Sunday magazine, Brunch, tweeted: 'I think the new foreign minister of Pak, Hina Rabbani Khar, is their weapon of mass distraction.' And fashion blogger Amara Javed tweeted: 'Khar is more glamorous than Catherine Middleton. Take THAT world.'
Daily Mail, London