Despite losing the bid to host the 2018 Commonwealth Games in Hambantota, the gala dinner hosted by Sri Lanka was praised and enjoyed by foreign delegates. A team of chefs from Cinnamon Grand, Colombo specializing in Sri Lankan cuisine delivered authentic Sri Lankan dishes for about 400 delegates at the Caribbean island St. Kitts on November 8.
Spices, clay pots, toddy, curd and treacle, tea and coffee, rice flour and a variety of Sri Lankan sweets were taken to St. Kitts from here. The dinner hosted by 'Team Hambantota 2018' at Marriott Resort was named 'Kadamandiya'(a set of stalls at a village) and included small huts with roofs made out of palm leaves each named - kottu kade (taka taka), appa kade (hopper counter), dosai kade, indiappam kade( string hoppers), tabaruma (local liquor and toddy bar), re`kade(all night eatery), kopi kade(tea shop), palathuru kade (fruit sale), bema sela (thirst aid station), athurupasa (desserts).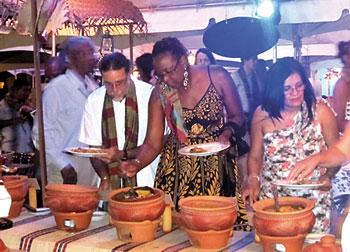 Cinnamon Grand Chefs presented a sumptuous spread
Cinnamon Grand Restaurants and Bar Manager, Upali Nanayakkara, told the Sunday Times that the presentation and the novel taste had many delegates coming for a second serving and the clay pots were refilled several times.
Clay pots were filled with Sri Lankan mutton, fish, prawn, dhal and potato curries, tempered kadala, seeni sambol, pittu and string hoppers, wadai, coconut sambol served using coconut shell spoons.
"Among the favourites were chicken drumsticks marinated in spices and deep fried, fried sprats and hurulla. Fresh king coconut was served to the guests while local liquor and toddy were available at the tabaruma," Mr. Nanayakkara said.
Curd and treacle, halape(a mixture of rice flour, grated coconut and palm treacle steamed in a folded halape leaf) , thalaguli(roasted sesame seed mixed with palm sugar and molded to a shape), dodol(a pudding made from coconut milk treacle, rice flour and cashew nuts), wattalapam(a steamed pudding made with coconut milk, eggs and jaggery), bibikkan (a rich, cake made from grated coconut, coconut treacle and flour) were some Sri Lankan sweets at the dinner buffet.
"Show cooking sessions attracted many foreign delegates who were seen waiting to taste hot and crunchy egg hoppers, a demanding dish at the gala dinner," he said. Chef Weerakkody added that the authentic Sri Lankan dishes served for the Commonwealth delegates can be savoured at Cinnamon Grand's Nuga-gama.