The government is to extend assistance to Sri Lankan inventors to introduce their inventions to foreign markets and thereby help bring much needed foreign exchange to the country, said President Mahinda Rajapaksa at the Presidential Awards ceremony for the best Sri Lankan inventions for 2008-2009-2010 held at Temple Trees last week.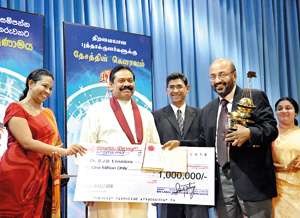 Pic by Susantha Liyanawatte shows Dr. Lenadora receiving the award for the best innovation of 2010 from President Mahinda Rajapaksa in the presence of Minister Pavithra Wanniarachchi and Deputy Minister Faizer Mustapha. Below some of the winners.
In an era where Sri Lanka is being developed after a 30 years of war, 'we' should encourage local inventors, he added. The present need of the country is to promote new inventions and practical researches based on them. Such inventions should be developed at commercial level and the public and private sectors should lend its support towards this end, President Rajapaksa said.
Best inventions in the fields of public welfare, industries & technology, engineering, medicine, physics and environment were presented with presidential awards at this ceremony. Dr. Shantha Jayathilaka Bandara Lenadora won the award for the best inventor of the year 2010 by the President, for inventing a pneumatic self- retaining surgical retractor system. There were no awards for Best Inventor in 2008 and 2009.
This invention has received a patent from the World Intellectual Property Organization. According to the abstract posted by the World Intellectual Property Organization: "The invention relates to a tissue-friendly pneumatic self-retaining surgical retractor system. The retraction action is achieved by the separation of two longitudinal retractor bars, carrying a multiple of retractor blades of variable sizes and shapes, driven by a pair of pneumatic cylinders."
Explaining the action of this device, Dr Lenadora said that two sets of retractor blades are fitted to two longitudinal retractor bars. These two bars are pushed apart using a pressurized air column supplied by two ordinary disposable syringes. The activation is done by another syringe connected to the air column or by compressed air (available in the theatre). The body tissues will offer the minimum required force through the air column of the device initially opposing the tissue action. The compressibility of the air column results in a valuable cushioning effect on the body tissues of the patient.
During the surgical procedure, as the anesthetic effect fades away with time, the muscle tone of the tissues will increase gradually thereby exerting a gradually increasing force on the air column. The compression of the air due to the increased tissue action gives a movement to the retractor bars. This movement provides a valuable indication to the surgical team to enhance the anesthetic dose, he said.