Year on the Web
6th April 1997
| HOME PAGE
| FRONT PAGE
| EDITORIAL/OPINION
| NEWS / COMMENT
| BUSINESS
Ferdy started on Air Ceylon at Rs. 10 per flying hour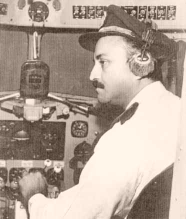 April 4 marked the first anniversary of the death of Capt. George Ferdinand. His sudden death on Maundy Thursday last year, in the garden of his Melbourne home, closed the final chapter on the life of one of Sri Lanka's most versatile and respected airline pilots.
George Ferdinand ('Ferdy' to his friends) was a product of Royal College, Colombo. He was barely eighteen when in 1941 he answered the Royal Air Force call for trainee pilots to help the war effort overseas. Following selection, he received his basic flying training at Ratmalana on Tiger Moths before joining ship for the journey to the UK.
But George's voyage was interrupted when he reached Bombay. He was asked to stay back in India and act as 'nursemaid' to another Ceylonese recruit, P.B. Mawalagedera, who had contracted chickenpox en route from Colombo! Little did the pair realise that their respective careers would be closely entwined in years to come.
Finally reaching England, George progressed through RAF induction and ground school before going to Canada for advanced training on Harvard aircraft. He returned to England as a qualified Pilot-Engineer, serving on the Airspeed Oxford and Avro Lancaster bomber.
After the war ended, George Ferdinand was awaiting demobilisation in the UK when he chanced upon L.S.B. Perera, then Ceylon's Director of Civil Aviation. Mr. Perera was in England in connection with the setting up of Air Ceylon. He suggested that George return home and apply for a job with the new airline which was scheduled to begin operations in 1947.
That's just what 'Ferdy' did. Converting his RAF licence to a civil one at the Ratmalana flying school, he joined Air Ceylon not long after the first national carrier had taken wing. He started as a supernumerary Second Officer, earning around Rs. 10 to 20 per flying hour. When George later attained the right-hand seat of Air Ceylon's DC-3 Dakotas as a First Officer (co-pilot) his pay rose to the dizzy heights of Rs. 450 per month!
One of his colleagues in those early Air Ceylon days was P.B. Mawalagedera, the former chickenpox patient. As foreshadowed earlier, their careers with the airline progressed more or less in parallel, with both being promoted to Captain around the same time.
Along the way 'Ferdy' had fallen in love with a charming air hostess named Therese Victoria. Their airborne romance ultimately led to the altar and, in time, to the births of two sons, George Jnr. and Johann.
George went on to accumulate over 10,000 hours on the venerable DC-3 before Air Ceylon decided to purchase its very first, very own turbine-powered aeroplane, the Avro 748, in 1964. By now George Ferdinand had become one of the company's most experienced and senior pilots, so it was no surprise when he was selected, along with Capt. Mawalagedera, to go to Manchester and train on the new aircraft before taking delivery and flying it to Colombo.
This pattern was repeated when George took delivery of a Nord 262 turboprop in 1967 and, in 1969, Air Ceylon's first, wholly-owned jetliner the Hawker-Siddeley Trident. Later, Capt. Ferdinand piloted Air Ceylon DC-8s on international services, having risen to the rank of Chief Pilot/Operations Manager.
ln 1978, just before Air Ceylon was disbanded George Ferdinand and his family left Sri Lanka for Africa, where he flew Avro 748s and Boeing 707s for Zambia Airways for a couple of years. It is worth noting that when Air Ceylon ceased operations, it completed 31 years of fatality-free service. That enviable, indelible record is largely due to the discipline and professionalism of pilots like Capt. George Ferdinand and others of his ilk.
After AirLanka had risen phoenix-like out of the ashes of Air Ceylon, George Ferdinand returned to Sri Lanka as Captain on the new carrier's Boeing 707s. A move to the Lockheed TriStar was next, with George continuing to pass on the benefit of his vast experience and expertise to younger co-pilots. For this, he is remembered with fondness and respect by those beneficiaries of his training, many of whom are now Captains with AirLanka and other international airlines.
In October 1985, at the age of 62, Capt. George Ferdinand operated his last flight, from Tokyo to Colombo, before hanging up his flying gloves for good. He is believed to be the only Sri Lankan so far to have flown right up to the retirement age for pilots.
But 'Ferdy' was not quite finished with AirLanka. After living in the UK for eighteen months he returned to the airline in 1988 in the administrative capacity of Manager-Flight Operations, a position he held until finally retiring in November 1989.
Eventually settling down in the Melbourne suburb of Dingley, 'Ferdy' enjoyed a happy, relaxed retirement with his devoted wife Therese. He took great pride in their beautiful home and garden situated just on the fringe of Moorabbin airport, one of Australia's busiest general aviation aerodromes.
In fact, one of George's favourite latter-day pastimes was lounging in his backyard and using a radio scanner to monitor the conversations of air traffic controllers and pilots at Moorabbin. He also kept close, regular contact with other Melbourne-domiciled friends from his flying days, notably Roy De Niese and Rex De Silva.
George and Therese had become proud grandparents only a year before his death. Coming as suddenly as it did, George's passing was a tremendous shock to Therese and the family. But his wife of 38 years reflects that it is probably the way an active, mentally-sharp 'Ferdy' would have preferred to go.
His numerous colleagues in the airline industry, to say nothing of his countless passengers, owe a debt of gratitude to Capt. George Ferdinand, one of nature's gentlemen, for his dedication to the craft of aviation. May he Rest in Peace.
Roger Thiedeman,
Melbourne.
---
National unity his only aim
Death came to Dudley Shelton Senanayake on April 13, 1973. Both as a national leader and the head of a political party he left behind an indelible impression in the minds of his people. But to us all he was a force to be reckoned with for the simple reason that at all times the human qualities in Dudley did take precedence over his political commitment.
To Dudley what mattered most was service to the people even though he had to be forced to take to politics by his father. He may have faltered, he may have blundered too, but no one not even his bitterest political foe could ever question his sincerity and political honesty. Dudley was held as an embodiment of political honesty and purity. Whether it be at a public meeting or a parliamentary debate he always was the first to launch attacks on the twin evils of bribery and corruption.
Mr. Senanayake's death removed from the legislature of this country, a skilled debator, an eloquent speaker and above all a magnanimous member.
His voice was heard in the State Council, the House of Representatives and the National State Assembly as well. Every time he spoke, he was in a position to win the hearing of his critics. He would argue a point of debate to any extent even to a degree of bitterness and pith, yet he left behind no rancour.
He may have lost his temper. He may have, often used hard words and these words may have had a killing effect on his targets of attack. Yet he would not fail to wind up his speech with an apology.
How many times has he said, 'Before I conclude may I say sorry to those whom I may have hurt during the course of this debate."
For instance Mr. Senanayake was accused on the floor of the House by the then MP for Medawachchiya for not having nominated a Sinhalese Buddhist as the UNP nominee for the post of Speaker, after the Speaker had been installed in office.
Mr. Senanayake replied, "I am sorry the member for Meda-wachchiya is not here. He believes in Sinhala by day and the reasonable use of Tamil by night." It must also be mentioned that when he was last in office, he was only keen to build National Unity.
We should remember what he said when addressing the rally that marked the conclusion of the UNP annual sessions held in October 1965. On that occasion speaking about national unity, he said, "I could consider having fulfilled my political mission in life and retire happily if only I could infuse in the people a sense of patriotism so that irrespective of caste, creed and social position they could say in one voice: "This is my own native land."
V. Gnanesampanthen
---
'His life was a sparkling knock of brilliant strokes'
The Ball no Question makes of Ayes and Noes,
But Right or Left as strikes the Player goes,
And he that tossed Thee down into the Field,
He knows about it all - He knows - He knows!
The Rubaiyat
And so, very unexpectedly, so stunningly and so dramatically, the life of Diyanesh Rajaratnam ended on the morning of March 25. This day also was the 17th wedding anniversary of Diyanesh and Devarani.
Diyanesh was a devoted family man and whatever his professional duties were, he made time for his family. He doted on his two daughters.
I first became acquainted with Diyanesh and his manifold talents, when he was leading his school cricket team. His versatality was obvious and he revelled in playing cavalier cricket. He appeared destined to blaze a trail in the sports arena.
I next encountered him when he applied to join our professional staff at the EFC. He was recruited as an Assistant Secretary fifteen years ago and rose to the position of Assistant Secretary-General which he held with distinction. He was also appointed as Director Training subsequently.
Diyanesh had many opportunities to exhibit his forensic talents at the EFC. He grasped a point very quickly, he assessed facts very shrewdly, he cross-examined with rapier thrust effectiveness and could either charm his judge or stand up to him as the occasion demanded. At times his zeal seemed excessive, but there were many member companies who loved his approach and sought him out to handle their work. They perceived a Rambo-like streak in Diyanesh, which perhaps he gained on the rugger field, having once been an outstanding player.
In recent times, I entrusted to him some challenging assignments. He handled the disputes at Ceylon Diamonds, Polytex Garments, Veyangoda Textiles and Pugoda to name a few. He was always self- confident and could stand eyeball to eyeball against the strongest opposition. He delivered results in all these matters.
Communication skills were a blessing which Diyanesh was probably born with. Whether in English or Sinhala he had a facile and engaging way of putting a thing across. These skills were used to the fullest in his training activities.
He was a born improviser and once an idea was put to him, he was unstoppable and would make the best use of it. He had a flair for articulating an idea and the Supervisory Training Programme which he ran for several years will perhaps be a lasting monument to his competence as a trainer.
He was an Attorney-at-Law like his father, the late S.S. Rajaratnam and his brother Suresh-Chandra. Diyanesh had undergone specialised training with the I.L.O. in the field of Human Resource Development and he was one of the first to obtain an M.B.A. from the University of Ceylon (Colombo Campus).
Diyanesh's passing was in keeping with his character. He always appeared to me to be in a hurry. He worked until a few hours before his death. The news of his death therefore shattered us, his colleagues at the EFC. Diyanesh played his last innings with aplomb walking out without waiting to be ruled out. His life was a sparkling knock, studded with brilliant strokes which will remain in our memories.
I was proud to have been his boss but I am more proud that even in discussing our official work Diyanesh lapsed into calling me 'machang' which was the term which he used liberally with all his colleagues at the EFC.
Franklyn Amerasinghe
Secretary-General,
Employers' Federation of Ceylon (EFC).
---
He was a live wire of the Oriental Studies circle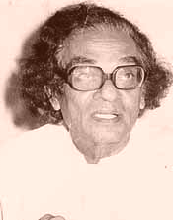 Sannas Mudiyanselage Punchi Bandara alias Punchi Bandara Sannasgala was born in Ambagasdowe-Gedera, Ambewela at the foot of Pattipola Range at Udukinda in the historic Uva Province on the 15th June 1915.
In order to overcome the family financial stringencies Punchi Bandara helped his parents to develop their hereditary land with a little paddy, more vegetables and a small-holding of tea. His upbringing and education was delayed as a result. But under the advice and tutelage of Madowita Sri Gunananda Maha Thero, close grand-parent of his father S.M. Ukku Bandara, he started learning Sinhala.
Later he was admitted to Haputalegama Vernacular Mixed School at Kadurugamuwa (the present Sri Janananda Maha Vidyalaya). The Village Temple and the Vernacular School poorly provided the basic knowledge of A B C wherefrom Punchi Bandara could hardly quench his thirst for wider knowledge. In 1931 his first Tutor Madowita Sri Gunananda introduced him to the Head of Pravachanodaya Pirivena, Molligoda, Wadduwa. There he commenced in-depth studies in Sinhala, Pali and Sanskrit and other subjects relevant to make a Pandit in Oriental studies, under Labugama Lankananda Maha Thero (his surviving Tutor, the present Maha Nayaka Thero of the Kotte Chapter of the Siam Maha Nikaya). In seven years of hard work Punchi Bandara completed Oriental Studies, in 1938.
Immediately afterwards he joined St. John's College, Panadura, alma mater of great Scholars like Dr. Colvin R. de Silva, W.A. de Silva, Peter Abeysekara and many others. Punchi Bandara left St. John's College to join the Colombo University. He obtained his first degree there in 1949. Having commenced writing regularly to 'Dinamina' and 'Silumina' as well as periodicals he earned a living while earning a name and fame for himself. His writings on literature, religion, aesthetic arts, grammar and language, were regular features in the 'Classical Supplement' of the Silumina. In October 1954 he obtained the Master's Degree and did not stop at that. His aim for post-graduate studies achieved success when he received the Doctorate of Philosophy at the Convocation held in Peradeniya on the 4th November 1960.
By this period he was married to Nalini Ratnayake, eldest daughter of A. Ratnayake, Member of the First Parliament, Minister of Home Affairs and later the President of the Senate, a prominent Buddhist and student of Sinhala Culture. The Government of (then) Ceylon in 1954 set-up the Lanka Bauddha Mandalaya to make suitable arrangements to celebrate the 2500th Buddha Jayanthi. In order to ensure lasting results of the Buddha Jayanthi the Government provided funds and set-up several sub-Committees to foster Tripitaka Translation into Sinhala, Sinhala Encyclopaedia, Buddhist Encyclopedia, Buddhist Literature, Restoration of the Sri Dalada Maligawa etc., Professor D.E. Hettiarachchi who was appointed to head the Sinhala Encyclopaedia Sub-Committee hand-picked his erstwhile pupil, Sannasgala as the Secretary of that Committee. In addition Sannasgala served on Buddhist Literature and Sri Dalada Maligawa Sub-Committees as well.
Sannasgala was a live wire of the Oriental Studies circle, a Founder Member of the Sinhala Writers' Organization of which he was a Vice-President and later Joint Secretary for many years, upto the end of his life. But his forte was the Sinhala Dictionary, where he made his mark.
He aspired to learn the difficult subject of lexicography. For this purpose he did not have the necessary funds, but luck came his way to provide ample funds to go on fellowship to the best lexicographical Universities: Indiana in U.S.A., University of London, University of Modern Languages, Amsterdam, University of Goettinggen, West Germany. One of his Professors, Hla Pe, School of Orient and African Studies, London, wrote about him on 9th February 1979 thus: Prof. Sannasgala is a dedicated lexicographer: Lexicography is not only his job, but also part of his life.
The Vidyodaya and Vidyalankara Pirivenas were re-fashioned as Universities in the early Sixties and Dr. Sannasgala was selected as Professor in Sinhala at Vidyalankara University. However, his rightful place was in the Sinhala Dictionary Office grouped under the Ministry of Cultural Affairs, which came under severe criticism for its lethargic and slow progress. During the second Sirimavo Bandaranaike Regime, in the year 1975, the Minister of Cultural Affairs, T.B. Tennakoon entrusted Sannasgala with the reins of the Sinhala Dictionary Office.
Soon afterwards he was selected by the Netherlands Government for a two year fellowship in Lexicography in the University of Amsterdam. This followed a British Council Fellowship to the University of London and Oxford. On a second round he was awarded the Cordell Fellowship to proceed with in-depth studies in Lexicography in Indiana University, in 1984. The Asia Foundation also financially assisted him to carry out research studies in three different Universities in USA, and later in Germany and in Great Britain. He proceeded to Germany in 1987 and to Leydon University where rare manuscripts pertaining to oriental studies are deposited.
On his return home he translated the knowledge he acquired into action, and accelerated the work of the Sinhala Dictionary. Dr. Sannasgala has explained in one of his reports that at the point of time he undertook work in the Sinhala Dictionary, it was stagnating at 702 words explained in 905 pages of print, the work which commenced in the year 1927. Since the date of assuming work as Head of the Sinhala Dictionary Office, upto 15th December 1988, he succeeded in publishing one hundred and sixteen thousand six hundred (1,16,600) words in a total of 6595 pages bound into several volumes.
Ahungalle Arunatilaka,
Joint Secretary,
Sinhala Writers' Organisation.
---
Continue to Plus page 9 - X-ph iles of Colombo
Return to the Plus contents page
Go to the Plus Archive
Please send your comments and suggestions on this web site to
info@suntimes.is.lk or to
webmaster@infolabs.is.lk