5th October 1997
This veteran cartoonist says "I want to be in the thick of things all the time"
By Tharuka Dissanaike
Celebrating a golden mile stone in one's career is a good time to look back. For W.R. Wijesoma, Sri Lanka's best contemporary cartoonist, this week was spent reflecting on his fifty years in journalism and in frantic preparation for the felicitation ceremony to be held next Thursday.
As Wijesoma recalled events spanning half a century, the ever present twinkle in his eye bespoke of the subtle humour that colours his cartoons and brings a regular smile to the readers' lips. Every post- independence political figure from D. S. Senanayake to J.R. Jayewardene to Chandrika Kumaratunga sprang alive under his pen in wiry caricatures, both funny and ironic.
On September 17, 1947, a young Wijesoma, aware of his talent but not yet having put to test, began work as a reader in the Times of Ceylon, then under the able editorship of Frank Moraes. His education was disrupted during the war years and he never resumed formal studies.
"My real education was at the Public Library and Museum," he said. A few years at Art School honed his talent but Wijesoma felt it lacked the capacity to take him beyond that, so he quit. At the Times, he was intent on doing cartoons but since there was already a cartoonist his dream was not immediately realised. But continuing on his school time habit of participating in various art and poster competitions, he won many awards. "I made up my mind that in five years I would have a cartoon of my own," which seemed rather ambitious for this shy, retiring 21 year old. He was not to wait so long. When requested by his superiors to create a cartoon for the Sunday paper Wijesoma came up with 'Politicians of Ceylon' where he did sketches of the political leadership of the time. Later his pocket cartoon 'What a Life' became very popular with readers. His early cartoons, according to the trend of that time were based on a news headline with an illustration. Tory de Souza, then the erstwhile editor of the Times encouraged Wijesoma in his work "He never interfered." When first he was asked to do a daily cartoon "I was afraid that I would dry up," Wijesoma smiles in remembrance. But he had read somewhere that if you can get four cartoons passed by an editor, you will be alright.
The one incident he remembers when a cartoon published was threatened with libel was when he portrayed J.R. Jayewardene with a dollar sign in his pocket. Wijesoma's intention was to show that Jayewardena was pro-American in his approach to development. But it was intepreted as a bribe and a letter of demand was sent. "Tori de Souza showed me the letter but after that I never heard anything more on the topic. I assume it was settled by the able board of the Times which comprised several top lawyers."
Since then, tens of thousands of cartoons later, Wijesoma has always managed to stay within the law's limits. After 21 years at Times of Ceylon he moved onto Lake House.
"The day I started work, Esmond Wickremasinghe was just leaving," he remembers. At the Observer though, Wijesoma tasted his first sour experiences of press control. After the takeover of Lake House by the government, the first cartoon sketched by Wijesoma for the new management, on Dr. N.M. Perera, then Finance Minister was not published in the next day's newspaper. A few days later he was summoned to the Chairman's office and was requested to do a cartoon on an opposition politician. Wijesome agreed. "But first," he said, "publish the cartoon I drew on N.M. Perera." It was at the Observer too that he came up with the idea of the strip "Drawn and Quartered by Wijesoma. 'Laughingly, he remembers when only three of the "Quarters' were approved by the management. I never filled in the missing square," he said. "So everyone knew that the management had edited the cartoon." He saw Lake House through a government change and worsening conditions compelled him to think of leaving the State media.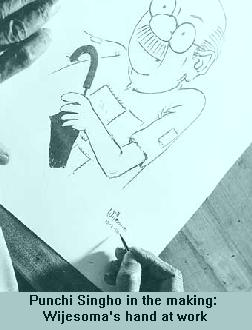 In 1981 when the dynamic tycoon Upali Wijewardena was launching The Island and Divaina, he roped in Wijesoma as one of the core people who worked to see the birth of a new newspaper. 16 years and 9000 cartoons later, Wijesoma still has not dried up of ideas.
"There are of course days when there's nothing to draw. I ponder over the day's news until lunch time. Nothing. Then impatiently, after lunch, sketch something hurriedly, not at all satisfied with my own work. But some of these cartoons have been highly commended," he said.
Punchi Singho, Wijesoma's cartoon likeness, whom he created at Times of Ceylon as a middle class man in national dress with a nice umbrella and basket has seen transition of governments, wars, floods and famine through Wijesoma's eyes. Through the years, Punchi Singho has become poorer, some times sporting tattered garments and a worn umbrella, often piled on his shoulders the unbearable weight of cost of living.
Memories of his late wife runs like a golden thread woven closely into the story of his life. Reference to her brings a smile to his lips and a light to his eyes. "She was a woman after my own heart," Wijesoma said. His thoughts were far away to the time when both of them, avid lovers of wildlife, would impromptu, pile into the night mail with just two jerseys and a camera in the bag, get down at Ohiya Station, have tea and hike upto World's End.
With three children and three step children, Wijesoma is now a grandfather three times over.
"I have no regrets in my career or life," he said. "I always did what I thought was best."
Even though he has suffered several health problems lately, Wijesoma is as sprightly as ever.
"My children often ask me to stay at home now. But that I cannot do. I want to be in the thick of things all the time."
---
Continue to Plus page 9 - It's got personality!: Plantation Homes
Return to the Plus contents page
| HOME PAGE | FRONT PAGE | EDITORIAL/OPINION | NEWS / COMMENT | BUSINESS
Please send your comments and suggestions on this web site to
info@suntimes.is.lk or to
webmaster@infolabs.is.lk