21st December 1997
New Year gift: Shell to show its gas again
By M. Ismeth
The monopoly Shell Gas is reviewing the gas price amidst speculation of a possible increase by Rs. 25 for the new year.
A Shell official told The Sunday Times they were reviewing the price but denied that a decision had been taken.
Under an agreement with the government Shell which has a monopoly over local gas supplies can increase prices once a year by 10 percent and consumers fear the company might do it from early January.
"This might be Shell's New Year gift to us," an angry consumer said pointing out that the increase was being considered despite a duty waiver for gas in the last budget. A company official claimed world gas prices had gone up by a large margin and thus the duty waiver could not be passed down to the consumer.
---
Watch on Christmas tree felling
Forest Conservation Department has stepped up vigilance in the N'Eliya area to keep a tab on persons cutting down Cypress trees illegally from state owned lands to be used for Christmas decorations.
A forest conservation official told The Sunday Times every year in December several people illegally cut branches of Cypress trees in state land.
"This year we are implementing the rules and regulations strictly to prevent such acts. So far there have been no large-scale cutting recorded, but we expect such things closer to Christmas.
The Nuwara Eliya Police said they too had intensified monitoring and patrolling.
Chief Inspector Saman Yatawara said no person without a permit from the District Secretary would be allowed to transport them.
Meanwhile, the State Timber Corporation has put up special outlets at its depots at Nuwara Eliya, Beruwala, Ninamadama and a temporary outlet at the St. Mary's Church in Dehiwala to sell Christmas trees the prices of which range from Rs.200 to Rs. 1000.
---
New Indian envoy is a man of many languages
By Bandula Jayasekara
The New Indian High Commissioner for Sri Lanka Shivshankar Menon presented his credentials to President Kumaratunga on Friday.
High Commissioner Menon who joined the Indian foreign service in 1972 served as the joint secretary East Asia desk in New Delhi and as Ambassador in Tel Aviv from May '95 until his posting to Sri Lanka.
A graduate in History, Menon, 48, is fluent in Chinese, French and German. Shri Menon and Srimathi Mohini Menon have one son and a daughter.
---
Lapses in pipe- dreams: MP
A UNP MP has charged that General Anuruddha Ratwatte's ill advised pipe- dreams and single minded preoccupation with opening the main supply route to Jaffna before February has caused serious security lapses in the hill country and other parts.
Kegalle district Parliamentarian Mano Wijeratne said last Thursday. LTTE attack on two transformers in Badulla was a result of excessive concentration on one strategy to re-open the Jaffna Kandy road while neglecting other areas.
In recent months security in the eastern province was weak and this left way for LTTE cadres to move through the east to hill country areas such as Bandarawela.
Mr. Wijeratne has in recent weeks emerged as a strong critic of both the military and political strategy of the Government on the ethnic conflict.
---
UL flight delayed for two days
By Mohammed Qassim in Saudi Arabia
AirLanka's flight from Riyadh was delayed for two days causing considerable hardship to its Colombo bound passengers. The flight which should have left the Saudi capital on Wednesday night left for Colombo only on Friday night.
On Wednesday, the departing passengers who were on board were asked to alight from the aircraft due to a technical defect in the engine. The airline made arrangements for some of the passengers in a hotel and the other passengers who were leaving the Kingdom only on final exit visa had to remain in the airport since they had completed the immigration formalities.
On Thursday afternoon, the captain of the aircraft had found an oil leak in the engine after the passengers boarded the plane for the second time.
Once again, the passengers were accommodated in another hotel close to the airport and they had to wait for one more day till the flight took off on Friday evening.
---
Mother courage saves train-load from death
By Chamintha Thilakrathna
The humdrum village of Ambanpola in the north central province never did dream of producing a heroine. But it did when W. Leelawathie, 43, courageously stopped the 'Yal Devi' express from speeding into disaster.
Her courage saved hundreds from injury and death.
Leelawathie lived a quiet life tending her few goats and looking after the house and her five children.
She had gone to fetch her goats when she saw part of the rail track damaged.
The packed 'Yal Devi' express would thunder along and if that happened it would have been catastrophic, she knew.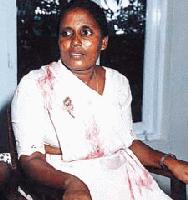 W. Leelawathie
Pix by Ranjith Perera
She had to act fast. She forgot her wounded foot and the goats and ran to her daughter's house to get a red cloth. The daughter could only give her red blouse which was enough to warn the engine driver, Leelawathie thought.
As the 'Yal Devi' came speeding along she stood on the centre of the track waving the blouse hoping the driver would see her. If he didn't it was sure death for her. But he did and stopped the train just in time to avert a disaster which could have killed many of the passengers.
Her son, D. Dharmasiri couldn't believe his mother could do it. "She is not the hero type. But I am sure proud of her because she risked her life to save a hundred," he commented.
Last week in Colombo the Lion's Club of Nugegoda and Mt. Lavinia made an award for her bravery. Dr. Hudson Silva, Chairman NMT Lions, made a citation.
"Imagine the cost in lives and damage to the government if she did not do what she did. She deserves the thanks of all those who travelled in the train."
---
Continue to the News/Comment page 4
Return to the News/Comment contents page
| HOME PAGE | FRONT PAGE | EDITORIAL/OPINION | PLUS | TIMESPORTS
Please send your comments and suggestions on this web site to
info@suntimes.is.lk or to
webmaster@infolabs.is.lk