21st December 1997
Mangala: Tamils want peace, not Prabha

The Chairman of a Parliamentary Select Committee which proposed devolution during the UNP era has hailed the Government's devolution proposals, but also stressed the importance of militarily weakening the LTTE because it would be futile to talk to Velupillai Prabha-karan.
The widely respected and bi-partisan Mangala Moonesinghe, now High Commissioner in New Delhi and earlier head of Parliamentary Select Committee on the ethnic conflict said he believed a majority of Tamil people and parties wanted peace and not Prabhakaran.
In a wide-ranging interview with The Sunday Times, Mr. Moonesinghe also described the relations between Sri Lanka and India, including Tamil Nadu, as excellent and said his perception was that the LTTE has totally lost any support it had in India. Excerpts:
By Frederica Jansz
Q. How do you perceive the present situation where Ranil Wickremesinghe is now proposing asymmetrical devolution referring to the Mangala Moonesinghe report and a proposed federal state by Gamini Dissanayake as examples. How significant is it to the Government's own proposals for devolution, now that the UNP has lent consensus to devolution of power outside a unitary framework?
A. The Mangala Moonesinghe report created history in this country in that it was the first time the Govt. and the opposition reached agreement on the ethnic issue. That report lays down the framework for devolution and decentralization after hearing the views of all. But it is only a framework. It was our intention that once it was cleared by Parliament, a technical committee should work on it, in detail and fill the gaps. There were three important points. One is we devolved a lot of power. We removed the concurrent list lending more power to the provincial councils. Then we demerged the north and the east. The quid pro quo for that was some form of federal constitution. Since the word federal is not seen as being politically appropriate, we have instead said that a constitution along the lines of the Indian model should be worked out. This is what Mr. Wickremesinghe now thinks would be a starting point.
Q: Tamil parties disagreed with the Moonesinghe report. Why?
A. They had one fixation. They were intransigent. I offered them many alternatives. For example, I told them that despite the demerger, they could have an apex body with certain powers of finance and planning. I told them that they would have not just one foot but two feet in the polity of the north and east winning support of both the Sinhala and Muslim minority in the area. A role model could have been provided to the world on multi-cultural relations. But they did not accept this.
Q: In the light of Mr. Wickremesin-ghe's recent pronouncements, should then the report be reconsidered together with the Govt's devolution package?
A: I have done my duty. I presented the report to Parliament but I stressed it is only a framework. I expected experts to go into it and work out a consititution conducive to Sri Lanka. But Govt. changed and one opportunity was lost. However I now believe that Govt. proposals are far reaching and have spelt out devolution far more in detail than we did. Now it is left for Parliament to go into all aspects of it, perhaps even appoint a technical committee.
Q: Would the LTTE accept a solution where equal power is devolved to nine regions? What then would they have been fighting for if eight other regions in the country are to share the same benefits?
A: We do not know what the LTTE wants. Prabhakaran will not talk. I believe Prabhakaran will not come for talks. All what he does is for personal gain. He has regrouped and reinforced his cadre and attacked. Each time whether it was with Rajiv Gandhi, Premadasa or Chandrika Kumaratunga his tactics are the same. I think it is futile to wait for Prabhakaran. He has to be treated militarily, while the Govt's proposals for devolution should be placed for political discussion because Govt's the other Tamil parties and a majority of the Tamil people support a political solution. Some people say this will not stop the war, as Prabhakaran will not accept it.
Prabhakaran will not accept anything short of Eelam. I think a two pronged approach is right. Although the package will not stop the war, it will be another nail in Prabhakaran's coffin.
Q: So, do you think Prabhakaran is substantually weakened?
A: Yes. He has lost Jaffna and Kilinochchi and the Mannar road. He is three quarters beaten now.
The devolution package in the eyes of the international community and right thinking people will show Sri Lanka in a better light, that we are not only pursuing a military offensive but also offering the most far reaching proposals ever to come out of this whole region. In that sense it would be useful. Anything we do should be aimed at weakening Prabhakaran.
Q: What about the Tamil people in the north and east. Do they not still see Prabhakaran as having championed their cause? In that sense would they not be wary of supporting a Govt. solution to the crisis, afraid perhaps that they might finally lose out?
A: Power is a phenomenon. It is a universal truth that when you lose power there is nothing left. The Tamil community suffer from a fear psychosis of Prabhakaran. Therefore they feel they should support him. Secondly they feel here is a man who is standing by us. So they should rally round him. But if you were to look at the 500,000 Tamils who went with him but later returned to Jaffna, it is proof that they have abandoned him. All these people have shown they want peace and not Prabhakaran.
Q: How conducive is it for the Govt. to hold elections in the north?
A: I feel they should. It is vital that elections are held in the north. The election may be flawed, but it will fill the vacuum that is now caused through fear by the LTTE. We may have some casualties. That is a problem we have to face. But we are trying to bring back democracy to the country.
Q: There is an argument that it is not necessary to split the south to satisfy the needs of the north and east. It has been said the devolution proposals will only lead to more expenditure and little else. What are your perceptions?
A: It's a valid argument in a sense. The Sinhalese and the south never asked for devolution. There will certainly be tier upon tier of administration structures which are going to be costly. But of course a decision has to be taken by the voters. It must be made certain that this is the wish of the south. However as you rightly say, logically it is going to be costly. It will be administratively difficult but we have to look at it carefully rather than just generalize it. I do not think a proper study has yet been done. Over a hundred countries among the 185 in the United Nations have within the past 15 years changed their constitutions or adopted new political structures to satisfy ethnic aspirations. They have devolved power and set up federal or quasi federal constitutions. It is time for Sri Lanka also to abandon its slogans and rhetoric and look at such models for example.
Q: Will the Jain Commission report affect Indo-Lanka relations?
A: All those findings were well known for several years. There is plenty of documentation on how the LTTE was trained, financed and armed in India. I see it as past history. Let us look at the present and the future. At present our bilateral relations with India are excellent. It is so with both new Delhi and the Karunanidhi administration and Tamil Nadu. There is no point in harping on the past, we have to look at the future.
Q: What do you feel about the 1987 Indo-Lanka accord?
A: It satisfied Tamil opinion half-heartedly. But obligations on both sides were not fulfilled. One of the thrust of the accord was to devolve power, set up provincial councils and secure peace. When peace failed and India had to engage the LTTE in battle, the accord and the obligations to it also failed. Of course, it was unfortunate that the IPKF was asked to leave the country by President Premadasa. The accord can remain, but we have to improve on it, we have to move ahead.
Q: Will the BJP come to office at the coming general elections in India?
A: I don't think the BJP will get sufficient seats to form a Govt. on its own. But whoever forms the next Indian Govt.. I believe that there will be no change in the excellent relations between India and Sri Lanka.
Q: How strong is the support in Tamil Nadu for Sri Lankan Tamils and the LTTE?
A: At the last general election both for the Lok Sabha and the state assembly all candidates had to declare they had no links with the LTTE. That was the demand of the constituencies in Tamil Nadu too. It showed that people are tired of the LTTE and violence. They want peace. Even Gopalaswamy, who was a hard-core LTTE supporter, MP and Leader of the MDMK was compelled to say that he had nothing more to do with the LTTE. At the elections, Gopalaswamy was crushed and his party disintegrated. So you can see Tamil Nadu has changed. Even Karunanidhi has warned Indian fishermen to refrain from crossing into the territorial waters of Sri Lanka. This was his message to the smugglers. He also set up a coastal patrol and police stations and when I met him he told me Tamil Nadu did not want any more refugees from Sri Lanka. The LTTE is anathema to the people of Tamil Nadu.
Q: How careful should Sri Lanka be in maintaining its ties with India?
A: If we do not maintain such good relations with India, I do not think we could have pursued this war. If India wanted to make trouble it could have. We must remember there are 55 million Tamils across the Palk Straits. They are very friendly now, as they believe we are now genuine in trying to find a solution. But if Sri Lanka were to mess up again there will be pressure on the central government of India, to do something again. We have to look very deeply and to the future, not forgetting the repercussions. If we were to suppress the Tamils, there will be repercussions.
---
Alleged sleaze and sex in the open again
By Dilrukshi Handunnetti, Our Lobby Correspondent
It was alleged sleaze and sex scandals again which held sway in Parliament when the votes on the Ministry of Samurdhi, Youth Affairs and Sports was taken up for discussion on Monday, with more members concentrating on sprint queen Susanthka Jayasinghe and heaping scorn on the cherubic sports minister.
Sarath Ranawaka who earlier moved for an adjournment debate on the athlete inspiring some ministering types to insult Susanthika and another prominent woman, was selected to open the debate, much to the consternation of several government backbenchers who continued to disrupt him.
An angry Mr. Ranawaka informed Parliament that he was receiving death threats as a result of his exposures unraveling the scandal affecting Susanthikaís career, and the same person should be held responsible if some unfortunate thing happened to him. This island holds several records at present, for overeating, alcohol and suicide. Soon we shall be known for child abuse and rape too, and this would speak volumes of a country known as the most blessed country in the world (loken uthum rata).
Making some revelations on several "unsporty" moves by the Sports Ministry hierarchy, he said that despite President Premadasa banning alcohol inside the Sugathadasa Stadium, the present administration has violated this. The PA intends making this an alcoholic nation, with bars at every nook and corner. The minister initiated disciplinary action against Susanthika for having drunk beer inside the premises, but he has authorized two henchmen to operate two bars inside the Stadium itself.
Similarly, its hostel with fifty rooms provide lodging for national level athletes. But they have been handed over to an Indian company called Amarawathi, and athletes have to pay Rs. 1,500 as room charges , he said accusing the minister of taking away the little facilities awarded to athletes. An artificial Mondo track costing a staggering Rs. 40 million has been purchased for the Stadium, which is not worth half its price. This Ministry was now full of corruption and extravagances.
Moving on to Susanthikas assets and liabilities, he accused that her cash award of Rs. 1.5 million subsequent to her success in Athens was being quietly robbed. She received Rs.800, 000 and the rest was systematically taken away. The Ministry having undertaken to furnish her three-roomed house, has charged Rs. 265,000 for curtaining, Rs.99, 500 for carpeting, Rs.61,225 for wall decor and Rs. 425,000 for miscellaneous things. Her money is being robbed by powerful people, and a curtaining for a three-roomed house cannot cost so much. If there are more rooms do tell me, he said looking straight at the Minister. It was Deputy Minster Jeevan Kumaratunge next, doing his utmost to save the face of his Minister who came under severe attack and striving to divert attention.
He spoke of unfair criticism on the Samurdhi appointments, adding that despite all the negative thinking , it was during the PA that sports people were bringing honour to the country, an area deserving more investment.
This government did not need other people to sling mud at them, for they voluntarily dived deep in to mud and wallowed in it with gleeful abandon, said Kegalle district Parliamentarian R.A.D.Sirisena who at the outset complained that this Ministrys consultative committee has met only once for the entire year.
When questions were raised, the Minister dodged them. When he is at the helm, a bribery scandal was rocking the Cricket Board. Gamini Dissanayake was the man who built the Cricket Board to this level, and raised Rs 25 million through sheer hard work for others to reap benefits, he said.
Mr. Sirisena, looking at Ministers Mangala Samaraweera and S.B.Dissanayake added that with ministers who supplying tragi-comedies to the county, the PA administration needed no adversaries.
There was thundering applause from the government when burly S.B.Dissanayake stood up to reply and defend himself against the many charges. Looking unrepentant, the minister launched a counter attack on those who pulled their verbal punches on him. First he highlighted the achievement of the ministry, then embarking on a counter attack.
Countering allegations on the expensive artificial Mondo track purchased for the Sugathadasa Stadium,, he said that it was the internationally accepted track selected for the Atlanta Olympics and used in Athens.
Will you also conduct a ministerial inquiry into the bribery scandals asked the pertinent A.H.M.Azwer, to which he answered by stating that he has handed it over to the best people- the Bribery Commission.
The minister who took quite a battering over the Susanthika issue pledged to divulge everything when the time was opportune, and the athlete's career became sound once again. The Minister having endured some of the worst verbal onslaughts said: I cannot be a Ranawaka or Mathew, casting aspersions with gay abandon. The truth is that she has been made a political tool. I like beauty, strength and youth. But I do not chase behind aristocratic or haggard actresses, he said, responding with high pitched unparliamentary utterances to Opposition benchers.
The 26 day long budget debate drew to a close last Tuesday with the votes on the Finance Ministry being taken up. Former Finance Minister Ronnie de Mel opening the debate for the Opposition said that this budget was the beginning of the end, while PA members shook their heads vigorously. Economics is not an exact science. When facts change you must change the mind. The PA must learn to manage depreciation of the rupee better, and theories must change with time, he said displaying his economic wisdom.
On a more critical note, the Bulathsinhala member said that the watch words of the PA economy was cronyism and corruption. Financial mismanagement has risen to unprecedented levels , and the recent privatisations controversial.
Recommending the book titled Why people mistrust governments to the PA members for compulsory bed time reading, Mr. De Mel said that the recent privatisations were shrouded in secrecy. If the government was committed to transparency, truth should be revealed in Parliament thus avoiding all the negative publicity.
The minister who advocated the reduced food consumption theory, Kingsley Tissa Wickremeratne was next on his feet, counter charging the UNP of making a mess of privatisation. The UNP whimsically sold ventures to their own henchmen who did not possess the necessary expertise to run them, and therefore had no right to criticise anyone, he thundered to which smiling Opposition members posed the query whether reduced food consumption would revamp the sagging economy.
It was former transport minister Wijayapala Mendis of the Latec fame who castigated the government over the French locomotives tender. You want to purchase locomotives with ship engines, which was the most impractical thing to do. The President has called the members of the Tender Board and scolded them, for interfering with the tender procedure. The four Ministers who were appointed to look into other matter do not possess the slightest knowledge of mechanisms, and how can they recommend what it best for us? he queried.
This was an era of "high spirits" and gambling and a cock fighting government he said provoking many pertinent government benches to ask him whether this was so in Katana, his electorate too.
Of recent times, it was Gamini Atukorale who has been the UNP's crusader against corruption and taking on controversial Harry Jayawardene, a subject avoided by the government benches. On his hobby horse again, Mr. Atukorale raised several questions about the alleged wheeler dealing of the Air Lanka Chairman, claiming that the hands of the government were blood stained and corrupt both.
He alleged that the centre stage for corruption was the Finance Ministry, and transparency has become a mere fallacy today. When corruption in high places was revealed, no action was initiated. Mr. Jayawardene receives political patronage at the highest level which was why under invoicing and sale of excessively diluted arrack were hushed up, and public servants penalised .
He noted that the President had pulled a few punches at the Tender Board, and reportedly said that for the last 1 1/2 years she has had no trust in the Finance Ministry Secretary B.C.Perera. If the President so doubts her Ministry Secretary, decisions taken by him during this period became questionable. Did Minister Peiris also doubt him?, he asked innocently, and the bespectacled Minister replied that he was not obliged to express his personal opinions.
On the government side, it has been the eternal fire brand Vasudeva Nanayakkara who has been critical of the alleged misdemeanors of tycoon Harry Jayawardene.
With dripping sarcasm he commented that the UNP gentlemen's rhetoric was chilling to the bone. It is similar to the pot calling the kettle black. I am not saying that only you who have a shameful record, but yours is simply worse than ours. Your revelations are similar to death bed confessions of criminals he said, warming the PA that it needed correction.
It was Susil Moonesinghe with his sensible delivery who urged for a united effort to form an indigenous economic system. Criticizing the PA's economic strategy, he said that the past year has been one of wine and song.
The privatization programme has received unprecedented criticism and a government which promised transparency was hatching everything in secrecy. This government does everything at large scale, golf courses and corruption too.
Even the U.S. has protected its agriculture. Our problem is that we have forgotten our roots and looking for them elsewhere, thus aping the West in a bid to get ahead.
I do not see a Waga Sangramaya but a rampant Paga Sangramaya, he quipped amidst laughter.
Making his concluding remarks inside a depleted house on the fourth budget of the People's Alliance government, Minister of Justice, Constitutional Affairs and Deputy Finance Minster Prof. G.L.Peiris promised the house all reports on the privatisations done by PERC, once the divestiture programme is concluded.
Responding the many charges made against Harry Jayawardene, he gave a lengthy and exhaustive explanation, promising that investigations would continue and action would be taken against those contravening law.
Defending the awarding of the locomotives tender, he said that it was only G.E.C. Alsthom which met the specifications, and claimed that criticisms were based on fallacies.
The PA's unwavering commitment to transparency and accountability would be upheld, and there were no secret deals taking place he said.
Thus a year drew to an end, filled with political events- some leading to extreme controversy. The Speaker concluded the sessions for the year, appealing to the members for the creation of a better Parliament, an institution the nation would be proud of- the eternal voter's dream for a dawning year.
---
Advocating violence sans bloodshed

When the Delhi police denied George Fernandes, the maverick Indian politician, the use of the posh Federation of Chambers of Commerce Industries (FICCI) hall, for his pro-LTTE Eelam Tamil conference, he defiantly held it on the lawns of his bungalow at 3, Krishna Menon Marg in the biting cold of the north Indian winter. An angry Fernandes blamed it on "10 Janpath" the address by which Ms. Sonia Gandhi, the widow of the slain ex-Prime Minister Rajiv Gandhi, is known in Indian politics.
Fernandes, or George as he is popularly known, described the ban as an assault on the Fundamental Right to Freedom of Expression. "We have an opinion on what is happening in Sri Lanka and this cannot be tailored to the requirements of a particular family," he told the press.
True to style, George had refused to oblige Indian Home Minister, Inderjit Gupta, who wrote to him asking him to give up the idea of holding the conference. According to The Hindustan Times of Dec. 13, Gupta had alerted George about reports that the LTTE was trying to re-activate its support base in Tamil Nadu ever since the US clamped a ban on it. In his letter to George, Gupta had even said that the conference was being organised at the behest of the LTTE and that funds for it were being routed through US and Australia based LTTE sympathisers and P. Nedumaran of the Tamil National Movement in Tamil Nadu.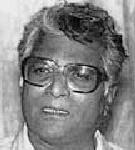 Releasing the letter to correspondents on Dec. 12, George said that he had been unjustly portrayed either as an overground agent of the LTTE or as a nit-wit. "I'm neither!" he protested.George said that he had attended every one of the conferences held on the human rights aspect of the Sri Lankan Tamil question since 1983, and that the conference in question was to be the fifth in a series held by various parties. The conclusions of these conferences had been communicated to the Indian and Sri Lankan governments and the LTTE. As for funding, he said: "every paisa has come from the common man in Tamil Nadu and Bangalore."
Following is an excerpt from an interview with Fernandes, a Samata Party MP, and an ally of the BJP, by our special correspondent:
Sunday Times (ST): What was the need for such a conference and what were its objectives?
George Fernandes (GF): In Sri Lanka today, there is a total negation of Human Rights in so far as the Tamils are concerned. State terror has been unleased on them. Then there is the war, in which lives of combatants as well as civilians are lost. Why should there be killing at all? The conference sought an end to this war. It urged the government of India to help end the war by facilitating talks between the Sri Lankan government and the LTTE.
ST: How do you expect India to mediate, when the LTTE had spurned Indian efforts to help settle the Tamil question, rejected the Indo-Lanka accord, killed Indian soldiers and assassinated Rajiv Gandhi in one of the most brutal ways?
GF: It is not correct to blame the LTTE alone for the current strained relations. India had not been consistent in its policy in regard to Tamil militancy. It first trained the LTTE and other militants. I had myself seen training camps for Sri Lankan militants in Tamil Nadu in the eighties. Then suddenly in 1987-88, it swung to the other extreme, and began killing the very same militants it had trained earlier. Both decisions, the decisions to train them and later, the decision to kill them, were taken not on any individual whim or fancy, but by the government as a whole, the cabinet and the ministries of defence and external affairs. There has never been an individual interest in a policy on this matter. This being so, it is amazing that now, the feelings of an individual, of a grieving widow to be precise, are dictating foreign policy. We feel that the future course of relations between India and the Sri Lankan Tamils should not be determined by any actions or events of the past, which one or the other of the two parties may not have liked. You had recognised the LTTE earlier, and now go ahead and help them.
ST: How could India help the LTTE when it has been indulging in patently terrorist activities?
GF: I have been committed to non-violence. But to draw the attention of the people and the government, when normal channels of communication were shut, as during the 1975-77 emergency clamped by Ms. Indira Gandhi. I had used dynamite in a big way. I used it all over the country. This was meant to show the government that there was resistance to it. But I did not mean to kill or injure anyone. Violence yes, but bloodshed no! This was the philosophy of the 1942 underground resistance movement against the British led by Jayaprakash Narayan, Dr. Ram Manohar Lohia and Aruna Asaf Ali.
But having said this, I would also argue that the course to be taken, the means to be adopted, should be decided by the people who are battling with the problem.
Then there is the human rights aspect. I was against the "annihilation of the class enemies" thesis of the Naxalites (Indian Maoists). But I would at the same time vigorously defend them, if the state were to violate their human rights. I had tried to save the lives of convicted Naxalites, like Kista Gowd and Kondapalli Sitaramayya. If their cause is just, they must be supported.
ST: Do I take it that you condone the LTTE's brutal murders, mass killings of Muslims and the assassination of political rivals?
GF: In the strikes I have led, I did remove those who were sabotaging them, but not by taking their lives. I do not justify killing. When I was minister in charge of Kashmir affairs in 1989-90, I had visited Kashmir and talked to the militant youth. When I had asked them to lay down arms saying that, under the Indian system, they would have every opportunity to have their grievances redressed, they said that they had to resort to killing because the security forces were out to kill them. They had a point. In such situations, the need is for a ceasefire. So, I urge a ceasefire in Sri Lanka as well. In Sri Lanka it is the civilians who get killed the most. It is they who are displaced. It is senseless. The war is a violation of human rights, and that is my concern.
ST: I take it that you are committed to a united India. This being so, how can you support the LTTE's demand for an independent Tamil Eelam?
GF: The Tamils had been fighting for a federal system and equality for two decades using Gandhian methods. But these had borne no fruit. Their condition only worsened over time. A secular Sri Lanka became a Buddhist Sri Lanka, and primacy was given to Sinhala. All this militated against Tamil-Sinhala unity.
ST: There is a radical devolution package now on offer. Why can't it be tried out?
GF: I have not seen the package as such. But having seen a critique of it, it is no different from the previous constitutions. It has provisions which negate the federal features. There is nothing new, going by what I have seen of it.
ST: Will not the movement for, or the formation of, Eelam trigger a secessionst movement in Tamil Nadu?
GF: The situation in India is different. We have a federal system, though it is still not perfect. Coalitions of regional parties have ruled from Delhi. Both the DMK and the AIADMK have been part of Central governments. There is a state for the Tamils which they rule autonomously. There is no discrimination against Tamils or any other people, and there have been no ethnic pogroms.
ST: You are part of the BJP led coalition. Do you see a day when the BJP will support your pro-LTTE campaign?
GF: I have not discussed this question with the BJP. I did not even tell them about this conference. But I am sorry to say that Indian political parties do not see problems from the human rights angle. They have jettisoned human rights from their agendas. The Samata party is the sole exception. Individually, I have defied my own governments and campaigned, for human rights. I had campaigned against hanging of Z. A. Bhutto, even though the then Indian Prime Minister, Morarji Desai, had appealed to me to desist from it as that would be interfering in the affairs of another country. We had kept a night long vigil against the extradition of the Bhutanese dissident Rongton Dorji. I had campaigned for the restoration of democracy in Burma.
ST: What according to you is the attitude of the DMK. It seems to go along with the government on the LTTE issue tamely.
GF: The DMK also feels that the atittude of the Central government is irrational, in as much as it is allowing a widow to determine foreign policy. But the DMK is afraid of taking a stand against this, as it might become an emotive issue. Indians could be easily moved by emotions.
ST: Do you think that there is support for the Eelam issue and the LTTE in Tamil Nadu?
GF: There is overwhelming support. This will come to light if there is a referendum.
ST: Then why is it not being used to the hilt in elections by parties like the DMK and PMK?
GF: That is because, it has never been an election issue. Elections in Tamil Nadu have always been fought on other issues.
ST: What are your follow up actions?
GF: We plan to hold state wise conventions on the Tamil issue. We want to put the Sri Lankan Tamil issue on national agenda, as a human rights issue.
---
Return to News/Comments Contents Page

| HOME PAGE | FRONT PAGE | EDITORIAL/OPINION | PLUS | TIMESPORTS
Please send your comments and suggestions on this web site to
info@suntimes.is.lk or to
webmaster@infolabs.is.lk