---


Anamika kept toes tapping
Popular Indian songstress, Anamika sang "Tikiri Liya" to the throbbing rhythm of her band at a concert at the New Delhi Inter-Continental to usher in the Festive Season.
Scores of invitees in the audience of diplomats and businessmen took the floor provided below the stage and gyrated to the rhythm of the tune.
Joining Anamika on stage for the foot-tapper was the Sri Lanka High Commissioner, Mangala Moonesinghe. The concert titled "Anamika sings for Sri Lanka" was co-sponsored by the Ceylon Tourist Board, New Delhi and Hotel Inter-Continental.
As the concert progressed with Anamika's own chart busters, she threw dozens of her recorded cassettes and CD's at the enthusiastic dancers below the stage, as gifts. The audience finally moved out for a very late dinner, after a long workout to Anamika's music. "Tikiri Liya" was written down for Anamika by the Director, New Delhi Office of the Ceylon Tourist Board, Pani Seneviratne, who is now planning to hold a concert with her in Sri Lanka. The Colombo Office of the Ceylon Tourist Board is already in touch with the Hotel and Travel Industries to secure their assistance for the concert.
By means of this concert the Ceylon Tourist Board is hoping to project a positive image of Sri Lanka aimed at Indian youth. During the post-Diwali winter period a large number of weddings take place in Northern India and the Ceylon Tourist Board feels that this is the right time to promote Sri Lanka as a honeymoon destination.

---
Nigel looks like Elvis
By Sanath Weerasuriya
Nigel Elvis Kingsley, the Elvis Presley look-alike will be in Sri Lanka to perform for the birthday anniversary of late 'King of Rock n'Roll', which falls on January 8.
Hawaiian born Nigel, one of Europe's most famous Elvis impersonators, will perform at Cyclone starting from January 8. Nigel's tour will consist of ten live performances at Cyclone and the farewell concert at Trans Asia Hotel on January 20.
Nigel Kingsley is famous for his interactive and stunning shows that thrills audiences around the world bringing back memories of Elvis, one of music's biggest legends.
Nigel will be in Colombo on January 5 and the music for 'The King' will be provided by "Absolute', the band from Manila, Philippines.
'Absolute' is a seven member outfit now performing at the 'Cyclone'.
According to Russel Fernando of Cyclone, Nigel performed over 1000 sensations worldwide since 1972. This includes 17 shows in Las Vegas.
Nigel Kingsley surprises audiences repeatedly with his own personal touches, when he presents 'Roses' and 'Teddy Bears' to the fans in the audience.
He will be doing the same thing here in Colombo.

---
Lost Empire: The first Theme Park of Sri Lanka
By Sanath Weerasuriya
Few have visited and the others are talking about the fun and beauty of Disneyland, Disney World, Theme Parks in US, Japan, France etc.
But how many are lucky enough to visit these parks? Of course, it is a rich man's world!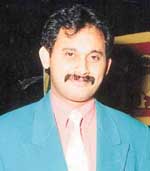 No, not any more! Donald Duck, Mickey Mouse and other friends too will be coming to stay in Sri Lanka.
The construction of Lanka's first ever theme park called 'The Lost Empire' will begin in mid-1999 and finish by mid-2001.
'The Lost Empire Theme Park' is a project by Splash International Limited of Switzerland. This Swiss-Sri Lankan business venture, based in Nunnigen, Switzerland, is run by Vidarshana Munasinghe and Glenn Mueller.
Mr. Munasinghe, a Sri Lankan living in Europe for the past eighteen years, is the local partner in this project. Also he is on the board of directors of the mother company in Europe.
"After months of research, the exact site for the park has been chosen and recently accepted by the Board of Investment. Architects' plans have also begun in depicting the park's detailed lay-out. The site will be situated between Sri Lanka's three main places of tourist interest, namely Galle, the anicent city of Kandy and the capital Colombo," said Mr.Munasinghe.
The park's first stage covers approximately 175 acres. Expansion plans have also been forecast to 300 acres within a foreseeable future. It should be added that construction and maintenance costs for the park are significantly less than costs within Europe or the United States and that unlike western countries, competition and rivalry from other park organizations in Asia doesn't actually exist", he added.
A team of expert designers, landscapers and construction engineers have come up with plans to create an imaginative and exciting park encompassing approximately 175 acres.
One of its main focal points will be the construction of a man-made lake with waterfalls, floral gardens and birdlife. Surrounding the entire lake will be some of the leading birds found at the best theme parks around the world.
This will include a Wild West town and live shows, a big wheel and a combined roller-coaster with high speed lifts called Journey To The Centre of The Earth, undoubtedly the park's biggest crowd-puller!.
'Ghost Train', 'Steam Boat', 'Pirate ship', Pedalo Boat', 'Go-cart' "3D Cinema', 'Space Flight;' 'Cable Cars', 'Swiss Bob Sleigh Downhill Run' 'Musical Fountain and Future Town' are some of the other attractions of this 'Lost Empire Theme Park'.
"Sponsoring, as with any project of this scale is paramount to the park's livelihood. All the attractions within the grounds can be sponsored at a given rate and over a certain length of time, with some of the world's leading businesses already showing much enthusiasm to take part. 'Splash International' have emphasized that there are still a number of attractions open for sponsoring and urge those interested to contact them without delay," Munasinghe explained.
The Lost Empire Theme Park is intended to be an affordable attraction for the whole family, housing a variety of up to date rides that meet with strict security regulations.
"Whilst realistically sticking to a conservative budget, we are convinced of the possibility of building an imaginative theme park. A park which will have the drawing power to attract people time and time again, as well as those staying on the island who are familiar with parks on a world-wide scale," Mr. Munasinghe said.
According to Mr. Munasinghe, Sri Lanka's tourist industry is developing rapidly. Figures gathered over the past 10 years indicate that gross earnings have been rising by approximately 10% annually. The need to entertain those tourists during their stay has to be addressed. Up to now hotel entertainment is inadequate with leisure activities and pleasure areas lacking the imagination of a theme park. The travel operators, seeking to increase Sri Lanka's influx of tourists can only do so if the accommodation is there to begin with and local and foreign investors will only invest in new accommodation if the tourists keep on coming!
Based on the 500,000 people that travel to the country each year, it is estimated that an average of 50% would visit the park , with an increase on that figure per year if tourism continues to increase at the predicted rate.
This figure is presently being reached by the country's leading zoological garden! If we consider that approximtely 5% of Sri Lankan residents would attend the park annually (ca.800,000), yearly visiting figures of 1 million will soon become a realistic prediction," he explained.
"The number of staff has been set at around 800, rising to 1500 if predictions of expansion go according to plan. It's envisaged that the majority of personnel within the grounds will come from local residents interested in working in a theme park with training given prior to park opening in 2001," he added.
Singer Michael Jackson has already agreed to grace the occasion at the grand opening of the 'Lost World' in summer 2001.
---
Controversy rages in Athens over the film on Alexander the Great.
By Kumaradasa Wagista
Life stories of great men are filmed by veteran filmmakers not only for entertainment but also of educational value.
Hollywood film director Oliver Stone's plans to make a film on 'Alexander the Great'was to become a reality.
The veteran filmmaker even opened up a dialogue with Cultural Minister of Greece Evangelos Venizelos who called on Oliver Stone about two years ago.
After the Minister and the film director met and discussed the matter the possibility of making it was confirmed.
At this meeting the Minister had clearly stated he was concerned about the presentation of Greek history on the screen.
He has however promised to give all assistance to produce the film because of its historical value.
Reportedly, Greece has protested over the venture after newspaper reports stated that director is to portray the warrior king as a drunken bi- sexualist.
The Minister has requested director Oliver Stone to respect the heritage of the Greek nationals who have called the Greece government to intervene on this matter.
This was the first time that a film depicting the life of Alexander the Great (356-322 BC) was planned by a Hollywood film direc-tor.
Meanwhile it was reported in Greece newspapers that Oliver Stone intended presenting Alexander the Great as a homosexualist and the victim of a conspiracy.
Oliver Stone who made films discussing controversial issues like the killing of US President John Kennedy and the Vietnam war in 'Platoon',will play the role of Alexander the Great,it was reported.
However even if the proposed film is produced the question arises whether it is possible for Greece to hold censorship over Hollywood.

---
Ajith's part in Steel outfit
By Sanath Weerasuriya
Popular television programme producer, editor and dubbing specialist Ajith Dahanayake was a part of the 'BT Melodians Steel Orchestra' now touring Sri Lanka.
Ajith was with BT 'Melodians' as a player of the Steel Pan during his stay in early nineties.
'BT Melodians' led by Terry Noel is now performing in Sri Lanka and are scheduled to leave for UK next week.
"During my stay in London in 1982, I saw a Steel Orchestra comprising 25 members playing at London's famous Notting Hill Gate Carnival. This is an annual event in London in the month of August.
Since I had a liking for music, it nursed a desire in me, to play the Steel Pan.
Terry Noel (who is a JP in London now) presently in Sri Lanka with the BT. Melodians, gave me the opportunity to play with his 'Steel Orchestra', Ajith said.
It was for a short time as I was with them for that carnival week only. I was so proud to be member of this world famous musical group.
I am grateful to my friend Terry for giving me that unforgettable experience in music.' Ajith explained.
Ajith was in London in 80's for his studies on television production at the South Thames College in Wandsworth (London) and also studied at the Central School of Art and Design in photography.
"I did music merely as a hobby and I still do. When the late H.R. Jothipala came with Latha Walpola to London in 1984 to give their maiden performance in Europe I was invited by Stanley Peiris who came along with them to play in his orchestra in London.
That was the beginning of my music career." Ajith reminisced.
"Notting Hill Gate Carnival", a twelve minute documentary made by Ajith was highly appreciated by many.
"One can judge the popularity of this carnival as a force of 60,000 police officers from the Metropolitan Police were deployed to man it," he said.
On his return he joined Cine Link as dubbing director and business co-ordinator. Cine Link functions under director Sanath Dharmaratne.
One of Ajith's biggest achievements in Sri Lanka is working as dubbing director in the 39 episode Tin Tin programme. In this programme, services of more than 16 dubbing artistes were involved.

---
Aravinda leads new cooking team'
By Sanath Weerasuriya
Aravinda de Silva Sri Lanka's star batsman stepped into a new field last week, when he opened his new Indian Restaurant in Wellawatte.
'Curry Leaf', the posh Indian Restaurant is managed and run by a team of Indians led by Syed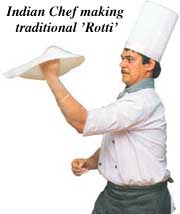 Basheer, a popular figure in the catering business in India.
He is from a family in the catering and restaurant business since 1910.
"Whenever I go to India, I never miss to visit their restaurants. This made me to invite Syed and his team to come and manage the new restaurant in Colombo.
This is a partnership business and my other local partner is Dil Wijemanne" Aravinda explained.
'Curry Leaf' has 130 cover capacity, with 77 at ground level and 53 at upper floor.
The manager, Ranbir Singh is also an experienced hotelier who runs this place with his eight Indian chefs.
Curry Leaf has three different types of sections.
Indian Express, set menu and a-la-carte are three types of services available at this restaurant.
"Indian Express' has ready to eat food as you enter the restaurant. 'This is typical Indian fast food mainly served at lunch time.
But it is available during dinner too.' Syed said.
'Set menu food is also quicker and you can have your meal as you order. A-la-carte food will be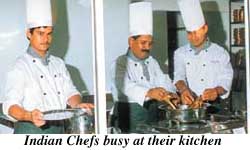 served in only 20 minutes', he explained.
'Curry Leaf' serves dishes from all parts of India beginning from Punjab to Tamil Nadu State.
Mughlai Tandoor, South Indian Chettinad and authentic Panjabi and Kashmir dishes, Pathani and Rajasthan are some of the popular foods available at this restaurant.
"We change the costume of the staff accordingly. Seven types of costumes come in for the seven days of the week" Syed Basheer said.
'Curry Leaf' buys 90% of the requirements from the local market.
'We do not serve pork or beef. Other than the species not available in Sri Lanka, we buy the stuff from our local suppliers. Mutton, Chicken and Sea Food are much popular among our clients," Syed added.
The investment of this project is shared by Aravinda de Silva and Dil Wijemanne, who too is a newcomer to the restaurant business.
'We may expand this to other areas as well. But we will wait and see how this will go down, with our local clientele,' Aravinda said.
"I am sure this will become a success as this is in the hands of Indian expatriates," he said.
The family of Syed Ibrahim, the father of Syed Basheer has been in the catering business from 1910 and were manufacturing and marketing bakery and confectionery items, soft drinks in India.
This family was the only manufacturer and supplier of aerated waters and bakery products to the British residents before independence. They owned and operated four restaurants and departmental stores under the name "Crown Bakery, Stores and Cafe" and with the goodwill and reputation earned by the family they acquired the catering rights at the Bangalore Turf Club for a uninterruputed period of 23 years.
The present Canopy Restaurant in Bangalore was started in 1978 by Syed Ibrahim and his eldest son Syed Basheer.
Syed Basheer is the Managing Partner of the Canopy Restaurant. He has three sons gearing themselves to assist him to further develop his business.
Apart from this, Basheer had started a multi-cuisine restaurant in Coimbatore called "Dakshin".
Another restaurant was started 3 years ago with an investment of Rs. 30 lakhs at Koramangala where Indian, Continential, Chinese, Tandoor and Mughalai food is served.

---
Looking ahead towards 1999
By Kumaradasa Wagista.
Hopefully more films will be produced in 1999 unlike last year which saw only to a handful of productions. Last year 16 films were released in the five circuits, which is considered to be low. Adding insult to injury some of these films did not live up to box office expectations, National Film

Corporation sources revealed.
The first film to be released for the New Year is the international award winner 'Pauru Walalu' (Walls Within),which won the best actress award for Nita Fernando at the Singapore International Film Festival and three prestigious awards at the 18th International Amiens Film Festival held in France in November. "I am hoping to release the film in January if everything goes well, "Producer - actress Nita Fernando said. Her film will be released in the fifth circuit.
Another celebrated event scheduled to take place this year is the world premiere of the first Sri Lanka -Australia co-production 'Mandakini'.(The Milky Way).The premiere of this film is slated to be held under the distinguished patronage of Australian VIP's and aborigines at Greater Union Theater Sydney on March 07." As this circuit has a large number of cinema houses we are confident of 'Mandakini' being screened in all important cities in Australia and New Zealand "co producer Kirthi Karunaratne said. According to him arrangements have already made to screen 'Mandakini' in European countries also. Director H.D.Premaratne will attend the world premiere.
Young film maker Boody Keerthisena's second feature film 'Mille Soya' is scheduled to be screened before the Public Performances Board this month. It relates a story of a group of Sri Lankan youth going in search of greener pastures to Italy only to face disaster. Ravindra Randeniya, Sanath Gunatileka, Kamal Addaraarachchi, Mahendra Perera, Sangeetha Weeraratne and many others star in this film. 'Mille Soya' is also listed for a 1999 release.
Director Vasantha Obeysekere is hopeful of releasing his Channa Perera-Yasodha Wimaladharma starrer 'Teertha Yathra' during the year. Director Obeysekera will also start work in his next film 'Peras Mudde Mayawa' (Illusion of the Wedding Ring) shortly.
Filmmaker Udayakantha Warnasuriya has completed work in his new film 'Bahu Bhariya' with Ranjan Ramanayake, Sangeetha Weeraratne and Vasanthi Chaturani in the leads. Unlike his earlier film 'Gini Avi Saha Gini Keli' which was packed with action, this film discusses a family theme which would appeal more to all segments of filmgoers, he said. The story and screenplay is also written by him and the film is cinematographed by Jayanath Gunawardena.
Sri Lanka's veteran film maker Lester James Peries who is in Paris is expected to return shortly to start work in 'Amulet' which is produced by Chandran Rutnam.
'Romeo' directed by Rob Nevis, a love story based on the war in the north is another film that would be released in 1999. Gamini Fonseka ,Ravindra Randeniya, Dilhani Ekanayake, Maddumage and many more play in 'Romeo' which is cinematographed by Sumedha Liyanage. 'Poronduwa' which is produced and directed by Chandran Rutnam is also ready for release.
The climax scene of writer director Mohan Niyaz' 'Kalu Sudu Mal' will be filmed at Horana for a week from January 10 onwards. "The New Year will be a challenging year for filmakers. This year will be marked with the screening of some meaningful films made by young filmmakers which would be an eye-opener to filmgoers who grumble that all local films are sub standard in quality" said Mohan Niyaz. After completing 'Kalu Sudu Mal' he is making arrangements to direct another film.
Soma Edirisinghe who produced the box office raker Roy de Silva's 'Dawal Migel Re Daniel' for E.A.P Films,started work in the second part of the same title also made by the same director. She has decided to produce another film which will be written and directed by H.D.Premaratne. "The untitled script is already over, said director Premaratne.
A film festival to commemorate fifty years of Indian Independence is scheduled to be held at the Liberty Cinema Kollupitiya this month. It will be held to coincide with the Indian National Independence Day. A package of seven films will be screened at the festival. It includes films based on the Indian freedom struggle by national leaders to redeem the country from imperialists.

---
Conrad back from Down Under
By Daffy Duck
Conrad de Silva from Australia was back at Trans Asia to bring to a close the year '98 at the "Golden '99 with Sun FM 89.9" Dinner Dance in 60's style. Last performance is today at the Terrace. TV Times met him in a relaxed mood at the lobby of Trans Asia Hotel.
Conrad de Silva started his career with the Spitfires in 1965, then a popular group and the only competition for this line up was from the Jetliners. De Silva said "I crossed over and joined the Jetliners in order to improve my career.
That was in 1969. We travelled to Bangalore, Philippines, Bangkok, and were based in Hong Kong. Then I left to get married and settle down. Eventually I left Sri Lanka to make a new life in Australia with my family. Now I have a son and a daughter".
The artistes I like are Frank Sinatra, Tom Jones, James Brown (Rhythm and Blues), Elvis Presley, Beatles (Rock Stuff).
Now I do more sophisticated tunes of Tony Brent (Jazz). But my favourite is Tom Jones or Soul Music, Conrad said.
"So what's in line up for the future? Well! I sing somebody else's song. I don't have a identity of my own. My own lyrics or originals. The world is changing rapidly. The audience prefer new things. Therefore I don't think I'll release an album, he continued.
Speaking about his son and his future de Silva had many things to say.
"I am proud to say that my son Andrew de Silva is now going solo with Sony Music. At the moment he is performing in the USA. He writes his own lyrics and composes the music. He has his own studio/recording unit at home. My future plan is to be my son's manager.
There's good news for Sri Lankans. Conrad is coming back next December with his son Andrew for the 31st night ball at the Trans Asia Hotel".
"In Australia I was backing Andrew at the "Crown Casino", the biggest casino in Melbourne. We are organising a "Jetliners" reunion in Melbourne. It comprises of Felix, Anton, Harris, Indra, Ishan Bahar, Sohan Peiris, Conrad. Unfortunately the girls Mignonne and Loritta cannot make it. It's scheduled for Jan/Feb and we also plan to tour Los Angeles and Canada.
Thanks must be given to Randy Peiris, for if not for him it wouldn't have been possible".

---
Temple of Fine Arts
The Temple of Fine Arts, one of Malaysia's premier cultural troupes will on the initiative of the Sri Lanka High Commission in Kuala Lumpur do a cultural performance at the BMICH on January 7, 8 and 10, 1999.
This performance marks the first visit by this troupe to our beautiful country. The troupe from the Temple of Fine Arts will be in Colombo after having performed in Chennai, Kuala Lumpur Penang and Perth during the month of December.

---
2000 Today: Sirasa TV goes global
As the official telecaster to the world, Sirasa TV will reach every corner of the world beginning midnight, December 31, 1999, as part of a worldwide live TV programme captioned "2000 Today".
This telecast throughout the 24 hours heralding the dawn of the new millennium, via satellite connections spaus the globe.
Partners in this unprecedented worldwide broadcast include, inter alia, the BBC, Japan's Asaki TV,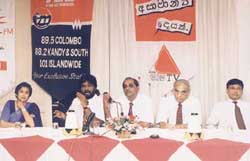 Australia's ABC and CBC, Radio Canada and more than fifty television stations around the world.
This was announced by Sirasa TV and MTV authorities at the media conference held recently regarding the primary preparation of this event.
Apart from featuring the vivid and varied cultural and traditional heritage of myriad nations, "2000 Today" will also present lively, topical and fascinating information on Sri Lanka life for global enjoyment and education.
"2000 Today" will be the outcome of unprecedented technological expertise produced by a cast of highly experienced and trained production professionals.
On the surface it might look quite simple, but imagine for a moment the organisation required to co-ordinate transmitting stations from nearly 50 countries to achieve a seamless broadcast as the earth rotates and the new millennium dawns progressively around the world.
The programmes will initially be fed to the international control facility which will then transmit them via the system of participating satellites through the "2000 Today" relay station, to obtain worldwide coverage.
2000 Today is a complex and ambitious project on a scale never before attempted in the history of television.
The idea is simple, the technology required for its execution is awesome
Each of the 50 participating broadcasters produce contributions of three or four segments.
Over 2000 cameras will bring us live pictures from every corner of every continent.
They will be sent live by the acquisition satellites to the BBC in London. The different feeds will be combined with exciting music and graphics to create the 24-hour programme, then distributed to all participants on a separate satellite distribution system.
Some 60 satellite paths over the Atlantic, the Indian Ocean and the Pacific, and thousands of miles of fibre optic cable, will be deployed for around five days of rehearsals and transmission.
2000 Today will cover the globe from the first midnight and the first celebration in New Zealand.... to the first sunrise over inhabited land in the year 2000 - the Chatham Islands to the dying embers of the old millennium in the Aleutians.
At the BBC, the 2000 Today International Control Room will have more than a hundred television monitor screens - windows on the world. It will communicate with the satellite control authorities and the other 2000 Today Continental Control Centres, monitoring feeds before they are aired to ensure the highest technical standards.
---
'Wasanthaye': creative mix
Rap, Ruggae, Ragga, the blending of Sinhala and English lyrics.. definitely not the normal combination of original Sri Lankan music. But we are talking about 'Wasanthaye'.. a new beginning or rather a whole new outlook into what our very own music could be.
Bathiya Jayakody and Santhush Weeraman the youthful inspiration behind 'Wasanthaye' - envisioned a pop culture for the new' Sri Lankan generation.... music that could be appreciated for its fusion of both the traditional and the modern. Music that would appeal to Sri Lankans at home and abroad.
From dreams to reality, bring in Ranga Dassanayake the musical maestro as Director and Producer, the talented singer and lyricist Yamuna Balasuirya and Chandima Lakmalee, who shared their creativity by providing lyrics for two songs.
'We have the original Wasanthaye' team. The team produced all the songs on the new CD which was released last week.
Music was provided by Dilup Gabadamuthalige, Siha Shakthi and Shyama Sri Ranganathan.
'Wasanthaye' was launched on December 22 at the Bishops' College Auditorium to a select audience.... and it proved to be the hottest dish around town.
The audience experienced a novel approach, style and presentation never seen before in the Sinhala music industry.
The artistes had the audience enthralled and captivated till the very end.
From the DJ spinning the discs at the console, the graceful classical powerful modern dances (which accompanied some songs) to the music video by Bathiya; the show oozed with ingenuity and style.
It was a night to remember and Bathiya and Santush successfully proved that one could deviate from the general norms without losing ones culture and tradition.

---
All about dreams
David Nutter's popular Sleepwalker is scheduled to be on Swarnavahini on January 8.
Haunted by a persistent ,disturbing dream,Ben Costigan seeks help at the Morpheus Institute,a controversial research facility run by neuro physiologist Nathan Bradford,whose autocratic leadership has caused problems among his staff,and specially Steve Turnera strong advocate for taking greater risks inserting the Morpheus staff directly into their patient's dream.During this interview with Nathan and dream interpreter Kate Russel,Ben describes the nightmare that caused him to crash an Air Force fighter.
And after revealing that he can't shake the image of a fearless shadow in his dreams,Ben learns that it's killing him.
Proceeding with the trea-tment,Vincent Konefke,the electronics wizard responsible for the team's sophisticated equipme-nt,inserts Steve and Kate into Ben's dream. However it's not long until they lose Ben inside his own nigh-tmare.Though Steve wants to proceed,Nathan demands that they be pulled out at once.But as Vince is struggling to obey without killing them first,Steve and Kate are attacked by the mysterious shadow.With Steve critically injured, Nathan decides to enter the dream on his own.Yet after Kate refuses to let him proceed alone,she joins Nathan in another dream they hope will lead to Ben's tormentor.
When they are again attacked by the mysterious shadow,Ben sees that its face is really his own.
As he deteriorates,Nathan tries to establish a connection between the dreams and reality with a trip to Ben's boyhood home. Contacting the aging doctor who was there when he was born,Nathan learns that Ben had an identical twin brother who died at birth.But before the process can free him of his tormentor,Ben must return to his dream to confront him.
After learning that an accident put Nathan's wife in a coma and forced him to communicate with her solely through her dreams,Ben considers joining Morpheus too.
Bruce Greenwood,Naomi Watts,Jeffery D Sams,Abraham Benrubi, play the various characters in this teledrama.

---
Bollywood scene
Rhythm on the way
Hard-hitting, hard-loving Arjun once again bulldozes his way into the hearts of imaginative youngsters in his film "Rhythm" which is being made in Chennai at present.
With locations in Bangalore, Goa and Nepal "Rhythm" directed by Vasant has beautiful Meena as the heroine.
For Arjun, situations develop from the beginning and he keeps on flexing his muscles flooring many an adversary to the glee of Meena who is on the run.
Music-wise too this film could reach a high level they say as with Vidya Sagar or A.R.Rahman could be in charge of it.
In any case "Rhythm" is bound to go well with the public as either has all the box office ingredients.

---
Salman gets the raves on Jackie's goods
Though Jackie Shroff has delivered the goods in Bandhan, it's Salman Khan who has walked away with all the raves and wak-waks and the applause. The film produces Salman's appealing presence and very rare restraint in emotional scenes.
The film had a sensational opening but latest reports from the cities which screened the film state that there is a decline. Distributors put the blame in the theme of the film which is not contemporary.
Still in the interior, it's going down well with the audience though the city crowd is not exactly ecstatic with the tale of Thakur Sahib's, tears and their bonded ties.
So Salman Khan seems to be the rage in the interior of India than the cities.
Of course he was arrested for poaching in the interior, was he not?

---
Nana - Bachan confrontation
Nana Patehker and Amitab Bachan have had their differences widening ever since they had their confrontation that was some months back.
But Bollywood grapevine has it that Nana - Bachan enmity is worsening by the day and temperatures are rising steadily when they see each other.
Therefore apparently to keep things cool Mehul Kumar, the director of Kohram now being shot with both these stars has decided the sequences separately.
But somewhere in the script there is another confrontation between Nana and Bacham. That has to be shot, whether both of them like it or not. Then surely sparks would fly - that is in real life style too. What a sequence would that be!

---
Titanic: never the Indian style
Titanic has not hit our widesreen yet but on the video it has caught on and just now going the rounds of Colombo and suburbs.
As the Titanic fever is still on it would be timely if I let you into a secret! Rakesh Roshan's new production underway in Bollywood "Kaho na Pyar Hai" is reported to have sequences resembling the James Cameron epic. But Rakesh has vehemently denied this.
He says the sequence he intends shooting features of a couple on a cruise, which will last only for a short time. That he says is as far as the resemblance goes.
He further adds that any producer dreaming of making a copy of Titanic is courting trouble. It would be disaster. That much of know-how and that much of cash to be dumped on such a speculative project we just don't have.

---
'Nisalawila:' Buddhist theme
'Nisalawila' is a 14 episode teledrama written and directed by Prasanna Jayakody.This young man who was trained in the art and technique of teledrama direction following a course held at National Youth Services Council later worked in a television station."I resigned to make telefilms and 'Nisalawila 'is my maiden venture'he said
He is the son of popular novelist Jayasena Jayakody.The theme of 'Nisalawila' has been taken from 'Araliya Mal Aramaya',a novel penned by his father."I have introduced several characters and my aim is to draw the attention of viewers specially the Buddhists on how people react without knowing facts on vital issues where the clergy is concerned.Prasanna Jayakody said."
It's a teledrama which relates a story of love,affection,reverence and hatred.
The story revolves round Rahula,(Suminda Sirisena) a young Buddhist monk who leads an exemplary life in accordance with the scriptures.This wins the devotees admiration and is held in reverence. More devotees flock to the temple because of him.
Among them was a beautiful woman who imagined that she could possess this young monk.After several incidents the story reaches an unexpected climax.
'Nisalawila' (Undisturbed Pond),is produced by Ananda Abeynayake.Hemasiri Liyanage,Chandani Seneviratn,W.Jayasiri,Ama Wijesakera,Nalin Pradeep Udawela,Edward Gunawardena,Padmini Divithurugama and Winnie Wettesinghe are in the cast.Photographed by Ruwan Costa Gayan Ganadhara has directed the musical score.