Shoes of the Fisherman
"And you, my child,
Shall be called prophet of the Most High,
for you shall go before the Lord
to prepare the way for him
and enable his people to know of their liberation
when he comes to forgive their sins
This is the work of the mercy of our God,
who comes as a rising sun
shining on those who live in darkness
and in the shadow of death,
and guiding our feet into the way of peace"
Luke 1: 76/79
This verse from the 'Song of Zechariah', father of the powerful John the Baptist, came alive again last Monday when we spoke to the father of a Sri Lankan priest who like John died tragically at the height of a charismatic ministry.
Fr. Bede Sunanda Wanasinghe, the beloved Sunanda Swamy to thousands of common people especially in the Catholic heartland from Wattala to Chilaw, died the day after Christmas in a river tragedy where the symbolism was shattering and mysterious as all God's ways are.
Fr. Sunanda, was the Pastor of Negombo's Church of St. Peter, the 'Big Fisherman' who became the first head of the Church after Jesus Christ filled his net to breaking point with fish. The imagery of the net, the fisherman and the fish struck a parallel in the life of Fr. Sunanda. From the Church of the Fisherman Fr. Sunanda went to a fishing village in Chilaw for a post-Christmas outing with some family members.
They cast a net, caught some fish and had a meal. They then cast the net for the second time. In terms of imagery, Jesus Christ had at the first meeting told Peter to cast the net for a second time and Peter had done so in faith though fishing logic went against such an act.
When Fr. Sunanda and other family members cast the net for the second time, the net got stuck in a sluice gate through which water flowed from the river to a nearby tank. Fr. Sunanda, just as Peter did, jumped into the river to disentangle the net. He was a good swimmer, but the swirl of the water current around the sluice gate pulled the dynamic young priest down to his death.
Tens of thousands of people turned up at St. Peter's Church in Negombo to pay their final tribute to Fr. Sunanda. An equally large crowd turned up at Seeduwa's St. Mary's Church when the body was taken there. It was at Seeduwa that the healing services conducted by Fr. Sunanda on Fridays drew the largest crowd seen at any Catholic healing service. Many of the faithful testified to spiritual, psychological and physical healing of ailments ranging from cancer to mental ailments and possession.
Finally the body of Fr. Sunanda was taken to his home village of Pamunugama which like Nazareth may not be well known but has produced some of Sri Lanka's greatest Catholic priests and lay people. The queue of mourners at St. Joseph's Church in Pamunugama was miles long. Less than an hour before the final Holy Mass celebrated by the Archbishop and scores of priests in memory of Fr. Sunanda, we spoke to his father, Vincent Wanasinghe.
Heartbroken but courageous and confident that his son was with the Lord,Mr. Wanasinghe spoke of how like Zechariah he had prayed for his son to be a mighty prophet of God - forthright and fearless, yet full of compassion and forgiveness.
Mr. Wanasinghe, a former school principal, said that from the time his son Sunanda was born he had prayed that the child would commit his life to co-operate with the Lord in building a kingdom of love and justice. But he had never tried to persuade his son to enter the priesthood. The son did not show much interest until he joined the Pubuduwa (the Catholic Renewal Movement) where he came to a personal experience of the Living Christ and committed his life to Him. Then Sunanda himself felt a calling towards a life of sacrifice and feet-washing service in the priesthood.
Mr. Wanasinghe said he was filled with joy when his son told him of his decision to commit his life full-time in continuing the ministry of Jesus Christ - "to mend the broken heart and set the captives free, to open prison doors and make the blind to see." (Luke 4: 18)
Mr. Wanasinghe said he had advised his son to be ever loyal and obedient to the will of God and to the Catholic Church. He had also cautioned him against any tendency to form separate groups or cults outside the main body of the Church.
He disclosed that from the time his son became a priest he had made more than 3,600 novenas to the Infant Jesus asking not for wealth, and not even for good health, but that his son would be true and ever faithful in the ministry of love, forgiveness and service to others.
Fr. Sunanda was only 39 but his healing ministry at Seeduwa and Negombo drew larger crowds than any Catholic Church had ever drawn. How did so young a priest reach mountain-top spirituality in so short a time? His father Vincent unknowingly revealed one of the reasons. For week after week the father had prayed fervently for the son and there in those prayers lay the source of the power. Behind this spiritually powerful priest was a praying father.
By a life of mountain-moving faith, hope and forgiving love, Fr. Sunanda in a relatively short span of life, like the Lord produced a rich harvest. Perhaps like the Lord on a Cross atop Calvary, Fr. Sunanda also at the bottom of the river might have breathed his last words saying- "Heavenly Father from the beginning of the ministry I sought and did Your Will. Now it is completed. It is finished. So Father into Thy hands I commend my spirit. Amen."
- Louis Benedict
---
Crazy over diaries
The theme of this year's Enterprise Day was on the services available to entrepreneurs and employment seekers in the district. It attracted among others, over 250 young persons, even from Nuwara Eliya, while many school-leavers came in to discuss career plans and self-employment opportunities. Mr. Chandra Sahabandu, General Manager of the People's Bank addressed the gathering.
By Chamintha Thilakarathna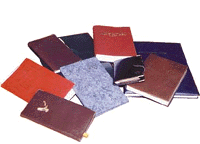 If you think that the only item in demand over the New Year are crackers and cards, think again. Diaries and calendars seem to be on top of the list when it comes to best selling seasonal items. With the dawn of the New Year, diary mania has hit the streets. Large crowds gather around diary stalls at bookstores and on the pavement, examining the latest designs and colours.
"Can I have a diary? Do you have any extra calendars ?" are questions that most of us have been asked over and over again each year. Though we try to avoid these situations, usually the attempts are in vain. What then is so exciting and attractive about calendars and diaries?
"It's nice to have a good diary. I don't mind getting as many as I can, since I have to distribute them to people who ask me," said Indrani Perera, a working mom from Ratmalana.
But is that the only reason why people stack diaries and calendars in their houses?
"In my case, I am a fan of diaries. Although I don't use them I prefer to collect various types and new stylish diaries as a hobby," said 16-year-old Suranga Madushantha from Wellawatta.
"Diaries give a lot of information. If you have one, you don't have to go looking for the directory or some information guide when you want details of diplomatic missions, paper sizes, country details, etc. That is why I always look for a fairly good management diary every year. And I want to have a choice, so I accept whichever I receive and once I have made my selection, give the rest away," said another diary collector.
It's true that every household needs a calendar, but of late, haven't they become fashionably popular? Well, the answer lay in a row of houses on the beach in Wellawatte. Not only did the main entrance of the house open to a calendar with a young beauty offering a wide, toothpasty smile, but on every wall that met the eye, there seemed to be calendars for the eye to feast on of all sizes and designs.
Rohan Wijesekara, Manager of Vijitha Yapa Bookstore at Unity Plaza Bambalapitya said diaries were much in demand. "We have already sold out some brands of diaries. We've been having a good sale ever since we opened our diary desk in the stationary department at end November," he said.
The demand for diaries is inelastic. Sales do not depend on the prices, which are quite high. However, there are various types of diaries and they are priced from Rs.32 to Rs.4,000. The slim diaries are priced between Rs. 30-42, the desk diaries from Rs.100 upwards, and there were also management diaries between Rs.200-275, organizers at around Rs. 530. However, the pictorial diaries were far more expensive.
"Well, there are also lots of people who subscribe to magazines to obtain the complimentary diaries," Wijesekera said. "That is how diary crazy Sri Lankans are."
According to the bookshop's Purchasing Manager, S.B.Kosgahakumbura, only about 25% of diaries purchased are returned. He said in most cases, they were unable to purchase the nicer diaries due to their high cost. However, it is the slim, management and desk diaries, which are mostly in demand.
Asked why she liked diaries, an 18 year-old replied, "Well, I don't know. I guess because everybody has one. One thing I like about diaries is to fill in the information page and the addresses page. And, that is all that gets filled anyway," she said.
Diaries also play the role of a gift in the season. Sivan Thambaiyah who was busy selecting a diary, said that he would be sending a Sri Lankan pictorial diary to a relative abroad.
Do we actually maintain diaries in the true sense? The majority of people we spoke to said not really. January gets filled and so does the personal and address page but by the time it comes to March one does not even remember that one had a diary or where it is. As of many other things, it's just a craze.