The last champion of a rare class
Winner of the last Mr. Sri Lanka competition held in
1991, reflects back on his experience in a bygone era
of excellent standard
By Ravi Nagahawatte
The crowning of Ivan Threepaduma Fernando as Mr. Sri Lanka in 1991 was the last occasion that the local bodybuilding fans witnessed something spectacular. Not only did the show look very much complete, it also gave the contestants something to look for, in contrast to today's event which lacks real excitement. Currently the championship is held more as the nationals and the most a competitor can achieve is win his class.
The medium-built greek-god like physique which Fernando possessed that day is still talked about in the physical cluture circles. It had been one of his happiest days in the sport and when he began to speak about that memorable day, Ivan's eyes began to sparkle. "I was not even compared with the others," said Fernando running his mind back to that muscle contest which was held at the Navarangahala in Colombo. "The judges said that my standard was very good". His view on a competitor's standard became more clear when he refused to display his muscles for a photograph by stating that he was not in serious training. Fernando outmuscled several former champions in Ajith Kumara Ranaweera, Anton Fonseka and H.M.R.K. Jayasundara and also won his class, the Welter Weight category, before being awarded with the overall title.
Before taking to the iron sport, Ivan had been an athlete who was attached to the Ceylon Track and Field Club. He had always followed in the footsteps of his brother, Helapaduma, and first took up running events in the field of athletics before switching to bodybuilding. His career in physique compititions began late in 1987 following a hamstring injury which Ivan feels was serious. "That's when I met my coach Pushpalal Pinnaduwa." However the iron sport had not been a completely new experience for him as he had won a junior provincial title thrice while he was actively involved in athletics. "I always respected my coach. He inquired about me whenever I missed a training session. He had been personally close to me," said Fernando who also added that he had learnt from his guru something more than just lifting iron in the gymnasium.
His coach Pinnaduwa had received a bodybuilder with potential and, stated that Fernando had then already had a physique with separations and it was easy to train him. However he added that there had been times when certain individuals had tried to poison his student's mind by giving him false ideas and information. "There was a time when he thought the human arm could not be developed beyond seventeen inches. Now he has an arm which almost measures eighteen inches," said Pinnaduwa who had been watchfully present whenever Ivan worked out.
Ivan has had the opportunity to represent Sri Lanka twice at the Asian Body Building Championship but regards them as mere experience. "Their standard was very much higher than us. I also saw some strange things when I was warming up. Only a few contestants lifted weights. Most were eating chocolates and remained in their track suits till they were called to come on stage," reflected Fernando.
Fernando, who is currently employed at the Jade Gardens Restaurant as the Security Manager spoke of how he is hampered without proper facilities. "I train at the Young Men's Buddhist Association in Fort where the equipment available is barely sufficient. And to make matters worse my coach is no longer available to seek guidence as he resides away from Colombo.
However I must add here that my company's current Chairman, Nalin de Fonseka and his brother the late Lakshman de Fonseka have been very helpful to me." Speaking about nutrition, Fernando added that he eats about anything which is available and the only thing that he takes to boost his training in the form of a supplement is a high protein drink named Casilan.
Asked what his recipe for success was Fernando had this to say, 'I made my teacher my idol and trained with him."
With plenty of training behind him and with the overwhelming thought of doing some service to the sport lingering in his mind, Ivan hopes to open a gymnasium in the near future. The thirty-six-year old bachelor also sees the likelihood of entering competitions in the future but stated that it will only materialise if he gets the opportunity to train well.
And coming back to the awarding of the title at the most looked forward to physique competition, he felt that giving away the overall title will only encourage the competitors even more.

---
Bertie Wijesinghe is still fit to coach
By M.H.M. Manasique
Very few people depend on their physique to earn a living as they mellow into old age. Bertie, however, is an exception. At 78 years he is still fit to coach and train youngsters. This has enabled him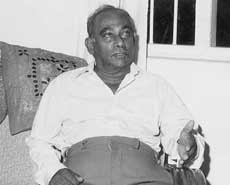 to lead an independent and self-disciplined life.
He was first introduced to the sport by his father. In time he turned out into a genuine all-rounder. In due course he became a teacher, a curator, a cricket administrator, a selector, a coach, a commentator, an editor and a cricket consultant. A unique combination indeed unmatched by any Sri Lankan cricketer or for that matter any sports personality todate.
Cricket has always been bread and butter for him. He played the sport during an era when players found their own means of transport, food, beverages and the light for their cigarettes.
Popularly known as 'Bertie', his full name being Reginald Bertram Wijesinghe, he has been involved in cricket for 60 odd years. He along with his team, some of whom are still alive, has confronted many cricketing greats at a time when there were no means of transport and travelling was a difficulty. There were no proper practices or exposure to Test cricket and no camps to get to know each other. Every individual was a stranger at the start, but they set out their hearts to do the very best for the country.
Even today one could see him, clad in sporting attire, still possessing the looks of a fine cricketer. He runs his coaching academy with Gerry Gunaratne, one time colleague at the SSC nets, three times a week. With aches and pains, which normally comes with age, he still finds the time to impart his vast knowledge to the young.
He was also the national coach when Sri Lanka participated in the first World Cup cricket championship under Anura Tennekoon in England in 1975. He has also been relaying commentaries for over a period of 30 years.
Bertie was responsible in putting up the first indoor nets coaching school at the health Ground, Castle Street which still exists. It was mooted by him when Ramsey Wettimuny (not a rich man at that time) approached for his expertise in coaching his sons, in which he strongly supported and aided the project.
One of Ramsey's sons, Sidath once paid a rare tribute to him when he said: "I know only one coach in Sri Lanka and that is Bertie". Sidath, however, wound-up his cricket career prematurely after being an outstanding sportsman for nearly 20 years.
Cricket was a 'family affair' at the start. After watching his uncle, father and brother playing cricket Bertie too was in action playing in the 'big' match for S. Thomas against Royal in 1936. He was 15-years-old at that time. He was brought in from the under 16 junior team on an SOS (Save Our Soul) call to fill a vacuum.
This unexpected break was of immense help. He scored 57 at number seven and partnered Norman Siebel in an unbeaten 151 runs partnership and grabbed six wickets for 50 runs to force a draw against Royal that year.
After finding a permanent place in the First XI team during the next couple of years, he took over the reigns in 1939. Their big match against Royal that year turned out to be a memorable event when he trapped Harry Gunasekera in the first ball of the innings. He further guided the Thomians to a comprehensive five wickets victory that year. He contributed with half centuries in both innings and chipped in with three and two wickets, respectively, during match.
Bertie was also recognized for his skills in athletics, hockey, tennis, Winchester fives and miniature rifle shooting at school and later won colours at the University of Colombo in cricket, hockey and athletics. He played cricket for SSC as well when he was an undergrad.
He rejoined SSC after a brief employment string at the Prisons Department as a House Officer for three years during which time he lost his membership at the club. Soon after, he embarked on his first foreign tour to India with the SSC team under the captaincy of Sargo Jayawickrema. They played matches in Madras, Baroda, Bombay and Poona now Pune..
During that year he played the role of an anchorman for SSC in their Sara Trophy finals against Tamil Union. SSC were badly down at 60 for 5 when Bertie struck a vicious 161 partnership with C.I. Gunasekera for a sixth wicket record stand which ultimately helped SSC to win.
In 1949 he was selected to the Ceylon side to play against the West Indies. According to Bertie the West Indies were a fearful team then and local cricketers were terrified of their bowling. Their deliveries travelled so fast that the batsmen could only feel the ball whizzing past their ears and ending up in the wicket-keeper's gloves.
However, it was at the Oval, which was considered to be the fastest wicket in the world where Bertie made 30 runs, which was the highest and incidentally the only batsman to resist the feared West Indies attack for the local side, who recovered from 60 for 5 to be 112 in their first innings.
But in the second innings the local team fared much better after their first innings exposure where Mahes Rodrigo hit 134. Though Ceylon lost by an innings, it was a face saving performance nevertheless.
Ceylon did extremely well to draw the second game. Some of the famous names in the Caribbean team were Prior Jones, John Trim, Atkinson, Stollmeyer, Everton Weekes and Clyde Walcott.
After the West Indies tour, Pakistan visited Ceylon under the captaincy of Mohamed Saeed where Bertie took five wickets in the first match. The home team lost one and drew the other. Again in 1950, the Pakistanis were here for two Tests.
Here too Bertie failed to perform well. Then for six years Ceylon did not have any foreign visits until the Indian team toured the country in 1956.
Bertie was in the ranks of the national team as a reliable allrounder. Unfortunately nothing of his performances are on record. At that time he was Sports Editor at The Observer, where publicity of one's own self was strictly prohibited.
However, he was forced to publish an interview with Leslie Ames who led the Commonwealth team together with Frank Worrell the West Indian captain who regarded Bertie as one of the best fielders he has come across during their tour of India and Ceylon where Ceylon was graded a better team.
He spoke well of C.I. Gunasekera, Lucian de Zoysa, Mahes Rodrigo, F.C. de Saram and S.S. Jayawickrema and catergorised them as some of the greatest players in the local annals of the sport. It was their individual performances which mattered when the side was in trouble making them valuable team members.
He was also the Chairman of the Selection Committee for a short period, though no journalists were permitted to hold such office. He was appointed to this post unanimously when Mr. Robert P. Senanayake was the president.
Mr. Senanayake spent his own money for to uplift the game.
He left Lake House just before the take-over and joined Trinity as a teacher and coach. Later he joined S. Thomas prior to migrating to England in 1976 with his family.
He married his teenage sweet-heart Dorothy Weerakoon and were blessed with four children - Maya, Needra, Rohan and Dameskh - all of them are on their own doing reasonably well. Even in England he trained the youth of Nottingham on a voluntary basis.
Apart from cricket he loves classical music, derives a great amount of pleasure in wild life expeditions and visiting bird sanctuaries and does a little bit of gardening to while away the time.
In his opinion the Sri Lanka cricket team has done extremely well to become World Cup Champions within 20 years of playing cricket unlike New Zealand and the West Indies who have been playing cricket for a considerable length of time.
His passing shot was: "It is not going to be easy to stay at the top, especially when you are being harassed by the media, sponsors, advertisers and publicity agents.What our chaps should do is to concentrate on cricket as much as possible and pass the knowledge and experience to the youth, in whose hands the future lies." l

---
A red letter day for Colts cricket
By Bernie Wijesekera
Colts C.C. one of the oldest Clubs in Sri Lanka, wielding the willow, fittingly signed off their 125th anniversary in style, when they outplayed and outclassed the star-studded S.S.C, boasting of many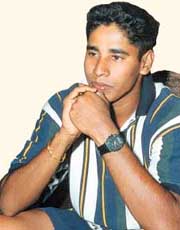 national players in the Hatna Trophy 'A' div-50- over final under lights at the Khettharama Stadium. (Boxing day Dec.26).
Colts C.C., has inculcated a great tradition in the past always striving to play a straight bat on and off the field and maintain the standards set by their forefathers. It has been an unstinted team effort by its administrators and the players alike, who put the Club before self to achieve this milestone of defeating SSC led by Sri Lanka Skipper Arjuna Ranatunga, by 60 runs, where they dominated in every part of the game.
This, was a fitting finale for the 1998 cricket season and a 'feather in his cap' for its skipper Chaminda Vaas, who led them from the front to emerge worthy champs (adjudged the player of the match, by match referee Asantha de Mel).
Gamini Goonesena, the president of the club, is proud to be at the helm of its affairs in the 125th anniversary while its patron former Sri Lanka stalwart Tita Nathanielsz, was its President when they celebrated the Centenary. It was founded in 1873 with meagre financial resources, but has gone from strength to strength since then, thanks to its membership, who rallied around with men and material.
Goonesena, was a proud man after this histroic win. He said it's good to win trophies. But the game that matters in the end. Trophies are not all that important.
True to it the young Colts outfit, coached by pint-sized Carlton Bernadus, did a king-sized job, to achieve the objective amid jubilation.
Bernadus when interviewed by The Sunday Times said that the boys worked hard at the nets. They had tremendous team spirit. For them names didn't matter to topple higher-riding SSC team. All credit should go to the boys he added.
Colts CC electing to bat on a slow pitch made a mockery of the SSC attack.
Sri Lanka's pace trio in Promodaya Wickremasinghe, Nuwan Soysa and Ruchira Perera, were bashed around for 79 runs in the first 15 overs, on the eve of their departure. It was a pale ale performance. Soysa, struggling to gain fitness was belted for 61 runs for a single wicket, that of Sanjeewa Kulutunga who earlier smashed him to the tree tops over long on.
Kulatunga, a lad from Maliyadeva Kurunegala who scored a spicy 35 with two sixes, showed tremendous guts.
The openers R. Kaluwitharane and Dulip Samaraweera put on 123 in 20 overs hitting allround and the SSC attack was made to look ordinary. 'Kalu' had a stroke-filled (70), while Dulip a sedate 57.
Against this onslaught the SSC skipper Arjuna, found it diffucult to stop the run flow. As a result the SSC ground fielding, too went haywire.
Then came the attacking unbeaten seventh-wicket stand of 63 runs between Vass 41 n.o., and Eric Upashantha 27 n.o. adding further woes to the SSC who had to face an uphill task of 277 runs for victory.
Skipper Vass with no letting up, had all cylinders firing, backed by keen fielding. In the run-up Chaminda Mendis held a marvellous catch to dismiss 'danger man' Marvan Attapattu.
The Colts spinner Sajith Fernando and Dinuka Hettiarachchi (left- arm spin) got their act together. The duo had the SSC batsmen marooned. Hettiarachi in the process had fine figures of six for 43 which speaks volumes for his guile, while allrounder Sajith Fernando 2 for 28 kept on pegging, to give notice of their talents. Selectors please take note!
It was a poor performance by the SSC who were bowled out for 216 with seven overs to spare.
Malik Zahir, the Colts secretary told The Sunday Times, the team will be felicitated for their success after the return of skipper Vaas, who is on tour with the Sri Lanka team in Australia. He said that the Club was grateful for East West Marketing for sponsoring the team.
Quite a number of diehard supporters have assisted the Club. One of them was M.W. Rajasingham.
The entire committee under Gamini Goonesena worked hard, well supported by the membership to help the Club to go places. It was due to the selfless contribution by them, that it went on to make the 125 years a one to remember when its cricketers put the icing on the cake with an epoch-making victory in the Hatna Trophy 'A' final, that, too over the star-studded SSC. Well done Colts!
The match, which was a day/night affair failed to attract spectators. If it had been a day game, it would have drawn a bigger crowd.

---
On the All Weather flat
Young McLaughlin boots a treble
By Ismail Khan
The All Weather Flat stint at Wolverhampton on Boxing Day was worked out to a capacity crowd where our local Sri Lankan punters benefitting immensely from the attendance cottoned on to some good priced winners.
The day started off well on 26/12 at this All Weather Flat track High Noon blazing away from the start to record an easy victory from Night Auction and Kanawa. This was the first of three winners for young rider T.G. McLaughlin.
The next race, the Brandy Butler Cup over six furlongs went to E. Alston trained Hilton's Executive from Mutasawwar and Noble Patriot, the rider being J. Quinn. Horses to follow from the first two events, Night Auction, the runner-up and Noble Patriot who finished third to Hilton's Executive.
The Christmas Pudding claiming stakes over six furlongs was the second leg of the treble for rider McLaughlin who booted home Scarletts Boy with ease as he made all to take the event. Runner-up Trojan Girl never had a chance. Follow the winner for more laurels.
The fourth race went to yet another McLaughlin ridden winner in Incepta who swept the opposition aside with disdain in recording an easy victory. Naked Out finished second while Ikram Boy plodded onto take third place.
The fifth event was won by Weet-A-Minute from Byzantium while the sixth race went to Bonne Ville from Bapsford and Portite Sophie. Horses to follow from both these events, Byzantium and Portite Sophie.
The seventh race, the Parson's Nose Handicap Div. 2 was taken by Hi Mujtahid at 25/1 from Cold Front and Delight of Dawn. One to follow, Delight of Dawn who did not get a clear run.
The last race was a pillar to post affair by Mike's Double who made most of the running to beat off Mary Hannah and Sotonian. Horse to follow, Sotonian who with stronger handling could have moved much closer to the winner.
That much for this week. More in my piece next week.

---
Medals drought ends
By Gamini Perera
For a country hungering for success, even a sign of regeneration is cause for celebration. Fuelling this mood of well-being were Sri Lanka's medal-winning athletes at the 13th Asian Games concluded in Bangkok last year.
Compared to the medal draught since the days of the Rosas and Wimaladasas, as the front-runners of our athletic scene till the turn of 1974, the handful of golds in Bangkok's Asian Games in 1998 is no mean achievement today.
But, not to be forgotten is the fact that Sri Lanka was placed rather low as the sixteenth in the medals table. Only a step higher than the previous Games.
Whatever has been achieved needs to be appreciated, but to gloat over it as though Sri Lanka athletics has turned the corner is ignoring reality. The time has come for the powers-that-be in Sri Lanka athletics to redouble its efforts in preparing for a number of international meets that lie ahead in this New Year. They must pick up the threads of hope generated from the '98 Asiad.
It must be stressed that there should be no trace of complacency.
Continued with vigour
The programme that preceded the preparation of the athletes prior to the Asian Games should be continued with vigour, effecting improvements in areas of weaknesses, noticed at the Bangkok meet.
The gap between performances at home and abroad continues to be disturbing. Equalling or improving national records is small consolation. For, what serves as a high water-mark in the domestic scene is not worth its value at the international level.
Just as our athletes are doing their best to improve the image of the sport, the administrators also need to gear up and give a shoulder to the cause they are charged with - to promote our athletics.
Athletics today is a round-the-year activity, involving scores of top stars who hop from one meet to another in search of records and rewards.
For them it is a test of skills in competition, or in a series of meets. It is not just training as we tend to over-emphasise in our country. Too much is being said about the concept of 'peaking', which in the modern competitive cycle, has little relevance.
Fearing defeat
To avoid competitions fearing defeat breeds a negative influence on other competitors, too. Maybe for some, the Asian Games '98 has been a case of missed opportunity to come face to face with some outstanding athletes in the contemporary scene.
Those in power of our athletic establishment should explore the feasibility of the medal-winner in Bangkok to participate in meets abroad to face a stiffer challenge.
This can motivate and contribute to improving the quality of performance. All the energy and resources of respective establishments in charge of local athletics should be directed to create such an avenue for those athletes who contributed to break a long-standing hoodoo and re-discover the valuable ethos associated with Sri Lanka athletics since those halcyon days of the late Duncan White who showed his class both in the Commonwealth and Olympic competitions.
Reaching Olympic glory
If all the quarters who contribute to the well-being of Sri Lanka athletics, manage to strengthen the fibres of the solid base available at their disposal, then the task of our athletics and athletes reaching towards Olympic glory will be simpler from being complex as it now appears.
Slipping at this point will be a disaster.
Prof. Sondhi - moving spirit
Though the Asian Games is comparatively of recent origin, with the first held in New Delhi 47 years ago, it too, had a silent hero in Prof. Guru Dutt Sondhi whose lifelong passion was sports. Sondhi firmly believed that the performance of the Asian athletes would never attain the dizzying heights of international standards if these athletes did not compete among themselves at regular intervals.
Hence, the first Asiad was the direct result of Sondhi's persistence and life-long ambition.
Several attempts were made since early this century to bring Asian sportsmen and women under one umbrella on the lines of the then Empire Games, now known as the Commonwealth Games. Poor participation, problems of finance and the refusal to host the event wrecked all such attempts.
The first among these attempts was the Far Eastern Games of 1913 in Shanghai in which three teams participated - China, Japan and the Philippines.
Ten such meets between 1913 and 1934 were held at regular intervals and the venue rotated between Shanghai, Tokyo and Manila.
The harbinger
The Far Eastern championship can truly be called the harbinger of the Asian Games. Prof. Sondhi and Maharaja Yadavendra Singh approached each of the heads of the nations gathered in New Delhi for the Asian Relations Conference and secured their consent for an Asian Sports Meet.
Originally, it was christened Asiatic Games, but the nomenclature was changed to Asian Games on the suggestion of Pandit Jawaharlal Nehru. The inaugural meeting of the Asian Games Organising Committee was held in February 1948, in New Delhi, in which it was decided that the inaugural Games would be held later that year.
Inopportune
But, 1948 was inopportune for commencing the new venture, for in London, the Olympic Games were being held. All the nations were preparing for the Olympics.
Thus the first Asian Games had to be postponed and was finally held in March 1951.
While opening the first Asian Games in the National Stadium, New Delhi, Pandit Nehru said: "Before the actual competition gets underway, the Asian Games Federation is already a winner and the finest laurel must go to it for bringing under one umbrella such a large number of athletes."

---
Running Reflections...
Boxing Day fireworks by the FitzGerald-Henderson combination
By Ismail Khan
After a lapse of holidays punters went into the Boxing Day Meet of horse racing in England with much hope and they were not disappointed either as their favourite rider and trainer in FitzGerald-Henderson combination whacked a four-timer at nourishing odds at Kempton.
The feature event the prestigious King George VI Chase for 5 year-olds and upwards, a Grade One event in the English racing calendar too went the way of the well wagered 9 year-old Teeton Mill about whom I wrote in my piece a few weeks back and was one for your short list. He gave Noel Williamson and that astute lady trainer Miss V. Williams the much needed boost for their hard work as of late this combination has taken everything before them wherever their horses accepted. You will have to follow this combine carefully for the Festival Meet at Cheltenham in March as they have some good animals who could run away with the huge prizes on offer. This £ 100,000 prize, I think is just a drop in their big ocean of winners.
As it turned out the Boxing Day meet at Kempton on 26/12 opened out with M.A. FitzGerald-N.Henderson combination taking off the pad for their first winner of their four-timer, their 6 year-old Grecian Dart finding the target accurately from Jungli and Follow The Leader. The winner at 5/1 was good value as his last attempt too had been successful conquering My Lisa Too at Windsor on 3/12. One to follow from this event - Jungli the runner-up who is sure to find a less competitive novice race in due course. And of the winner too, much can be said. So follow him.The second event the Feltham Novice Chase over three miles went to Oliver Sherwood trained Lord Of The River who ridden by Jamie Osborne made it almost from pillar to post to record an easy victory over the favourite Spendid who with splendid form behind him yet could not do justice to a host of followers. Yet, do not write Spendid off. He is too good to be let off friendless. Follow him next run and the run after that. He will bring back losses with interest.The City Network Handicap Hurdle, over two miles was the second leg of the successful FitzGerald-Henderson combine's four-timer timber-topper Serenus taking advantage of good handling and bolting away to carry off the £ 10,000 prize from Road Racer and Shahrur. The winner was well backed down to 4/1 and most of the Sri Lankan punters had hefty bets on him.
Race number four was the feature event the Pertemps King George VI Chase and it was another triumph for Miss V.Williams and N.Williamson combination their 9 year-old chaser Teeton Mill coming from behind to carry away the £ 100,000 prize from Escartefigue and Imperial Call. The odds of 7/2 on the inform winner was really a good take with most punters going in for the fling.
Ranjit Fernando tells the cricketers...
---
Past is now memory; Play hard to be in contention
By Bernie Wijesekera
The boys are quite aware that this tour to Australia, is hard grinding in the triangular World Series between Sri Lanka, England and host nation Australia, said tour manager Ranjit Fernando.
Fernando, who has gone as official on many tours in the past with the Lankan team has the knack to overcome any situation on and off the field with his tactical and charming ways, was interviewed by The Sunday Times.
Q. Are you aware that the Lankans had a poor run in the cowboy game in the recent contests. Any comments. What's your remedy?
A. It's a funny game anything can happen, where the minnows could topple the favourites, unlike in the established game. It needs lot of thinking and planning. Once you lose the grip, it's doubly hard to come back. Even Nine, Ten and Jack, could turn a game with their pinch hitting.
In some quarters they utter that we could knock the daylights out of our opponents. It's always good to win and Sri Lanka is quite capable of achieving it. But the opponents are no pushover sides. Both England and Australia have locked horns in the ongoing summer. They are quite akin to the conditions.
The players are rarin' to go whatever the final outcome to be, in reckoning in preparation for the forthcoming W.C. in England. As the Lankans are the defending champions, 1996 heroics in Lahore is now a memory. The present is known, but the future is uncertain.
Sikpper Arjuna Ranatunga, is quite aware of this and is playing with great composure. The other members of the team must work hard to overcome and improve areas they are found wanting. Rather than melting under pressure, but mental toughness is the answer to come on top with disciplined approach.
The players are really committed. I can assure you they will give of their best to win the contest. Well, if we lose, it's part and parcel of the game, but the players will not be found wanting in their efforts.
Q. Are you aware that during the last tour of Australia in 1995-'96, there were controversies in abundance and there was a mixed bag of accusations?
A. It's all forgotten and it's a memory now as I mentioned earlier. Sri Lanka was absolved of all blame like ball tampering, etc. Due apologies made.
Q. Cricket is still a gentleman's game though professionalism and big money is at stake, unlike in the past. All this is temporary, it's the game that matters in the end?
A. You are absolutely correct. The tour management along with the captain, is confident that bonhomie will prevail on and off the field. Any shortfalls I will handle (as manager), this includes the media too, with the captain, Fernando added. Winning or losing does not mean end of Sri Lanka cricket.
As Mark Taylor said in Calcutta, after being slaughtered by India, losing the series 2-1. He politely said, we were beaten by a better opponent on this day, but not disgraced. He further did not make any excuses either. This, is what that makes cricket - a great game of character building. Past is forgotten. Sri Lanka is second to none when it comes to sportsmanship.
Q. What have you got to say about players attending socials etc., on the eve of a match?
A. It's a good question. It has happend in the past, but will not be repeated. The Cricket Board has taken remedial measures. Only three players could attend a function, but not the whole team (other than officals).
True quite a number of Sri Lankans domiciled would be delighted to entertain the players from their motherland. The players will have to abide by the CB ruling.
The players, too must realise that they are committed to do proud to the country with an unstinted team effort. The team's vision should be to fulfil their mission, to put the country's cricketing image on a higher pedestal, as they have not come on a social tour.
Fernando said he will strictly adhere to the CB ruling that only three players could go together, that too not on the eve of a match.
Q. Are you aware that the fielding has deteriorated to a great extent unlike in the past. You were responsible for putting this all important area, to emerge as one of the best in the world. This scribe witnessed this even in England, when you went as assistant manager to Abu Fuard on that tour?
A. You are right. It's catches that win matches. Fielding has let us down badly. Imagine if you are confronted with a moderate attack, then fielding has to be sharp, otherwise you are in great trouble. Coach Roy Dias one of the best fielders during his time is paying special emphasis to this aspect. The coach alone can't overcome this malady. The individual himself must work hard to achieve greater heights on the field. A good example is Jonty Rhodes and Ricky Ponting. They are most eye-catching and a sheer joy to watch. Fitness, too plays a decisive role.
Nothing is impossible if the players are dedicated and have the will-power to overcome whatever odds and keep the Lion Flag flying be it at the Southern Stand in MCG or in the Hill at the Sydney grounds in the best of three finals and dent Australia's run of success in this W.C. home Series where they have been dominating.

---
Insurance cover for umpires
One hundred cricket umpires from all grades gained a five-year sponsorship of their activities by Janashakthi Life Insurance Company.
The umpires affiliated to the Association of Cricket Umpires have been offered accidental insurance cover for each umpire ranging from between Rs. 50,000 to 1 lakh.
The Umpires Association have come forward to award scholarships to the children of umpires who have excelled in studies and sports.
For the first time an umpire coming under this sponsorship will be paid on a match by match basis, which will include the fees paid to them for standing in the matches.
The five scholarships were awarded to Ranil Gunaratne, son of M.D.D.N. Gunaratne, Arangi Janithri Fernando, daughter of Arnold Fernando, Poorna Kudahetti, daughter of George Kudahetti, Hemantha Boteju son of Daya Boteju and Madheva Dissanayake, son of D.A.S. Dissanayake.
The Umpires Association also received sponsorship from Diesel & Motor Engineering (electric typewriter), Gestetner (photocopying machine), Ceylon Tobacco (printing of 1,000 copies of the 'Laws of Cricket' in English and Sinhala), Bank of Ceylon (membership drive brooch).
Certificates to the promoted umpires were presented by the President of the Umpires Association, Lakshman Kiriella who is also the Deputy Minister of Foreign Affairs and Chandra Schafter, the Managing Director, Janashakthi

---
Pam in Guinness Book of Records
Pam Fernando did Sri Lanka proud by becoming the oldest national golf champion by winning the Sri Lanka Golf Championships on July 1981 at the age of 54 years and 282 days.
This effort by her enabled her to enter the Guinness Book of Records and a certificate to this effect has been received by Pam from the Guinness Editorial Department.
The keeper of the records in a letter to Pam considers her record as the oldest national golf champion for entry into the world's biggest selling copyright book. Pam won the national championships first with her husband Pin in 1957, followed it up alone in 1961, and in 1965 won it again with her husband and the fourth in 1980 and the fifth in 1981.

---
No coach for Malwattawalla
Malwattawalla MMV, Wellawaya voted the best outstation cricket team in the Uva Province is without a coach and the cricketers are a very much neglected lot now.
The practice pitch, new matting and the other equipment are rotting through no fault of the cricketers from this school.
The Board of Control for Cricket in Sri Lanka should take stock of the situation since their outstation promotion programme is on and they should appoint a coach to take over duties.
This school was voted the best outstation school in the 1995/96 season.

---
New stadium for Kalutara
By H.P.P. Perera
The construction of a well equipped stadium, comprising a 400-metre track, has commenced at Kalutara, said Mr. Nalim Mahes Perera, Chairman U.C. Kalutara.
The funds for the project will be allocated by the W.P.P.C. and the Urban Council, Kalutara.
The State Engineering Corporation has undertaken the project and the U.C. has granted 15 lakhs of rupees as advance to the project. "The playground, will be of international standards and will be completed soon 1999", said the Chairman.
Life Insurance.