Timeless yet trendy
By Ruhanie Perera
Who would think the words 'metal' and 'painting' would ever be used to-gether. One conjures images raw and unrefined and the other artistic and creative. Yet it is in human nature to take what is raw and unrefined, create something and make it into an art. And that is what Rozani Faizer has done by painting pieces of metal. Rozani gave up working after her children were born and since then art and craft became not just a recreation, but also an avenue for creative expression.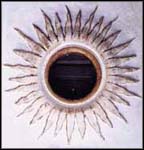 Somewhat influenced by the art of copper painting she had seen in India and the great urge to do something totally different, she launched into what she calls 'metal painting'. The art of metal painting is all about turning a flat, boring looking piece of metal into a work of art, which can be used to adorn any home. The metal needs to be carved with sharp instruments and raised in places depending on the design. The end result depends on the amount of effort one puts into the job. Then the designs are painted - Rozani usually does them in black, gold and silver.
Metal painting requires a lot of stamina and as Rozani puts it, "100 percent effort". "This work can never be repeated", because each time there is something different about it. Although she starts off with a definite idea in her head, almost always it comes out differently. Some better than expected, others not so - "but they can always be improved upon".
An exhibition and sale of Rozani Faizer's work will be held on Dec. 4 and Dec. 5 from 9.30 a.m. at her residence (369, Duplication Road, Col. 3).
Rozani has not forgotten exhibits for children, pieces made from plaster of Paris, moulded into shapes. The best test for this work was to try them out in her children's room. "The work is abstract so it will fit in anywhere" - be it in a typically modern house with elegant furniture or in the large, open verandahs with classic furniture. Although the metal paintings are "new" and "trendy", it's an art "our ancestors engaged in, years ago". That would make this type of work timeless.