Blooming for a better tomorrow
By Wathsala Mendis
Twenty-year-old Muthubanda from Pottuvil is awaiting his A/L results. One day in 1990, he and his friends were asked to leave school early because of an imminent LTTE attack. For the first time in their neighbourhood, peace was shattered. The boys grabbed their books and ran home. The fear of death was looming. They fled the area not knowing where to go or what to do. Muthubanda was still in his school uniform.

There were seven of them in his family. They walked and walked for days, with no water or food. What was foremost in their minds was to run as far away from that hellhole as possible. That's how they ended up in a refugee camp. But Muthubanda's was one of the lucky families. They were able to go back to their village after a couple of months. Still, peace and harmony seemed a distant dream in that part of the country.

Kovindapillai Megaraja has lost four of his siblings. He was unfortunate enough to see his elder brother being hacked to death. Whether it was by the LTTE or the Army, remains a mystery todate. This soft-spoken 32-year-old from Kalmunai is still in a state of shock. What was more shocking was the fact that Megaraja used to be a brilliant student who was selected to Jaffna Medical School in '93. For somebody from the south it would have been a cause for celebration. But Megaraja was too scared to go to Jaffna. He had his reasons. The past was still fresh in his mind. He sent appeals to Peradeniya and Colombo Universities but is yet to receive a positive reply.

Muthubanda and Megaraja are just two of the many victims caught in a meaningless and fierce war which knows no bounds. They live in uncertainty, chased away from the comfort of their homes and huddled up in a refugee camp for, God knows, how long. The battle rages on both sides and these people who support neither party are always the losers.

This is the universal truth. Wherever there's an ongoing war, be it Chechniya, East Timor, or the North-East of Sri Lanka, thousands of innocent lives are lost, millions more are left homeless.

We in our cozy corner of the world hardly seem to realize the gravity of it all until it hits us right between the eyes in the form of sky-rocketing cost of living.

How does it feel to be living under the constant threat of death? For millions of Muthubandas and Megarajas that's the grim reality. One part of their lives will always remain shut, that part which craves to reach out to others, to integrate into regular society. Or should it be so?

Wolfgang Stange, a professional dancer from Germany, has been working closely with disabled people for the past 25 years. He's made it his mission to bring art to the disadvantaged, the less privileged through theatre. "I don't see why people with disabilities should be excluded from performing arts. To be a complete human being, you have to have some form of self-expression," he feels.

"There's a war going on in this country. We can't shut our eyes to it hoping it would go away. We have to address it. When you bring people together through integrated theatre, it helps bridge a gap among different ethnic groups. It becomes a learning experience. It helps them understand each other, respect each other, and accept each other while enhancing their creative talents," says Mr. Stange.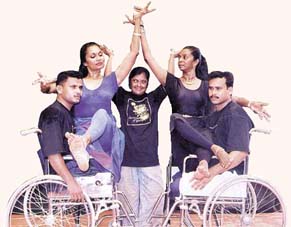 One aspect that has been overlooked in the refugee problem of our country is the mental well-being of these people. It was with a view to giving them an opportunity to enjoy themselves and develop their self-confidence that the Sunethra Bandaranaike Trust has launched Integrated Theatre workshops involving all ethnic groups. As a first step, "Butterflies Will Always Fly" was staged last year by a differently-abled group of youth, directed by Wolfgang Stange and Rohana Deva Perera.
This year too the emphasis is to let these people mingle with the rest of society, the so-called "privileged" class. The theme "refugees" is topical. And what better way than to pick a bunch of talented youth who have gone through the traumatic experiences themselves to share with a wider audience their side of the story.
The production will be in English, Sinhala, and Tamil while sign language will also be incorporated where necessary. It's going to be an extraordinary cultural experience where four different communities, Sinhalese, Tamils, Muslims, and Burghers, come together as one big family and share their dream of a better tomorrow. Through "Flowers Will Always Bloom" people who have been at the receiving end of a fruitless war will try to leave the past behind and hope for the present and the future.