From schoolboy pranks to saga of triumph
Down Memory Lane
By Roshan Peiris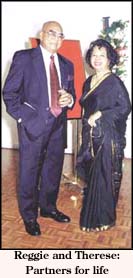 Reggie Candappa, Chairman of Grant McCann-Erickson is a stimulating person to walk down memory lane with. His is a saga of triumph through sheer willpower, intelligence and stamina.

Reggie is like father Christmas or for that matter Pickwick, never seeming to grow old, despite sporting a bald head like Yul Brynner. Despite being the Chairman of one of the most successful advertising agencies in this country he is never haughty but benevolently humane.

Starting school at St. Benedict's he recalls, "We owned a house just adjacent to Good Shepherd Convent. The Director of St. Benedict's once seeing me with a classmate asked me to kneel in a public place mistaking me for a boy who had played the fool with some of the Good Shepherd Convent girls, the previous day.

"I refused to kneel for I had done no wrong and I knew the reason only later. He sent me off to stand outside his office. Next he asked me to bring my parents along with me to school.

"My parents knowing me were troubled and so they took me away from St. Benedict's and entered me to St. Joseph's College."

" St. Joseph's," Reggie says, "was an entirely different school where the Rev. Brothers were liberal.

" One incident that made a difference in my life took place on November 11 (Armistice Day) when the class teacher J.P. Fonseka, a famous writer and close friend of G.K. Chesterton asked the class to observe two minutes' silence. Fonseka was a big-made man, just the sort suitable for a caricature. I had caricatured him and passed this around. The class was in fits of laughter and he called for the offending drawing. I thought I was due for two thundering slaps. To my surprise he joined in the laughter and when he was told the caricature of him was by me he congratulated me for possessing a special talent. He spent the rest of the class time talking of famous cartoonists such as David Lowe and humorists like Stephen Leacock.

" I had made my name, for he told the Editor of the College Magazine to use my skills as a cartoonist. I later illustrated a series of Sinhala text books. This was a real boost to my ego."

Reggie recalled that he was never punished, for he was a disciplined student with a penchant for clothes and sartorial elegance.

"My hats matched my shirts and my teachers laughed and asked me to put everything into my head and not into my hat.!!

" I left school with the burning desire to learn architecture, so that I could use my skills as an artist. So I studied architecture at Technical College and painted over the weekends with the famous J.D.A. Perera."

Reggie was an eager apprentice architect under the famous architect S. Sanmuganathan. "Now when I look back I could see he was one of those who influenced and inspired me greatly.

"Under Sanmuganathan, a colleague and I did the decor for London Calling. There was a London Calling Night Club in it called Green Hell. You had to enter the Green Hell through the mouth of a devil and there was a dark corridor where there were people dressed in black and white looking suspiciously like skeletons.

"The ladies in the audience when they saw Green Hell shrieked with fear and some even fainted."

Now we come to the nub of Reggie's memory lane where he talks of his undying love for Therese, his present wife.

"From my first day of knowing Therese Senadhira I loved her madly. I had no plans for marriage, for she was a schoolgirl.

"I planned to travel to London and Paris with artist and priest L.T.P. Manjusri with the idea of improving my art, to earn more and do well.

"Somehow through the usual grapevine her parents got to know and were horrified that she would marry a poor artist.

"They made life pure hell for poor Therese, locking her up in a room and keeping her incommunicado even with her brothers and sisters."

So Reggie, the lovelorn youngster served Therese's father with a Habeas Corpus and Neville Samarakone, who later became Chief Justice, a friend of Reggie's appeared for him.

The case was heard in camera and postponed for six months.

"We were lucky, for during that time Therese became a major at 21. We used to write to each other. I wrote fake letters as if from a girlfriend and my love letters in invisible ink which she ironed out written on the other side. We soon decided to elope.

"I must say that Therese really loved me for I did not promise her a life of ease or luxury but only a life with no car, only a bicycle to get about and yet she loved me enough to marry me." They married at St. Lucia's Cathedral with J.P. Fonseka and A.M.A. Azeez as witnesses.

"We were determined to prove her parents wrong. They predicted that within one month with hardship, love would fly out and Therese would be back home."

Reggie and Therese made good, while going about on two cycles. Now they own an elegant house and two cars after 52 years of marriage. They have two intelligent and versatile daughters to show off and grandchildren too.

"My wife," mused Reggie leaning back in his chair, "has been inspiring and supportive."

Reggie today wins as he did before with Therese by his side wooing people with friendly persuasive talk and with a happy blend of friendliness and knowledge so necessary to be successful in advertising. It was an exciting journey down memory lane with pleasant and amiable Reggie with his bright and humane outlook. He is fitted to adorn the career he has chosen for himself.