Rajavigama villagers capture 12 feet long crocodile
The officials of the Department of Wildlife Conservation had handed over a 12 foot mugar crocodile to their veterinary office at Nikavartiya after group of villagers managed to capture it.
The wildlife officers said that they decided to take the animal to the veterinary office to dislodge a mettle hook stuck in the reptiles throat as the villagers has used a noose with a hook to capture the animal. They added that they are currently carrying out medical treatment to the crocodile.
The villagers of the Rajavigama, situated in Karuwalagaswewa said that they took the initiative to capture the large reptile by using a noose as they were concerned of their safety.
They added that the crocodile which was living in the Rajawi -bandi Alla canal before its capture had fed on dogs and cattle and even were waiting near areas of the canal where people bathed. They added that few months' back it had even swam after group of childeren who were bathing at the canal.
The villagers had attempted to capture the animal several times but failed, until it was captured by the noose. After the reptile was captured they had informed the Department of Wildlife Conservation to relocate the animal. However the official was unbale to relocate the animal as it was injured during it's capture
Pictures and story by Hiran Priyankara Jayasinghe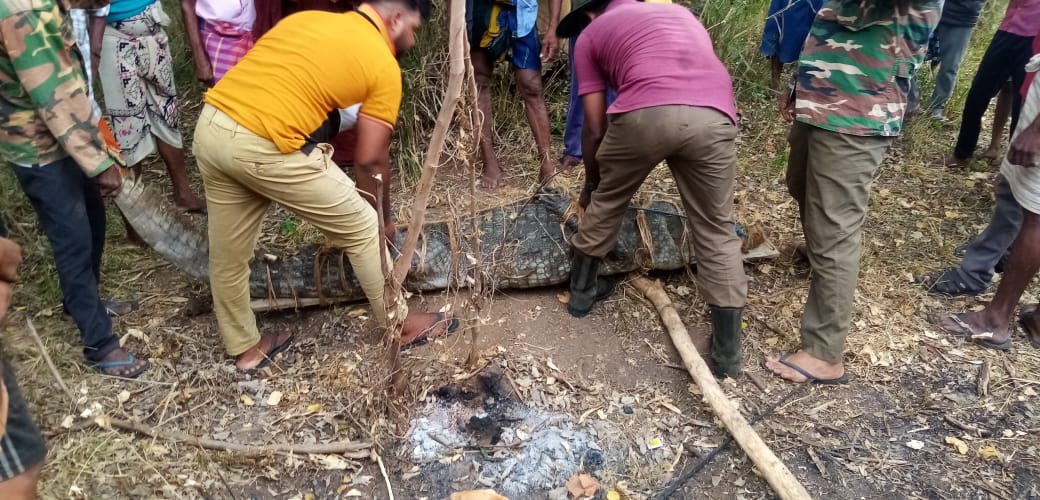 Comments
Still No Comments Posted.