Child-soldiers: Prabha, Karuna may escape through loopholes
NEW YORK - What are the chances of LTTE leader Velupillai Prabhakaran and the head of his breakaway faction Vinayagamoorthy Muralitharan, alias Col Karuna, being hauled up before the International Criminal Court (ICC) in the Hague on charges of "war crimes" for recruiting child soldiers?
"Extremely unlikely," says Julia Freedson, Director of the Watchlist on Children and Armed Conflict, a human rights organisation which released a 60-page report last week, on child soldiers in Sri Lanka.
The reason: Sri Lanka has neither signed nor ratified the Rome Statute which resulted in the creation of the ICC back in 2002. Is the Sri Lanka government therefore indirectly complicit in keeping the two rebel leaders out of international jurisdiction?
Responding to a question at a UN media conference last week, Jo Becker of Human Rights Watch, was more explicit: "The Sri Lanka government has not ratified the Rome Statute of the ICC, making it impossible to refer such crimes to the ICC for investigation and prosecution."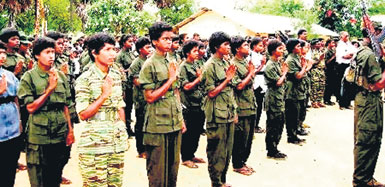 LTTE child soldiers: Sri Lanka's failure to sign the Rome Treaty on the International Criminal Court has virtually closed avenues for bringing perpetrators of war crimes to justice.
Prabhakaran is out at large with a heavy price on his head, but Col Karuna is being held in the UK on visa-related charges. "If enough witnesses are able to come forward, he could be tried in the UK for crimes committed against children in Sri Lanka," says Freedson.
Becker told The Sunday Times: "For years, Human Rights Watch has called on the government of Sri Lanka to ratify the ICC statute, and it is extremely unfortunate that it has not done so, as it would open up additional avenues for bringing perpetrators of war crimes like Prabhakaran to justice."
However, she argued, the ICC is intended to act only when national courts are unwilling or unable to investigate or prosecute crimes. "If Prabhakaran was apprehended, the Sri Lankan government would have the first option to bring charges against him under national law."
Sri Lanka has dodged the Rome Statute fearing that the ICC is a double-edged weapon: it could also be used to bring charges of war crimes against the country's military -- if such crimes have been committed by Sri Lankan soldiers in the north and the east. Asked for his comments, Foreign Secretary Palitha Kohona told The Sunday Times: "Sri Lanka is continuing to keep the ICC Statute under review."
He pointed out that Sri Lanka, India and a number of other countries had unsuccessfully proposed that terrorism also be brought under the jurisdiction of the Court.
"I note that Prabhakaran has already been convicted and sentenced by an Indian court for conspiracy to kill Prime Minister Rajiv Gandhi and in a Sri Lankan court for the bombing of the Central Bank building which killed dozens," said Kohona, a former chief of the U.N. Treaty Section.
He said international human rights organisations can perhaps help to bring justice "by directing their campaign towards the effective enforcement of those judgments."
Since the government has refused to be a party to the Rome Statute -- and in the absence of ratification of that treaty by the Sri Lanka government -- the UN Security Council did have the power to refer cases, including those involving the two rebel leaders, to the ICC.
But the US has resisted the involvement of the Security Council -- purely on the ground that its own soldiers could be subject to such scrutiny. That decision by a veto-wielding permanent member of the Security Council is primarily to protect its own national interest. And Sri Lanka's two rebel leaders are indirect beneficiaries of that.
The Watchlist report released last week, and titled 'No Safety, No Escape: Children and the Escalating Armed Conflict in Sri Lanka," clearly accuses both the LTTE and the Karuna faction (armed wing of the Tamil Makkal Viduthalai Pulikal or TMVP) of committing "heinous crimes against children".
Although the government has not been accused of recruiting children, it is blamed for turning a blind eye to recruitment by TMVP, which is said to be conniving with the armed forces. The other serious charge against the government is that it "obstructs humanitarian access to thousands of children in war torn areas, denying them urgently needed assistance and concealing the grave crisis they face."
Bhavani Fonseka, a senior researcher at the Colombo-based Centre for Policy Alternatives, said: "What we've seen in the last couple of years is a shrinking space for humanitarian actors and human rights defenders, and also a total collapse of any form of investigations and reporting. There's no national body that can look into human rights situations independently and credibly," she told reporters last week.
Meanwhile, the ICC has already issued public arrest warrants on three rebel leaders in the Democratic Republic of Congo. All three are charged with war crimes, including recruitment of child soldiers. Currently, one of them, Thomas Lubanga Dyilo, is in custody facing three war crime charges: enlisting children under age 15; conscripting children under age 15; and using children under age 15 to participate actively in hostilities.
In a related development, Joseph Kony, who heads a ruthless rebel movement called Lord's Resistance Army (LRA) in northern Uganda was on the verge of signing a peace agreement with the Ugandan government last week after getting an assurance that if he is tried on charges of child soldiering, it will be before the national courts, or in the alternative benefit from a possible government amnesty. But since the ICC has refused to withdraw its arrest warrant against him, Kony has threatened to pull out of the peace process.