Eight media organizations have jointly requested the Minister of Media and Information for an open discussion on the re-activation of the Press Council accusing the Government of going back on its promises for media freedom.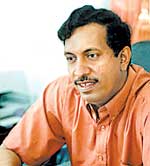 Anura Priyadharshana Yapa
The Sri Lanka Working Journalists Association, the Sri Lanka Tamil Media Alliance, the Sri Lanka Muslim Media Forum, the Federation of Media Employees Trade Union, the Free Media Movement, the South Asian Free Media Association (Sri Lanka Chapter), the Editors' Guild of Sri Lanka and the Newspaper Society of Sri Lanka in their letter to Minister Anura Priyadharshana Yapa stated that the objective of the Government to establish the right of journalists to access information as well as to raise their professional standard by re-activating the Press Council was not believable as the Press Council has the powers to fine and impose fines on newspaper publishers.
"Ensuring media freedom and improving the professional standards of journalists should not be done by enforcing the Press Council Law, but by repealing the Law and introducing a suitable alternative mechanism," the letter said. The organizations stated that one cannot take steps to provide welfare for journalists at the same time while laws to penalize them prevail.
"In that event the standards of journalists could have been raised and a healthy media culture including a code of ethics could have been enforced during the 30 year period from (1973 to 2003) when these laws remained in force," the letter said. The organizations pointed out that in 1994, the Government which included the incumbent President, Ministers of the present government approved a media policy submitted to Parliament by the then Media Minister Dharmasiri Senanayake which suggested the formation of an alternative organization to the Press Council as there was no benefit to the media by this Council other than being used to penalize journalists.
"The benefits you suggest could be provided to the media by implementing the media policy of the Government introduced after 1994. The proposals made by the Sub-Committee and the media policy introduced after 1994 to ensure media freedom and raise the professional standards of journalists are among the files in the Media Ministry which is under your leadership now. You would be able to achieve your objectives by implementing the above policy," the letter said.
It stressed that further to this policy in 1998 (later released in 2008) the Colombo Declaration on Media Freedom and Social Responsibility was approved with the participation of the then government led by the Sri Lanka Freedom Party and the United National Party in the opposition and with your participation.
"We therefore urge that you follow the above mentioned media policy. You could still achieve your objectives and this cannot be done by trying to implement laws under which newspaper establishments could be fined and journalists could be jailed," the letter said. The organizations urged the minister to repeal the Press Council Law and implement the policies that have already been approved.